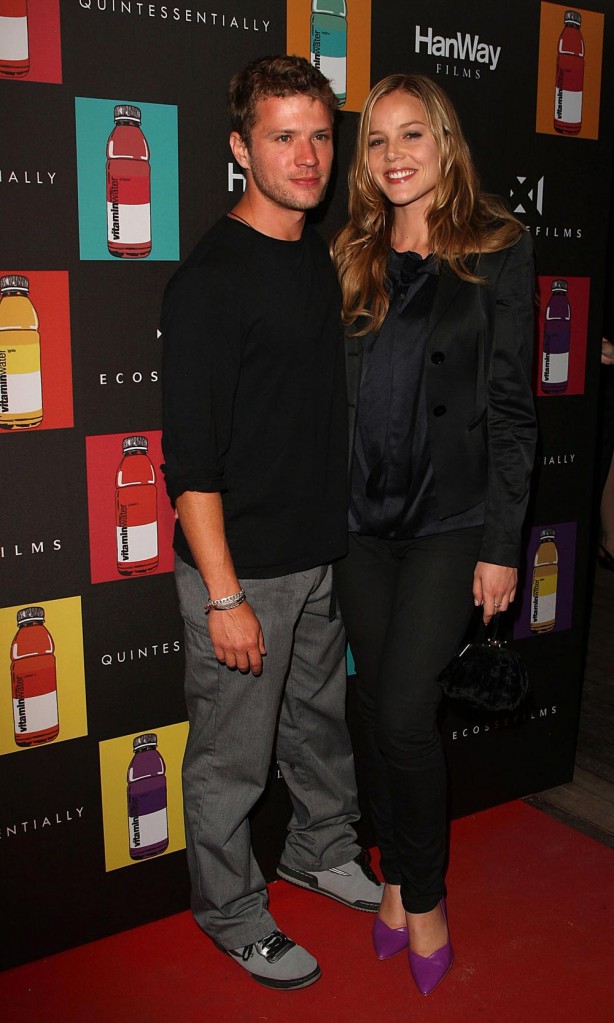 Abbie Cornish and Ryan Phillippe are in Cannes to promote their projects. It comes as some surprise that they're still together – I haven't heard anything about them in months, back at the beginning of the year when there was some mutterings of Abbie being pregnant. That turned out not to be the case, so at least they're good at flying under the radar and avoiding the gossip. Perhaps Ryan isn't too good at it now, because Page Six is reporting that there may be some trouble in paradise for the couple.
While Abbie is out and about, promoting her film Bright Star (directed by Jane Campion, who did one my favorite films of all time, The Piano), Ryan is hanging out with random blondes until the wee hours of the morning:
RYAN Phillippe's wandering eye should come as no surprise to Abbie Cornish.

Phillippe (above), who left his wife, Reese Witherspoon, for Cornish in 2006, was spotted partying with some blondes at VIP nightclub in Cannes, a spy reports.

Though Phillippe and Cornish went to the film festival together, the actor was later spotted at 3 a.m. partying with Ne-Yo at Nikki Beach. He went back with the singer for lunch the next day, and Cornish was not with them, according to a source. Phillippe's rep had no comment.
[From Page Six]
I'm sure there will be lots of talk of "once a cheater, always a cheater", but I've never completely bought that infidelity stuff from Ryan. Yes, I'll buy that he probably screwed around on Reese Witherspoon, but I don't think that was the reason Reese and Ryan split. Maybe my view of relationships is just different – I tend to think that cheating if often a symptom of a bad relationship, not always the cause of a bad relationship. In any case, I wonder if Abbie thought she had tamed the womanizer?
Going back to Bright Star, the film Abbie's promoting. It's a true story based on the romance between the poet John Keats (played by Ben Whishaw) and Keats' neighbor Fanny Brawne (played by Cornish). So, it's a period romance tearjerker, my favorite. I can't wait!
Ryan Phillippe is shown out at Cannes on 5/15/09 and with Abbie in Cannes on 5/17/09. Credit: WENN.com