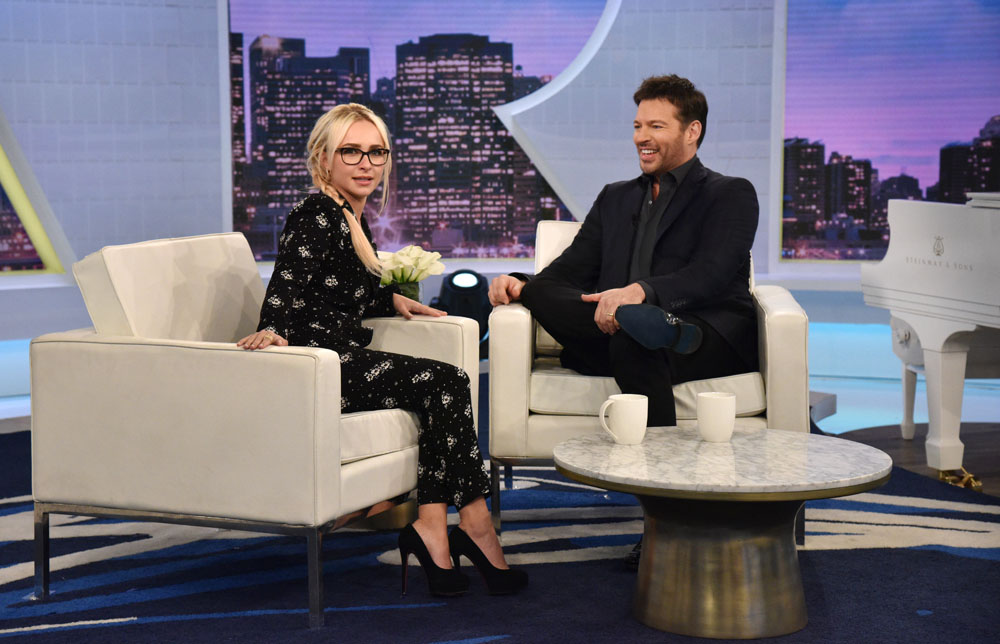 Hayden Panettiere is promoting Nashville, which is now on CMT, its new home for its fourth season. She's on the other side of the postpartum depression she suffered with her daughter, Kaya, now two, and she looks incredible. She's been very open about her bout with depression, and the fact that she's sought treatment for it, and by doing so she must have helped so many other people. I always like seeing what she's up to and reporting on her interviews. However I have to say that I tried watching the new season of Nashville (I've seen every episode up until this point) and I couldn't get into it. I only got about halfway through. The show is just dragging for me and I really dislike Rayna's teenage daughter, Maddie. I think that's the point though, teenagers are infuriating. Getting back to Hayden, she was on Harry Connick Jr's show and she admitted that she can't sleep without the TV on! I don't know anyone who does this. It sounds like a recipe for longterm sleep deprivation.
Harry: Hayden's big secret is…
Hayden: I'm afraid of the dark. I'm terrified of the dark. I sleep with my TV on. Even at 27 years old as mother of a 2 -year–old. I still sleep with my TV on.
Harry: Even with Vladi in the house?
Hayden: Not quite so much then but I'm terrified of the dark. I don't like it. I hate it.
Harry: I'm not qualified to do what I'm about to do but I'm going to provide my brand of therapy to you to help you deal with it. Stay right there. I would just like to bring the lights down just a little bit. It's okay I'm right here with you. I even brought you a present. It's a flashlight. Only use need it if you need it. You hold the power in your hand. You are in control. Can we bring them down a little more?
Hayden: No, that's good.
Harry: You have to go all the way. Quiet, bring em on down…I think you're doing great…She's never coming back on my show again.
[From Harry, received via email]
I have so many questions about this. Does she turn the sound off or just down really low? Has she considered a night light so it doesn't flicker and change all night long? Also, I have to wear a sleep mask when I nap during the day (every day if I can, I love naps) and I don't understand how anyone can sleep with the lights on. I'm a light sleeper though, I need ideal quiet dark conditions to sleep. Also, it sounds like her fiance, Vladimir Klitschko, isn't around that much, just based on how she responds to Harry's question about him. Plus I can't imagine a partner in bed being like "oh it's fine, leave the TV on." Maybe that's just my own personal bias because if I had a partner who insisted on leaving the TV on all night they would not be sleeping in the same room as me.