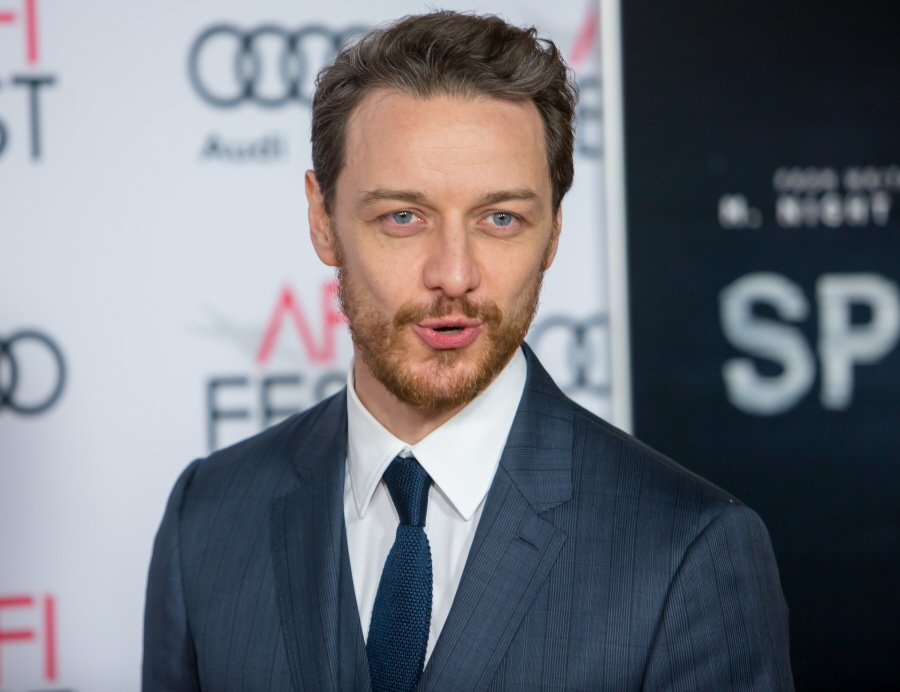 Here are some photos of James McAvoy promoting his new M. Night Shyamalan film, Split, a few weeks ago in Milan and a few months ago in LA. James is… so handsome. He's still got the boyish cuteness, but there's something else too. He's ageing well and he looks really great these days. To promote Split – about a man with multiple personalities who kidnaps three girls – James covers the new issue of Mr. Porter, and the interview is one of the best ones with McAvoy that I've read in a while. McAvoy is single these days, having split from his wife Anne-Marie Duff. Reportedly, he's dating Lisa Liberati, a production assistant on Split. He doesn't mention Lisa, but does say that he and Anne-Marie are fine (as in, there's no divorce war). You can read the full piece here. Some highlights:
When he took muscle-building supplements for 'Wanted': "On that job, I didn't go out a lot. I was on set 12, 13 hours a day, and I was in every scene, so it was different. With Split, I had less time to get it done, and I did it in a different way. I googled 'good way to put on muscle quick', just went into a gym and did it myself: a power-lifting routine called 5×5. You do five different exercises four or five times a week, and they're huge, big exercises. Pick something up and do that," he says, extending his arms above his head, "then put something on your back, sit down and stand up. It's super-simple, but it works every muscle. And I'd eat 5,000, 6,000 calories a day. Instead of eating two eggs in the morning, I'd eat eight. Then a snack of chicken breast. Then two chicken breasts for lunch, and then a steak for another snack. Then two salmon steaks for dinner. So, in a relatively short space of time I got relatively bigger."

He had to stop drinking whisky so much: "That used to be my drink – a peaty Talisker, or a Laphroaig. But I find that I can't drink too much whisky any more. More than one or two now and I get a bit leery, a wee bit fighty, a bit chippy, looking for an argument. And I didn't like that. So I mostly stopped drinking it. My problem is, if I have it in the house, I'll tan the lot. I'm a consumer. If it's in front of me, I'll f–king do it. I'll consume it. I'll take it, whatever it is. I'll have a go… And I don't know what that is. I still drink, and sometimes have a lot of drink… But I just don't want to have alcohol in the house anymore."

Separating from Anne-Marie: "Ha, ha!" Mr McAvoy begins, laughing good-naturedly, knowing full well what is really being asked. "My life has changed massively…[he says he moved close to his old family home.] At the same time so much has stayed the same. One of the things that's stayed the same is that I still don't talk about my personal life, really. Me and Anne-Marie, when we were together, it was our policy not to speak about each other in public. We rarely broke that and if we did, it was for tiny things – 'Yes, we are cooking turkey this Christmas' – and that policy still stands. Even separated, we're still respectful of each other and committed to doing that publicly and personally. But yeah, things are really good. Which is a rubbish, pat answer."

He started a scholarship program at the Royal Conservatoire of Scotland. "It's about art in education," he explains of a programme that's now in its third year. "I wanted to be able to fund kids who couldn't afford to do a week's summer camp or whatever it was, so they have some exposure to what I think can be life-changing moments. I don't care if any of them become actors; it's not about that. It's just about putting yourself out there and challenging yourself and expanding your horizons. I felt that would be useful, and something I've been going on about all the f–king time when people ask me about the class divide in acting. I've got strong opinions about that, and this is a way I can actually physically act upon it, in a small way."

He started the scholarship when he got a Prada campaign: "The money was incredible. And Anne-Marie kept saying to me, 'Are you gonna turn that down?' 'Yeah I'm gonna turn that down. I'm not a salesman.' 'You're being a d-ck. Do something with it. Give it to charity.' And I was like, 'Ding!' About four minutes after she said that to me I was on the phone to the agent. 'Yeah, I'll do it.'" He gave one third of the "incredible" fee to Unicef, one third to Retrak, a Ugandan organisation that helps street kids (he encountered the charity while filming The Last King Of Scotland in Africa), and one third to the new scholarship. Would he take another ad campaign just to top up the scholarship funds? "Maybe. Depending on what it is. I don't think I would do a Nespresso."
I always forget that McAvoy is actually more of a working-class actor than one of those posh elite actors working their way through Hollywood. People should ask McAvoy what he thinks about posh vs. working-class actors more often, because his answers are way more interesting than the answers coming from Eddie Redmayne, Benedict and Hiddles. As for his divorce and everything… I take it as face value. I haven't heard any gossip about Anne-Marie being pissed at him or anything, so I assume that they're successfully co-parenting and still in each other's lives.
As for the whisky thing… yes, different alcohols affected me differently too! Gin makes me barfy, vodka makes me tired, whiskey makes me chatty and tequila makes me happy.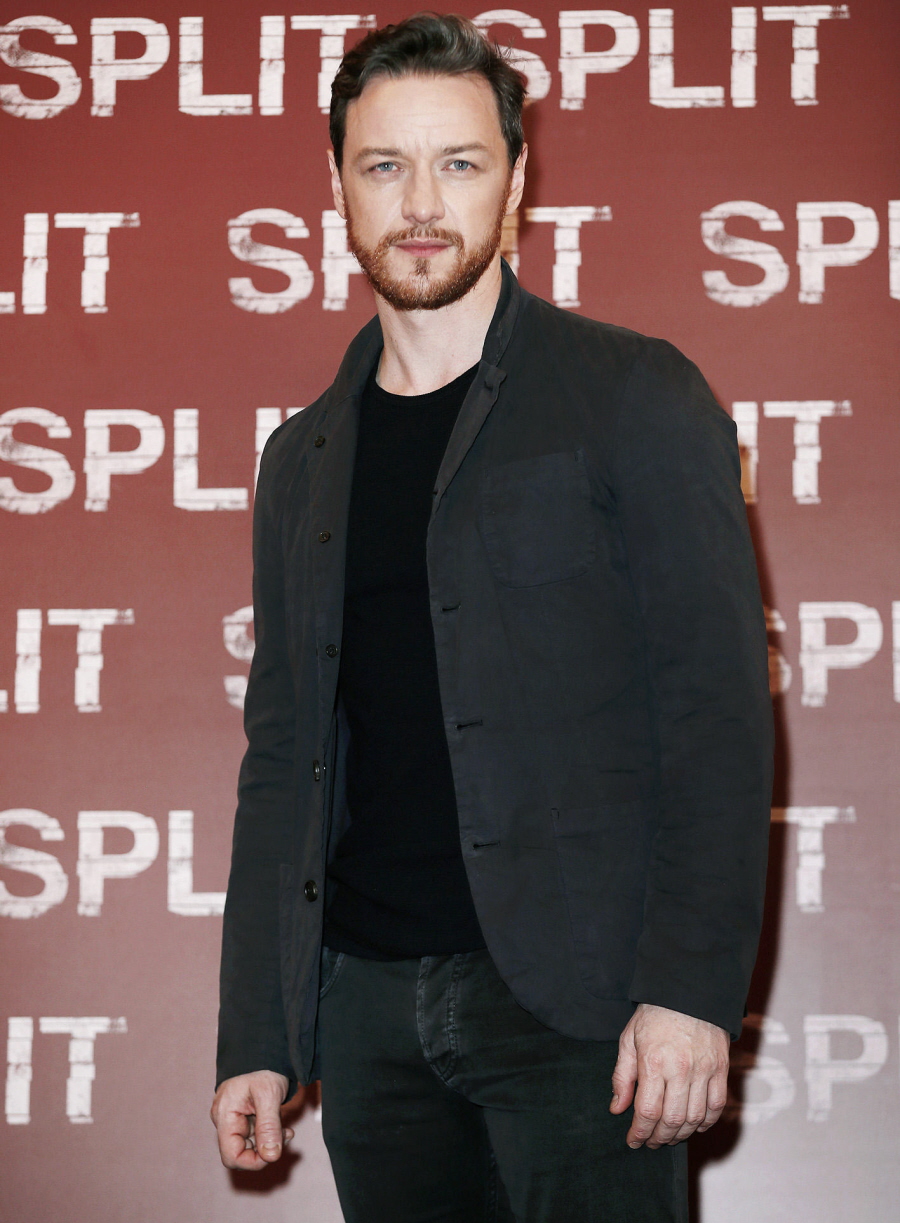 Photos courtesy of WENN.