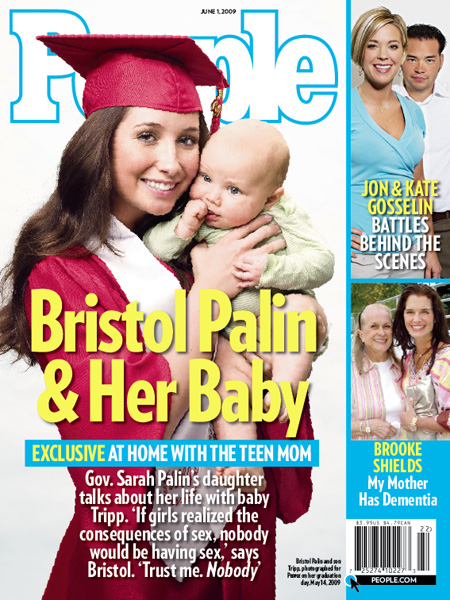 Bristol Palin is on the cover of People this week holding her baby, Tripp, while posing in her graduation cap and gown. Bristol is an advocate for abstinence-only education despite saying several months ago that it's "not realistic at all" to simply tell teens not to have sex. On the cover of People, Bristol is quoted as saying "If girls realized the consequences of sex, nobody would be having sex. Trust me, nobody." Those are some pretty strong words considering that Bristol is right there holding her consequence and he's adorable. She's also called Tripp "The best thing that's ever happened" to her. Doesn't it sound like she's talking out of both sides of her mouth?
MSNBC's The Scoop questions whether Bristol should get top billing on the celebrity weekly, and reminds us that the Palin family don't move magazines and it seems strange that Bristol would be featured a full two weeks after she got some press for her role as an abstinence ambassador.
The week's most curious cover goes to People — Bristol Palin? In cap and gown? Really? If it ran when she was making the talk-show rounds a few weeks back, that would be one thing. Now it just feels out of context. Moreover, the Palins don't sell well on the newsstand, which makes this coverage feel strange.
[From MSNBC]
CoverAwards.com think it's a decent cover, though, and give People points for using Bristol's name prominently so that people will remember her.
What a picture! How did they convince Bristol to pose in her graduation gown with her baby? That picture tells the entire story.

And, it was a smart move by the magazine to make Bristol's name prominent in the headline for those that don't immediately recognize her face. Without her name, this could be seen as a teen pregnancy story with an unknown teen mom.

The quote in the dek will send this baby to therapy for years to come. It's just a shame that Bristol didn't think about this before saying it to a national magazine.

Bottom Line: Strong picture and smart headline make this another winner for People Magazine on the newsstands.
[From Cover Awards]
Maybe People thought that the mix of a young woman in cap and gown holding a baby would speak to the wider issue of teen pregnancy. They could be hoping to create a more issue-focused cover instead of relying on a popular celebrity. I agree with The Scoop that it's a weak one. I'm familiar with Bristol, though, and have the impression that there's not much she can say that would be of interest to me. She's young and doesn't seem to know exactly what she wants yet.
On one hand she talks about how much she loves Tripp, and that's wonderful, but then she turns around and seems to say that the consequences weren't worth having sex. You want to teach teens to avoid unwanted pregnancies, but that's not worth creating a situation in which your child might read your quotes someday and feel unwanted. In a way Bristol is a great representative for abstinence-only education, which doesn't make much sense and is completely ineffective. It's kind of fitting that the public face of abstinence is a single teen mother who keeps changing her opinions. I wish her well and her baby sure is cute. I just wouldn't be compelled to buy this issue.
Thanks to CoverAwards for the header image.