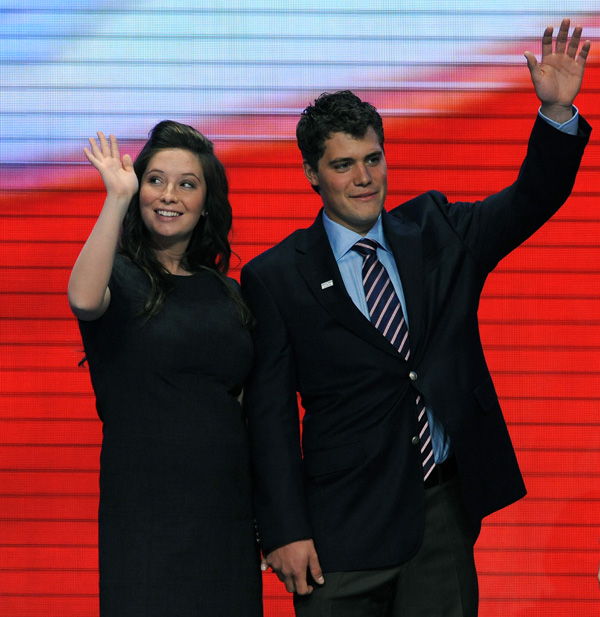 Bristol Palin, oldest daughter of Alaska governor Sarah Palin, has given her first interview since giving birth to baby Tripp to Fox News's Greta Van Susteren. So, is Bristol going to run for president in 2012? No, silly! Of course not! Bristol wants to become some kind of advocate for teen pregnancy, I think.
The biggest news out of the interview is that Bristol thinks telling teenagers to simply be abstinent is "not realistic at all". Duh. That's what we've been saying. Thank you for joining us, Bristol. I have to hand it to Bristol though, to so publicly criticize a position her mother holds (though her mother got knocked up before marriage as well), and to do it on Fox News, the mothership.
Bristol also talked about her "eventual" marriage to Levi – it doesn't sound like she's really trying to get him down the aisle. Maybe it has something to do with her mother's feelings on Levi's family. People has more:
Hoping to set an example for others with her own experience, Alaska Gov. Sarah Palin's daughter, Bristol Palin, would now like to become an advocate for preventing teen pregnancy.

"Everyone should wait 10 years," the younger Palin told Greta Van Susteren on a Fox News segment that aired Monday night. "I hope people learn from my story … It's so much easier if you're married, have a house and career. It's not a situation you want to strive for."

Palin, 18, also said in the interview – her first since the teen made headlines last summer during Sarah Palin's GOP vice-presidential campaign – that her mother's view of abstinence, especially in regard to teenagers, is "not realistic at all."

Bristol further stated that although her mother is an outspoken Right to Life advocate, "It was my choice to have the baby. It doesn't matter what my mom's views are on it. It was my decision."

Recounting how she first informed her parents, Todd and Sarah Palin, of her condition, Bristol said she gathered her boyfriend, Levi Johnston, and her best friend, but that getting the words out of her mouth was "harder than labor."

The friend broke the news to the parents, said Bristol, who also described Johnston as a "hands-on dad." She added, "Eventually we'd like to get married.

As for her new situation, "I like being a mom," said Bristol. "I love it, just seeing him smile and stuff. It's awesome."

Appearing late in the interview, carrying her grandson Tripp Johnston, Gov. Palin said, "Hey, life happens." Of her unwed, teenage daughter's pregnancy, she said, "Not the most ideal situation, certainly you make the most of it."
From People Magazine
I'm really starting to wonder if Bristol and Levi really want to get married. Levi has always seemed to be, at best, going with the flow, and at worst, a hostage to the Palin family. Both Sarah Palin and her husband Todd have publicly proclaimed their interest in seeing Bristol run down the aislet, but I tend to think that's just for appearances' sake.
So will Bristol really become some sort of advocate for not-just-abstinence-only sex education? Doubtful, but I do admire the fact that Bristol so publicly proclaimed her indifference to her mother's policies. There's hope for her yet.
A then-pregnant Bristol Palin and her fiance, Levi Johnston, are shown at the RNC on 9/4/08. Credit: UPI/Newscom