Good lord! Anyone with a manager they trust should go hug them today. Alanis Morissette was royally screwed over by her former business manager, Jonathan Schwartz, as he embezzled almost $5 million dollars from her between 2009 and 2016. In addition to Alanis, he swindled close to $2 million from two additional unnamed clients. And to cover it up, he lied that he was investing in marijuana growth, all the while telling Alanis she shouldn't work because she was set financially.
Alanis Morissette was robbed of at least $4.7 million by her former business manager, according to a complaint filed Tuesday in Los Angeles County Superior Court. 

The singer is suing Jonathan Schwartz and GSO Business Management for breach of fiduciary duty, conversion, fraud and negligence. 

"Defendants concealed these distributions from Morissette, convincing her that she was in tremendous financial shape when, in fact, they were draining her assets and leading her on a road that could have led to financial ruin," states the complaint.
 
Schwartz handled Morissette's finances from 2009 to 2016 and was responsible for collecting income, managing investment accounts and paying bills on her behalf. According to the complaint, she fired him in March because he failed to respond in a timely manner to her requests for information about her finances. 

When the singer's new business manager, Howard Grossman, took over, he found at least 116 cash transfers to Schwartz from Morissette's accounts during a four-year period, totaling more than $4.7 million.

"There were no documents explaining the nature of these transfers," states the complaint. "Morissette was completely unaware of these cash transfers and had not authorized them."

The suit claims, after changing his explanation several times, Schwartz said the money was an "investment" in "one or more illegal marijuana 'grow' businesses."

Morissette claims Schwartz didn't just steal from her, he also transferred $8 million from investment accounts that were supposed to remain untouched in order to pay for expenses, despite her direction that she should live off her current income and interest.

"When she asked him if she was over budget, he would insist that things were 'fine,' that she had 'nothing to worry about,' and that she and her future grandkids were 'set for life,'" states the complaint, which also claims Schwartz convinced the singer to turn down performance offers. "His reasoning was always that she didn't need to work so hard, because she was so financially secure."
Thank gawd this a–h-le doesn't respond to emails in a timely manner or who knows how long this would have gone on? Could you imagine if he had succeeded in losing all her money? I just can't get over his assuring her she was fine financially as he was stealing her money. And telling her to turn down performances?! This guy sounds like a sociopath in addition to a criminal. I can't wait to hear where the money going was actually going. How was he going to put it back? Or is there a villa tucked away on some remote land that has his alias painted on the mailbox?
As I mentioned, the other clients Schwartz stole money from have not been made public yet but in addition to Alanis, his former firm, GSO Business Management, is also suing him, probably to get Alanis' suit off their back. I hope she keeps them on the complaint, they should be held accountable. Schwartz is said to be fully cooperating with the investigation. Well duh – what's else can he do? He left a paper trail 7-million steps long! Apparently he also falsified a client's signature to withdraw cash. This guy thought he was bulletproof. The sentence for his crime is 23 years but it's said his plea deal will get him 4-6 years. I'm sure that serves as cold comfort to Alanis and the others.
Fortunately, Alanis has a great sense of humor. She updated Ironic for 2016 problems and it's really good. Of course, I imagine the 2017 edition might be a bit more bittersweet: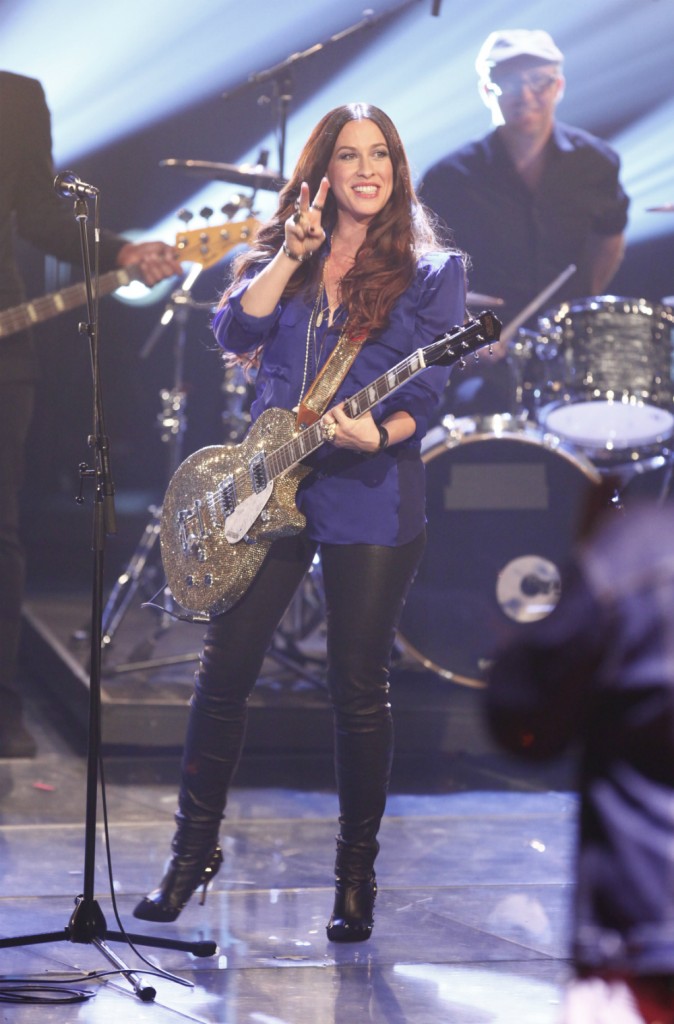 Photo Credit: WENN Photos and Getty Images