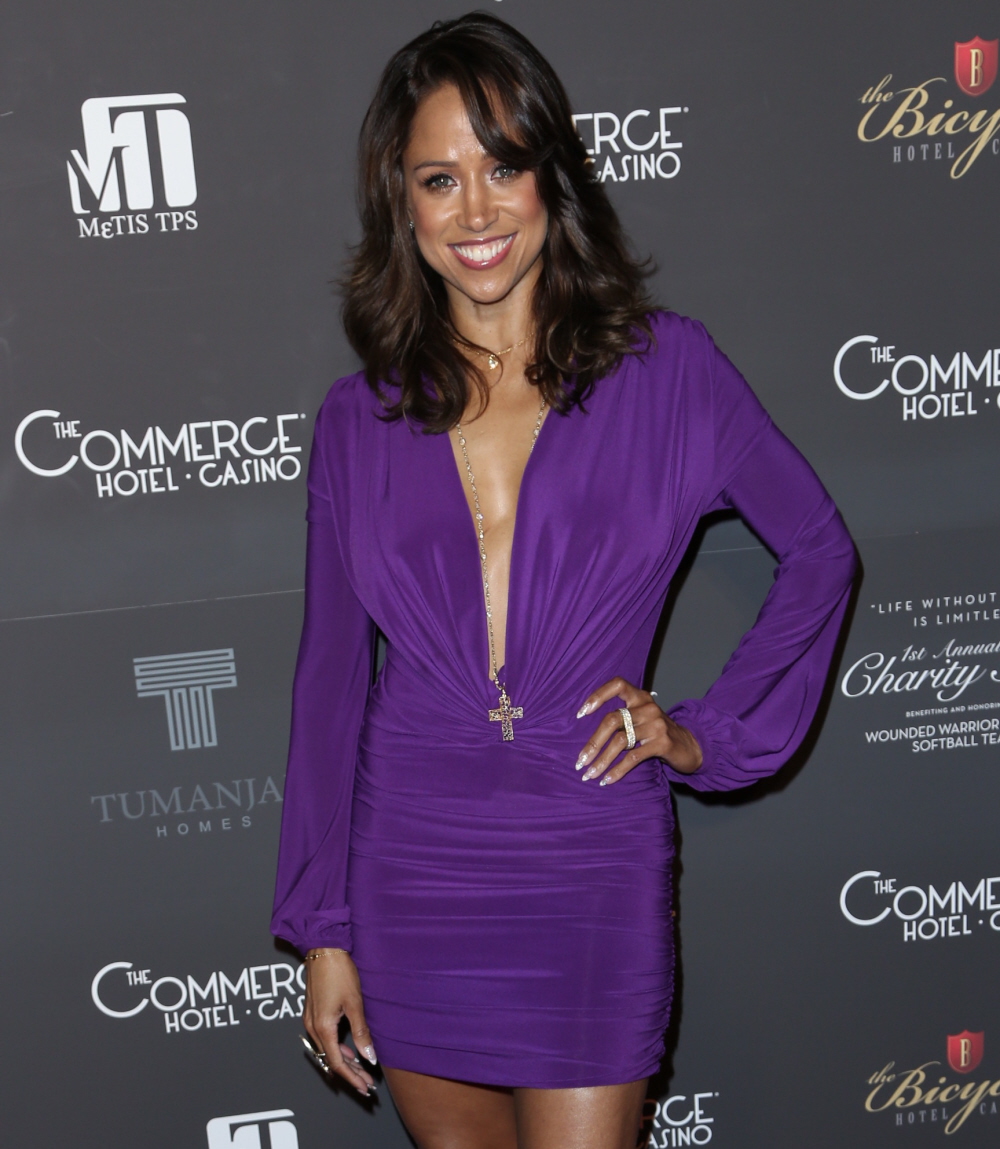 In 2014, professional idiot Stacey Dash took a gig doing political commentary on Fox News. Her role seemed to be to say the most nonsensical, trollish things possible about President Obama and race. Dash was (and is) one of those people who thought that racism was invented by the Democratic Party and Barack Obama, that BET is totally racist, that women and black people had it great back in the 1950s and 1960s, and that Jesse Williams is a "Hollywood plantation slave" for speaking about Black Lives Matter. Every day was opposite day for Stacey Dash. Well, funny story. Two days after Emperor Baby Fists took power, Fox News fired Stacey Dash. Oh, honey!
Stacey Dash's sporadic career as a Fox News pundit is over, after the network declined to renew her contract. The sometime-actress and author, an early and vocal Trump supporter, made her Fox News debut in 2014, but hasn't been seen on air since last September. A representative told The Hollywood Reporter that the decision not to renew was taken last fall.

However, as of Sunday, Dash's Twitter profile still listed her role as a Fox News contributor.

Dash is best known for her role in the 1995 film Clueless, but in recent years has become better known for her politics. Since her high-profile decision to vote for the Romney-Ryan ticket instead of Obama-Biden in 2012, Dash, 50, has staked out increasingly conservative positions, reveling in the notoriety on Twitter, as well as on Fox News. In 2015, she was suspended temporarily from the network for swearing on-air in a rant about President Barack Obama. Last year, she created more controversy over her strident views on transgender issues, as well as Middle Eastern immigration into the U.S. following the Orlando, Fla., nightclub shooting.
Several things are funny to me. One, this happened two days after her 50th birthday too, in case you need any additional evidence of the ageism at play at Fox News and other cable news networks. They'd rather fire one of their few token non-white commentators than put a 50-year-old woman on air. And of course this happened now that Baby Fists is emperor. There's no need to have a black woman yelling about a black president now. As of this morning, Dash still hasn't changed her Twitter bio either.
As you can imagine, Black Twitter threw a party.
Let Stacey Dash being fired from Fox be a lesson about the perils of thinking that pandering to white supremacy will save you. It won't.

— Terrell (@AdonStandsAlone) January 22, 2017
stacey dash lost her fox contract, and suddenly that "career" of being the black who hates blacks isn't gonna pay so well anymore

— Oliver Willis (@owillis) January 23, 2017
Live feed of Stacey Dash collecting her last paycheck at Fox. pic.twitter.com/opagxC0k0q

— Disgon B. Gud (@disgonbgud) January 22, 2017
The Black president is gone and so is Stacey Dash's job. Coincidence? I think not. pic.twitter.com/MNre6ADU8b

— April (@ReignOfApril) January 22, 2017
Stacey Dash got fired from FOX? Tragic. pic.twitter.com/6LnPUjNY1d

— Eggo (@eggology_) January 22, 2017
Live feed of Stacey Dash trying to renegotiate her contract with Fox News. pic.twitter.com/fhPjdypoHa

— Brandan Tate (@MarlonBrandan) January 22, 2017
Stacey Dash spent 8 years trying to get Republicans elected then when they get it they fire her Day 2 pic.twitter.com/DTVdzKBIWs

— Brent (@Brentweets) January 22, 2017
Photos courtesy of WENN.