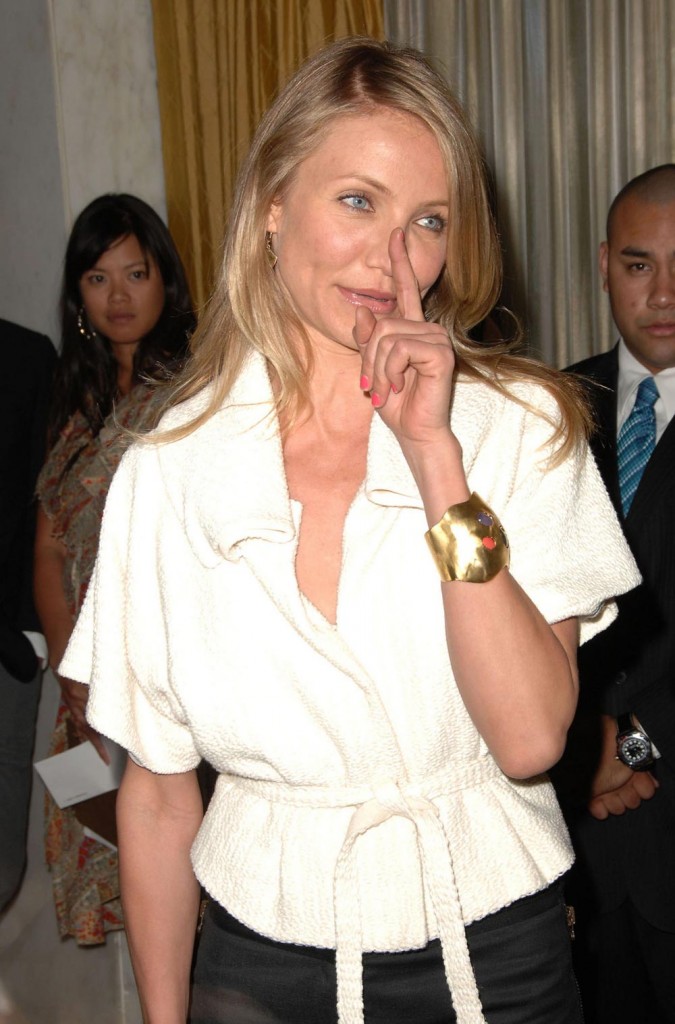 Cameron Diaz is out promoting that tearjerker cancer movie My Sister's Keeper. She's already appeared in Vogue in a rather boring interview that focused largely on her environmental cred. Now she's admitting (or rather, bragging) to the press that she doesn't flush the toilet. It seems Cameron is a big fan of that old-school rhyme "If it's yellow let it mellow, if it's brown flush it down." Which I suppose is okay if that's the rule you only apply to your own home, and you don't have a dog who likes to drink out of the toilet. Which my dog does, so I always flush to be polite to him. Anyway, Cameron has her flushing rules:
[Cameron Diaz] does all she can to be environmentally friendly, and believes it is a waste of water to flush every time she has relieved herself.

She said: "I do follow the, 'If it's yellow leave it mellow, if it's brown flush it down' saying. I believe in that 100 per cent.

"But there are a couple of rules. You can't go more than two or three times, if it's consecutive, if you're drinking a lot of water, without flushing.

But if you have coffee or something, it's going down!"

The 36-year-old actress – who drives a Toyota Prius, a hybrid electric car – has been interested in green issues since she was a child, and credits her parents with making her environmentally aware.

She explained to TV talk show host Jay Leno: "It's one of those things that is just a lifestyle choice. I was brought up that way so it's something that I automatically do. I'm rigged that way."
[From The Hollywood Rag]
I think this comes from two different interviews. Cameron didn't tell Jay Leno her little flushing story, but this is making it seem like Cameron is saying she was "raised" to never flush the toilet, when she was talking about being "raised" to be environmentally conscious. I think the not-flushing thing was a choice she made as an adult. Plus, I don't know of anyone who was raised to not flush. Perhaps I've been warped by my own toilet education, and I was just raised to flush the toilet every time. Am I going to environmental hell?
Cameron Diaz is shown at an event for the Natural Resources Defense Council on 4/25/09. Credit: WENN.com