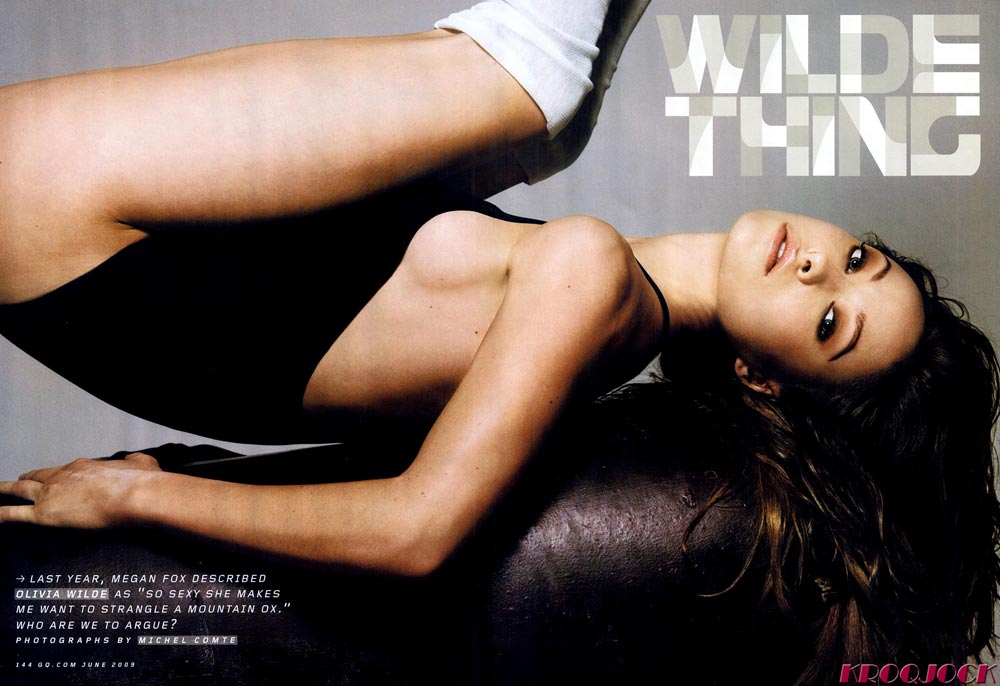 Olivia Wilde was just voted Maxim magazine's hottest, sexiest woman, beating out a diverse field of ladies that included everyone from Megan Fox (#2) to Michelle Obama (#93). While we'll have to wait until hell freezes over to hear what the First Lady thinks about Olivia Wilde, Megan Fox said last year that Olivia is "so sexy, she makes me want to strangle a mountain ox." Ah, yes. Megan Fox with another brilliant quote. That one almost beats Megan's "I resent having to prove that I'm not a retard."
Olivia was more than polite about Megan Fox and everything else when she sat down for an interview with GQ magazine (story via Fox News). Olivia tells of her elopement with an Italian prince at the age of eighteen, and how dedicated she is to working with causes like gay rights advocacy and Doctors Without Borders:
Olivia Wilde is not only one of television's hottest break-out stars, but she is also the woman Megan Fox has described as "so sexy, she makes me want to strangle a mountain ox."

While it has to be quite an honor, Wilde, 25, says she is a little skeptical of the recent girl-crush fad, but is passionate about animal rights and willing to do what it takes to keep them safe.

In the June 2009 issue of GQ magazine, on newsstands May 26, she jokes, "of course, anything I can do to save the mountain ox, I'm happy to do," in response to the suggestion she make out with Fox to save the poor little ox.

But being sexy and crusading for animal rights isn't all this rising star can do – she has also worked on presidential campaigns, has been a public advocate for increasing international aid and gay rights and she has raised money for Doctors Without Borders.

To top all that off, she is also a real-life princess. Really, we're serious. She tells GQ at the age of 18, she eloped with an Italian prince.

It wasn't enough to be rich, beautiful and sexy. Had to go and be a princess too.
[From Fox News]
I don't really get anything about Olivia Wilde's sexiness, but live and let live. She's most likely coming for another season of House, so all of us haters will just have to get used to seeing her. Even if we think Dr. Foreman (Omar Epps) deserves much better. And is it just me, or is Olivia Wilde sort of giving off a Natascha McElhone vibe? Granted, Natascha is the original. It's like Olivia Wilde is to Natascha McElhone as Megan Fox is to Angelina Jolie. They have similar faces, and they could definitely play sisters in some drama, but I'll always prefer the original.
Olivia Wilde GQ scans via Celebutopia.