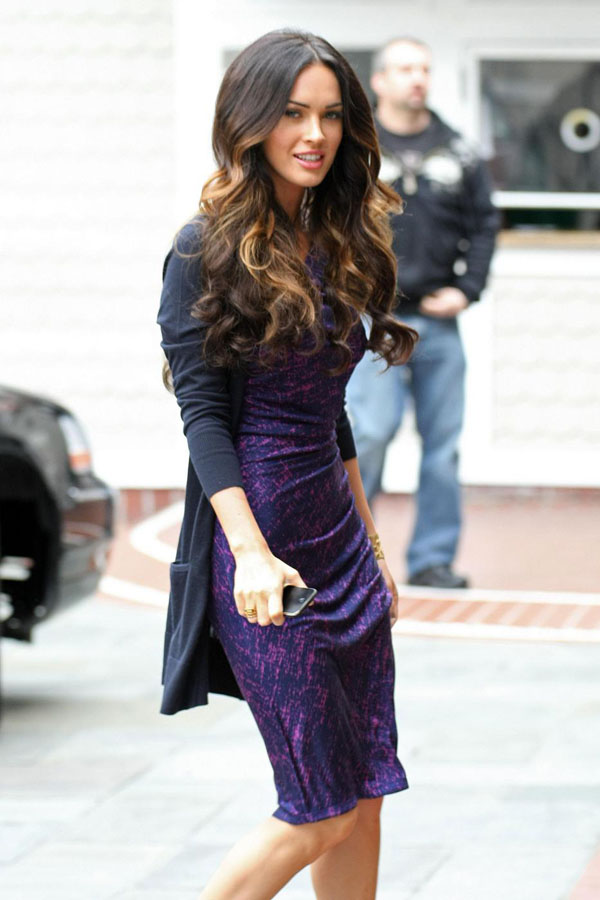 Megan Fox may not be the brightest bulb in the box, but she's turning into one of the easiest people to quote. Weird and dumb stuff just pours out of her mouth like pennies from heaven. First there was this gem: "I'm not trying to take Cate Blanchett down." Which is, like, my favorite quote this week. After that, Megan talked about how Transformers: Revenge of the Fallen was "the fattest" she's ever been. Somewhere along the line she was making fun of "pretty boys" Zac Efron and Robert Pattinson. She also name-dropped George Clooney as someone she's like to live like. This is all within the last week. Incredible.
Now, a new gem! In June's Esquire cover interview (story via Showbiz Spy), Megan starts in on Scarlett Johansson. Megan wants us to know that she has no interest in being anything like Scarlett, mainly because she thinks Scarlett tries too hard to be taken seriously. Megan's famous last words about the subject of her intelligence? "I resent having to prove that I'm not a retard — but I do."
Megan Fox doesn't want to be like Scarlett Johansson — because she would hate to have to prove herself in order to be taken seriously.

"I don't want to have to be like a Scarlett Johansson — who I have nothing against," the Transformers: Revenge of the Fallen star tells Esquire in its June issue, "but I don't want to have to go on talk shows and pull out every single SAT word I've every learned to prove, like, 'Take me seriously, I am intelligent, I can speak.'"

"I don't want to have to do that. I resent having to prove that I'm not a retard — but I do. And part of it is my own fault."

"I'm just really confident sexually, and I think that sort of oozes out of my pores," she adds. "It's just there. It's something I don't have to turn on."

Fox — who was recently named FHM's Sexiest Woman in the World for 2008 — admits she doesn't know how to deal with being a sex symbol.

"If you know how to take control of [being a sex symbol], then it can be powerful," she said. "But I have no idea how to handle it yet, how to deal with it."
[From Showbiz Spy]
Oh, Megan. You could have an interesting career if you would… I don't know, maybe stop saying all of this crap? I'm not going to enter the debate about whether Megan or anyone else should use the word "retard", you guys can handle that one on your own. All I know is that Megan seems a few fries short of a Happy Meal, and no amount of plastic surgery or sexy photo shoots will really convince me to take her seriously.
Megan Fox is shown outside her hotel on 4/27/09. Credit: PacificCoastNews.com