Where to even begin with this? On Saturday, Donald Trump signed an executive order halting the resettlement efforts for refugees coming from all countries for 120 days, completely barred Syrian refugees from settlement efforts, and blocked reentry for foreign nationals from seven different "predominantly Muslim" countries (Iran, Iraq, Libya, Somalia, Sudan, Syria and Yemen). It's a "temporary Muslim ban," which is exactly what he promised to do during the campaign. And people are shocked that, oh right, he actually did that stupid, illegal, dangerous, un-American and treasonous thing that he promised to do. The effect at airports around the country was chilling, as immigration officials and airport security officials indefinitely held immigrants (most of whom had valid visas, green cards or paperwork) for hours and hours, and some were even put on planes for deportation. A federal judge made an emergency ruling to stop deportations, but everything is still a huge, chaotic mess.
Everyone was justifiably outraged and sickened by this blatant act of cowardice, bigotry and hatred from the Trump administration. Here are just some of the reactions and stories to come out of this appalling bulls–t.
People descended on JFK and other airports. Congressmen came out to protect the detained immigrants, lawyers descended on airports to raise hell, and protesters started going HAM.
Kal Penn started crowdfunding. One commenter on his Instagram said he (Kal) doesn't belong in America (because he's Indian-American, I guess?) and so Kal met that racism with love: he started crowdfunding to raise money for the International Rescue Committee to protect Syrian refugees.
Mo Farah. I forgot that Olympian Mo Farah trains in America and lives here with his family, but he does and now might not be able to return to the US. He wrote a Facebook post about it, saying: "It's deeply troubling that I will have to tell my children that Daddy might not be able to come home – to explain why the President has introduced a policy that comes from a place of ignorance and prejudice."
Kumail Nanjiani has been tweeting a lot. You can see his Twitter here – he's been talking about the political angles, but what I appreciate is how he's talking about the intention behind the ban, which is to other-ize brown people in general.
Kim Kardashian has the receipts. Good for her.
Statistics pic.twitter.com/aSpyFuabct

— Kim Kardashian West (@KimKardashian) January 29, 2017
Alyssa Milano stands up.
My best friend, Alaa Mohammad Khaled, is Muslim. His parents were Palestinian refugees. His brother is DJ Khaled. #RefugeesWelcome pic.twitter.com/qXOapgvvF7

— Alyssa Milano (@Alyssa_Milano) January 28, 2017
Like, there are a million other stories – celebrity and non-celebrity – about this but the whole thing is making me feel sick to my stomach. I'm glad that there seems to be condemnation across the board, but it's so painful that in 2017, in AMERICA, we have to condemn this, because it's happening.
Last night, Trump was tweeting about World War III.
The joint statement of former presidential candidates John McCain & Lindsey Graham is wrong – they are sadly weak on immigration. The two…

— Donald J. Trump (@realDonaldTrump) January 29, 2017
…Senators should focus their energies on ISIS, illegal immigration and border security instead of always looking to start World War III.

— Donald J. Trump (@realDonaldTrump) January 29, 2017
When will this stop being the worst?
Oh, but no worries for Ivanka. While her father rips this country apart with his bigotry, ignorance and unconstitutional acts, she was on a date night with her husband.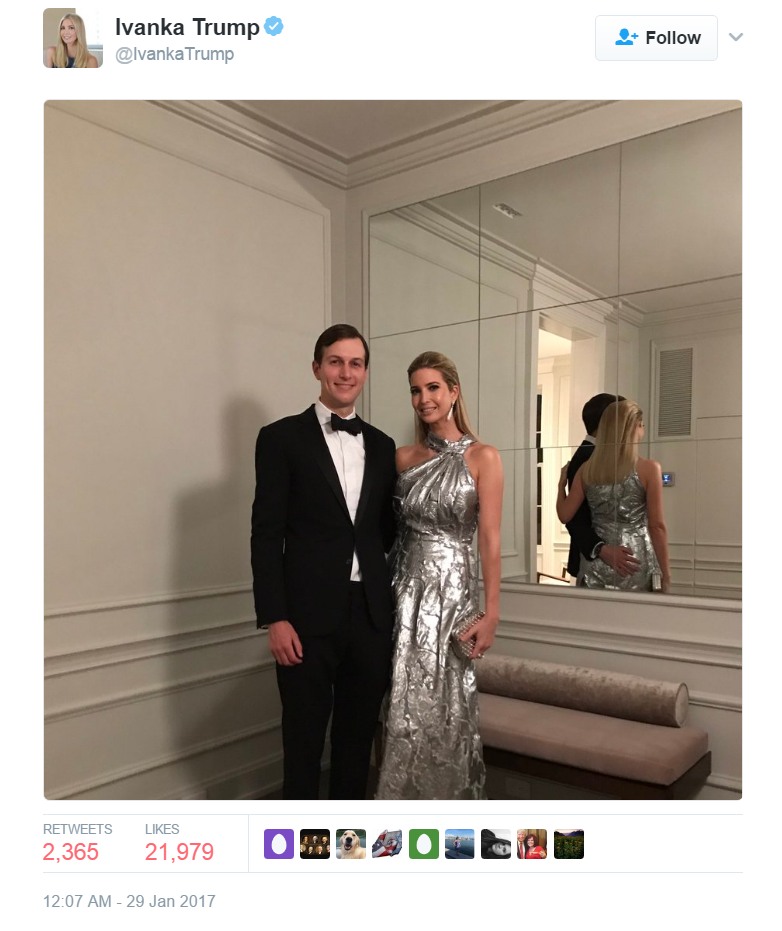 Photos courtesy of Twitter, Getty.