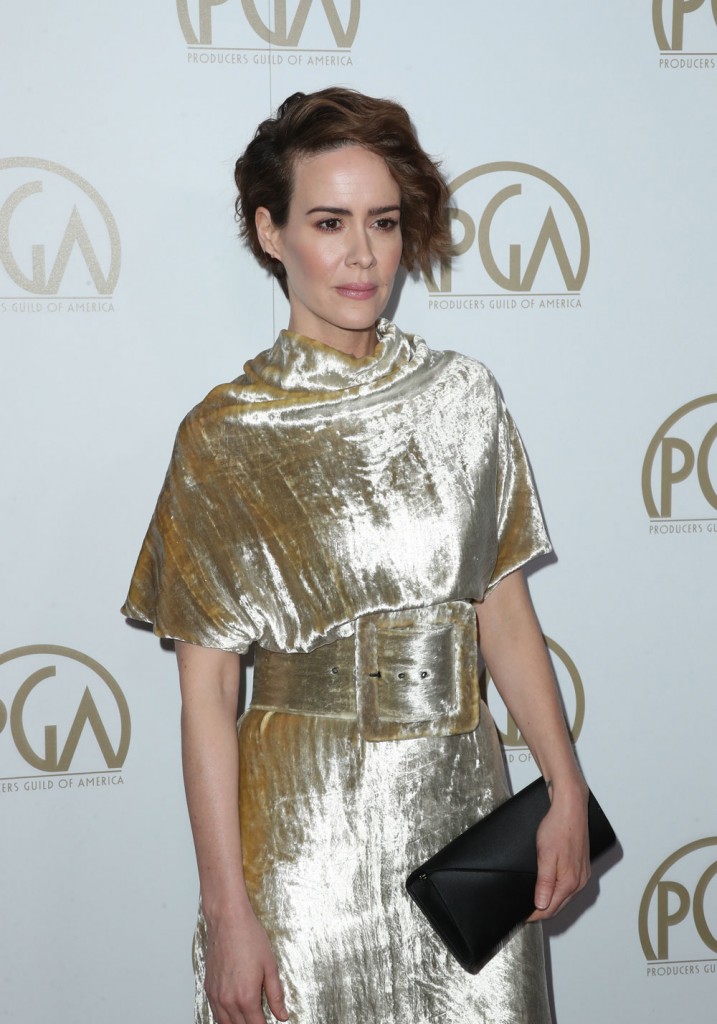 Sarah Paulson gave a shout out to the ACLU during her acceptance speech at the SAGs on Sunday and urged people to donate to this great organization defending civil liberties at a time when they're so much in jeopardy. Over the weekend, when so many people were detained at US airports, including those with valid US visas and green cards, the ACLU received $24 million in online donations. This represents over 6 TIMES their average weekend donations, which usually total about $4 million. During her press conference after the show Sarah was asked why she spoke about this (I watched a few press conferences and this was a popular topic) and she said because of everything that's going on now. She also acknowledged that she's had enormous professional success and that it feels like a dichotomy to her. I like the way she so thoughtfully discussed this.
Could you expand on why you decided to comment [on that]? Was that a tough decision?
It wasn't a tough decision to come up with what I wanted to say. I'm not an immigrant I was born here so how I can speak about it from a personal standpoint wasn't available to me. I just wanted to have an opportunity to mention the inclusivity that I think is required now in general. The ACLU to me represents that across the board. They do really rely on funds from people like you and me.

It's an odd thing because this has been a very celebratory time in my life in terms of my work being recognized and at the same time it's dovetailing with a very interesting time in our country. I [feel] the duality of the celebration and also the seriousness of people who are at JFK, LAX, airports all over the country. It just feels like a grave time. At the same time I feel very honored and proud so I'm just trying to find a place to put it where I can be celebratory and were I can also give the day its appropriate weight.

As an actor in this political climate do you feel pressured to make these statements?
I don't think that anyone should feel pressure to be anything. I do think we should be able to speak our minds as we see fit. I do think silence is not golden at this particular time. I do think if you have a platform… then you should take the opportunity. I don't want anyone to feel that they're failing if they're not doing it. What happens to you when you get up there – it is hard to keep your bearings.
[From SAGs press conference, video below]
That was so well put and you can tell that she's thought about these issues and that she cares and wants to acknowledge her privilege, for lack of a better word, and use her platform. She's not speaking for anyone else though. The more I hear from Sarah the more I admire her. In terms of Sarah's personal life I was worried that she might have broken up with her partner, Holland Taylor, but Holland has been tweeting all about Sarah's wins and it looks like they're still together, or at least supportive of each other. They do go to events together but they're usually smaller events and not awards ceremonies like this.
Here's Sarah's press conference:

This is Sarah in Maison Margiela crushed gold velvet at the Producer's Guild Awards (thanks Fashion Court for the designer ID! You guys are the best.) Check out that exquisite belt. This dress is incredible and I love her hair.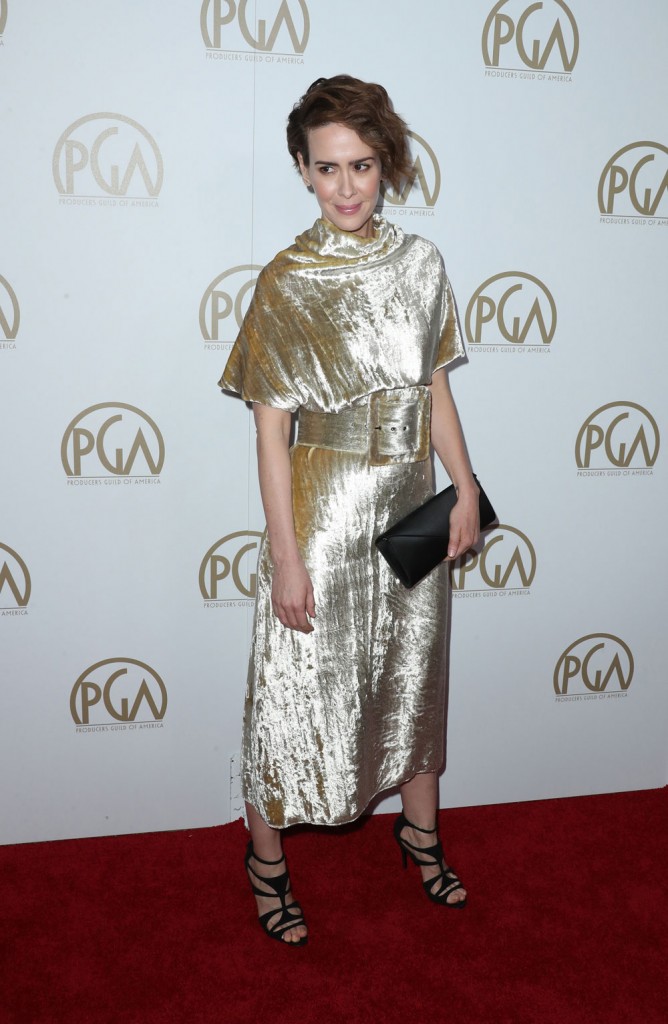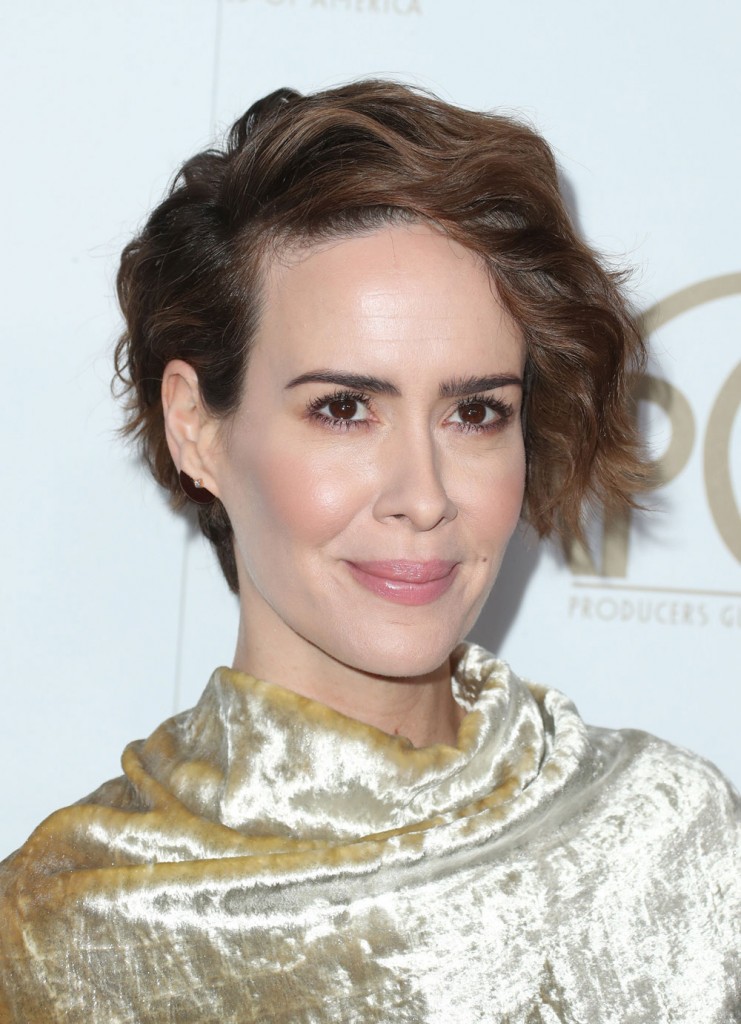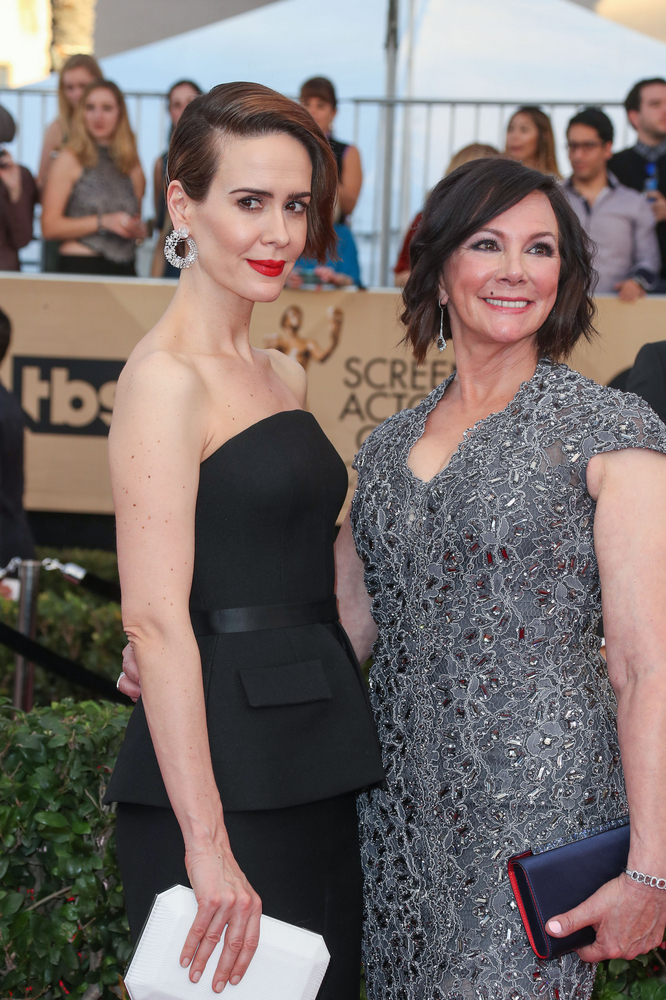 photos credit: WENN and PRPhotos