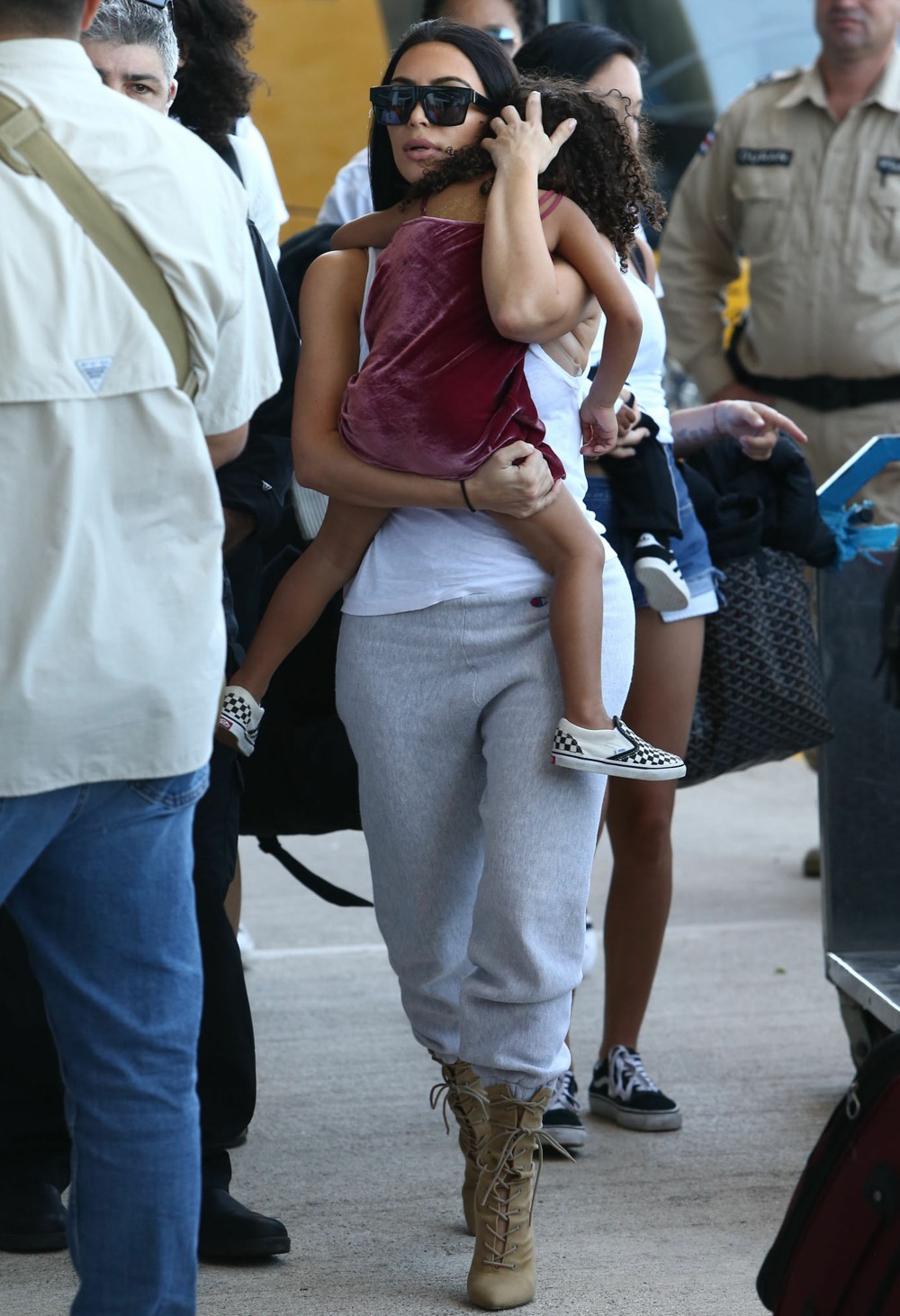 Slowly but surely Kim Kardashian is re-entering the old famewhore space that she used to inhabit. A leopard can't change their spots butt implants, after all. Kim and the Kardashian-Jenners spent several days on "vacation" in Costa Rica, only I'm pretty sure the vacation was just for Keeping Up with the Kardashians. The plotlines involved: Kourtney and Scott getting into a fight (Scott left the vacay early), Kylie and Tyga still going strong and Kim enjoying her "thinness." We know that Kim is really feeling herself these days because she's back to Snapchatting endlessly, even while she's working out:
If a workout happened and it wasn't documented on social media, did even happen at all? That's the question Kim Kardashian West asked her Snapchat followers on Saturday, after sharing a video of herself and sister Khloé Kardashian doing a high-intensity workout. The 36-year-old reality star has been keeping a low profile since her Paris robbery in October and she has recently begun her slow return to social media. But even at the peak of her social sharing, there was one thing Kardashian West rarely showed fans: her workouts.

"I never Snapchat my workouts, just because… I don't know why — I'm just not Kourtney and Khloé," Kardashian West joked, after posting a video of her Saturday morning exercise session. "But it's like, if I don't Snap it, then it's as if it never happened. But I work out every single day for over an hour."
Do you think Kim really works out for more than an hour every day? I do not. Especially since Kim actually looked like she had put on some weight after the holidays. That's not a criticism or anything – if I had been held at gunpoint and robbed, I would need some comfort food too. But I'm just saying, I don't think she works out every day. I think she went to Costa Rica to get sucked and tucked, probably.
Also: look at her crazy manicure. No. No no no. This is awful.
Photos courtesy of Fame/Flynet.