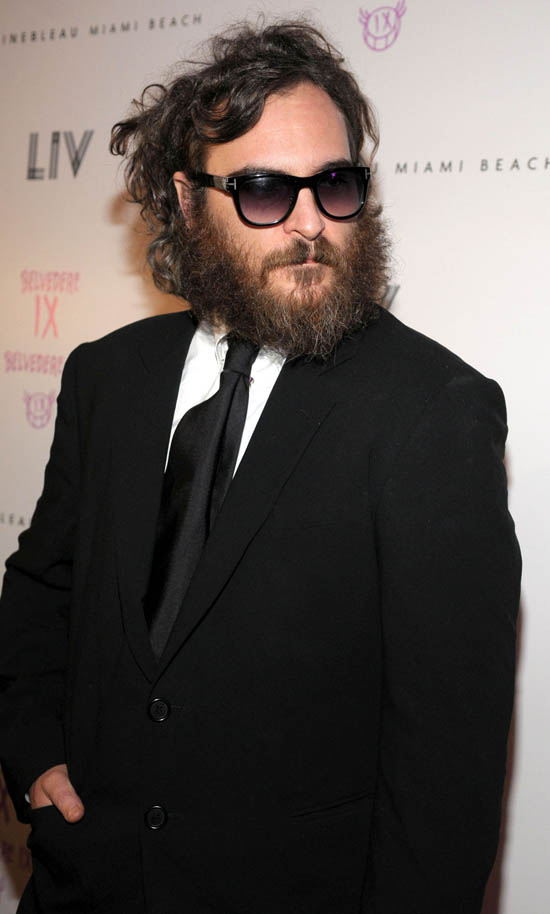 One of the photo agencies we use has a picture of scruffy Joaquin Phoenix on their homepage. Whenever I see it I wonder where the hell he is and if he's ok. Joaquin, you probably remember, decided to scrap the whole Hollywood star thing in favor of a rap career that rivals K-Fed's career change in the "most ill-conceived foray into rap" category. He also seems to be on just about the same talent level as K-Fed without the bling-enhanced uncalled-for bravado.
We haven't heard anything from Joaquin in over two months. Usually no news is good news, but in this case it's worrying. Causing even more alarm is the fact that Joaquin's buddy, his brother-in-law Casey Affleck, is asking for user-submitted footage of Joaquin for the documentary he's making on his transition from movies to music. Does this mean that Casey has lost touch with Joaquin and that he's no longer helping out with this film? Casey seemed to be about the only thing holding Joaquin together.
Attention amateur concert videographers and collectors of trainwreck footage: Casey Affleck wants your handiwork for his upcoming film on actor-turned-rapper Joaquin Phoenix. And he's serious about it.

Perhaps in a knowing nod to the, uh, overwhelming amount of amateur Joaquin footage floating around on YouTube (most of it catastrophic in nature), Affleck — who, along with a film crew, has been with his brother-in-law Phoenix throughout his bizarre ride through the world of hip hop — has started JoaqDoc.com, a Web site that allows users to upload their own videos of Phoenix rapping on — and subsequently off — stage.

Of course, whether or not your footage ends up on Affleck's film seems to be entirely up to him … but he wants you to be very clear — via some rather impressive (and lengthy) legalese in the site's "Terms and Conditions" section — that once you upload it, you might as well kiss it goodbye for all eternity:

"By posting any content, images, photos, video, sounds, profiles, works of authorship, or any other materials (collectively, 'Content') on the Website, you hereby grant to Flemmy [Affleck's production company], a non-exclusive, fully-paid and royalty-free, worldwide license (with the right to sublicensees) to use, copy, modify, adapt, translate, publicly perform, publicly display, store, reproduce, transmit, and distribute such Content in any and all media and by any means now known or hereafter devised that Flemmy, in its sole discretion, shall deem appropriate."

Dang, man … who thought footage of a bearded dude in Grandma shades tumbling off a stage would warrant such wordy legal wrangling? Still, if you're not frightened away by all that, you can upload your Joaq clips right now. Just don't blame us when Phoenix and Affleck show up to claim your first-born son. Making films is serious business, baby!
[From MTV]
This isn't funny at all and I'm really concerned for this guy's health and well being. Some people said that Joaquin's whole in-the-toilet image and rejection of his career were some kind of elaborate stunt, but I never got that impression. It looked to me like he had serious drug and/or mental health issues. Joaquin had to do press for his last film, Two Lovers, which resulted in his disastrous appearance on David Letterman. Maybe he realized he needed to give up his plans for a rap career and withdraw from the public in order to focus on his sobriety. That would explain why Casey doesn't have enough footage for his film. The alternative, that he's just too disturbed to perform or even bother to contact Casey, is too scary to consider. Please get help Joaquin! We lost your brother, we don't want to lose you too.
Joaquin Phoenix is shown on 3/11/09 before a performance. Credit: Johnny Louis/WENN.com