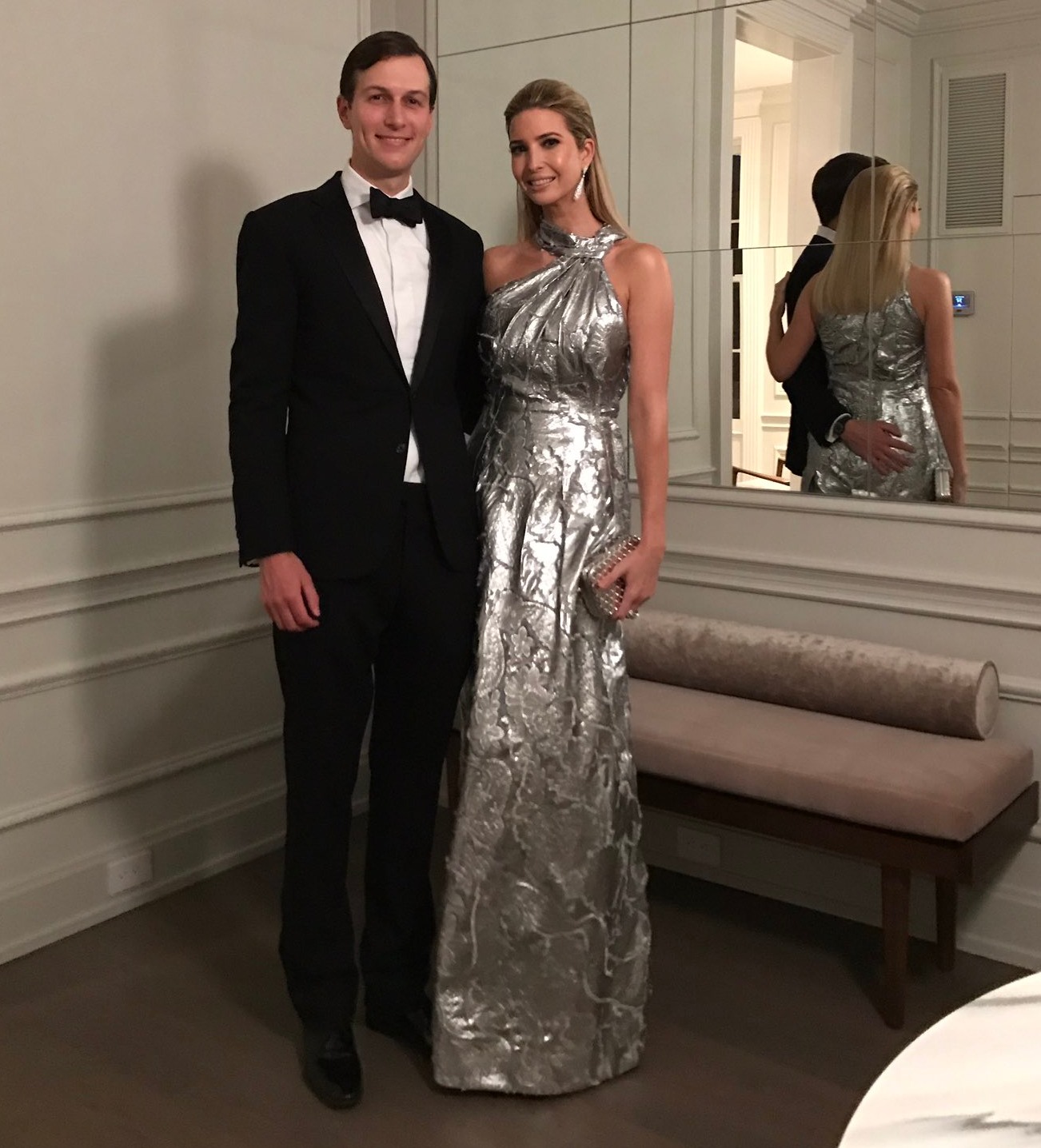 We've been hearing for months that Ivanka and Jared Kushner needed to move to Washington so that they could advise Emperor Baby Fists. We were told that Ivanka is Baby Fists' favorite child, the only one of his kids to whom he will listen, and that Baby Fists is particularly close to Jared. We were told that Jared is the rare ray of sanity in the lunatic politics of the Orange Administration. Well, guess what? Steve Bannon is successfully outmaneuvering Jared and Ivanka. And Jared probably wants people to know that he disagrees with the Muslim Ban and he wouldn't have let it go through, except he wasn't taking calls because it was the Shabbat. Vanity Fair had an interesting piece about how Jared and Ivanka came to look so f–king out of touch with their formalwear-tweet this weekend:
Kushner, along with his wife, Ivanka Trump, is also an orthodox Jew who observes Shabbat. From sundown on Friday until sundown on Saturday, the couple abstains from technology and work. And early in the incipient Trump administration, that brief period has been unusually fraught. Last week, the president personally called the Park Service on the morning after his inauguration to inquire about the size of the crowds who came to watch him take the oath of office. He subsequently delivered a widely derided speech at C.I.A. headquarters that afternoon, during which he blathered on about the media's treatment of him and his inaugural crowd size. He then sent his press secretary, Sean Spicer, into the briefing room to falsely claim that it was the largest audience for an inauguration in history.

During the tumult, some noticed the conspicuous absence of Kushner's allegedly calming presence. "He wasn't rolling calls on Saturday when this happened," one person close to Kushner told me last week. "To me, that's not a coincidence."

The timing of Trump's executive order on Friday, just moments before sundown, meant that Kushner would not be in the West Wing to absorb another cataclysmic Saturday. Indeed, Kushner observed the Sabbath as thousands of people protested outside airports across the country, children waited for their detained parents, lawyers rushed to federal court rooms, taxi drivers went on strike, and one Democratic leader broke down in tears on live television.

Trump's first Sunday in office, following a tumultuous Saturday, was a more delicately managed day. (Among other mollifying maneuvers, Trump tweeted "peaceful protests are a hallmark of our democracy.") So many observers were surprised when Kushner and Ivanka Trump not only emerged from the Sabbath to attend the annual Alfalfa Club dinner, which Trump himself had skipped, but also when Ivanka posted a photo of herself in a metallic silver Carolina Herrera gown, tucked into the tuxedo-ed arm of her husband, who had his hand on her posterior… A source close to the family noted that Kushner and his wife were aware of the fallout from the executive order only in an oblique way until after sundown and the photograph was posted to social media.
Do you think it's coincidence that Bannon timed the Executive Order just as Jared was out of reach? I do not. I think this is less a story about Jared and Ivanka doing damage control and more a story about Steve Bannon's triumph of the will. Bannon's temporary goal is push out Ivanka and Jared. The long-term goal is a president who is nothing more than a blathering, unhinged, needy, petty figurehead with Bannon as the power behind the throne.
As for that photo (the header photo, which Ivanka tweeted out)… she tweeted it on Sunday. Shabbat was over. Do you think she and Jared just "forgot" to watch the news or check their messages? Of course they knew what had gone down. They just didn't care. That's Ivanka in a nutshell – she's all about her brand of "glam mommy" or whatever. She thought she was changing the conversation.
Photos courtesy of Getty, Ivanka's Twitter.