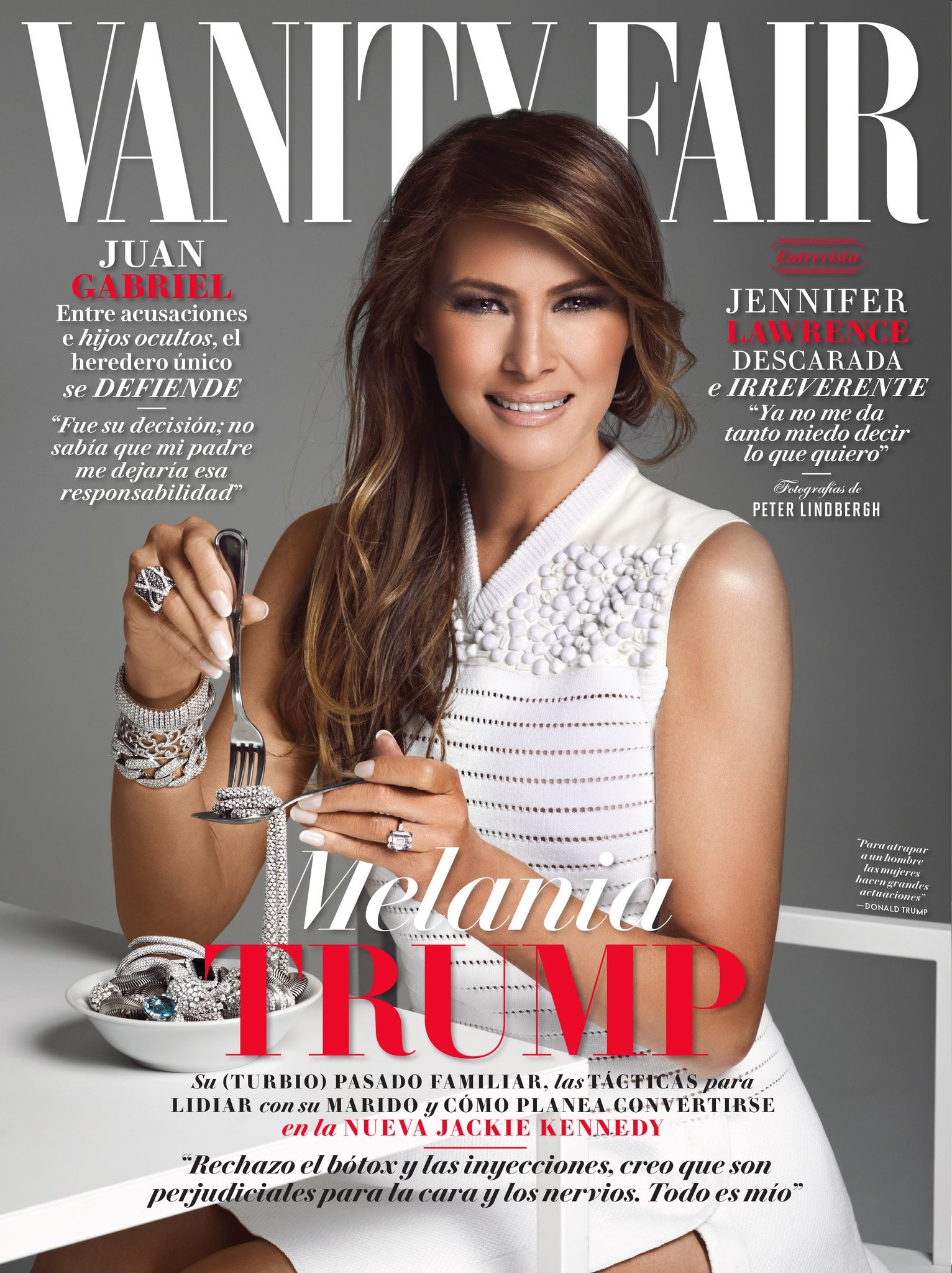 This story is several days old, but it's still worth discussing because of what I believe to be an excellent high-level troll being conducted by magazine editors. This is the new cover of Vanity Fair Mexico – Melania Trump smiling, wearing diamonds, and about to tuck into a big bowl of jewelry. This is the story behind the image: Vanity Fair Mexico bought a stock image of Melania, taken from a shoot she did in December 2011 for Philadelphia Style magazine. The actual text of VF Mexico article is just repurposed quotes from Melania's interview with GQ last year (where she denied having a boob job). GQ and VF are both Conde Nast properties, and international editions often re-run interviews and editorials done with the American magazines. Still, VF Mexico's editors wanted to poke at the Trumps, and they went out of their way to do so, making Melania look like a clueless, privileged Marie Antoinette figure.
That's how I took it – as a high-level troll aimed at mocking the Trumps. But other people took it differently, in Mexico and America. They thought VF Mexico was just doing their part to normalize the Trumps, especially given a particularly fraught moment when Emperor Baby Fists is still doing everything to disrespect and bully our neighbors and allies. When VF Mexico's editorial director Lourdes Garzon was criticized for the Melania cover, she reportedly tweeted: "You Mexican compatriots are such crybabies." Later, VF Mexico claimed that her Twitter had been hacked and now no one knows what's going on with VF Mexico. Like, did they do this cover for-real, with no hidden (and hilarious) agenda?
Seth Meyers had a funny take on this:
Cover courtesy of Vanity Fair Mexico, photos courtesy of Getty.