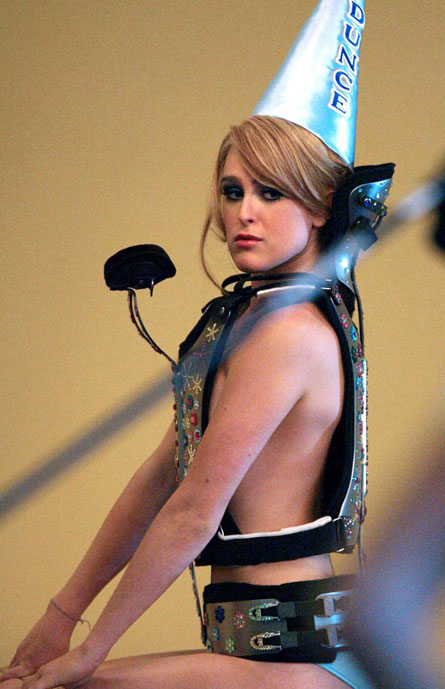 Rumer Willis, who is apparently an actor as opposed to just famous offspring, is multi-talented. Or so she says. Maybe she's just unsure of what she wants to do with her future.
In addition to acting you can expect Willis to have her own diverse career that includes photography, music and maybe even a fashion line.

"I love a lot of different things," said the actress who turns 19 on Thursday. "I really like acting, I really like music and I love photography. In a perfect world I could do all three. In the future, I would love to do an album. I have been singing since I was really little which not a lot of people know about so it's one of those fun, personal things."
I wonder if this means her new movie isn't very good, and she's already gearing up for a quick profession change?
She also explains those pictures in the space age dunce cap and back brace.
"That picture was taken from a photo shoot we did for the movie for a calendar in the film that shows [the sorority girls] going too far," Willis told People Saturday during an Art of Elysium benefit held at the French Connection Beach House in Malibu. "Somebody happened to take a picture and leak it. It is what it is."
Well, I didn't say the explanation was a good one.
Rumer was caught up in a drugs bust when police raided the hotel room she was partying in with members of her film's production crew.
Rumer, whose mother is Demi Moore, was one of four people in a room at the La Quinta hotel when a member of her new film's production crew was arrested for possession of marijuana.

The man, named as Christopher Henry, is the 'key grip' on independent film From Within, which stars Rumer and is currently shooting in Aberdeen.

Police had reportedly been called to the hotel after other guests complained about the noise.

Police chief Randy Rudy said: "What I was told by my officer was that Rumer was in the periphery and was not related to this arrest in any way."
Only four people in the room, yet Rumer wasn't involved? I guess they weren't smoking the pot at the time, since it's only polite to share.
Header pic from Egotastic via DListed.