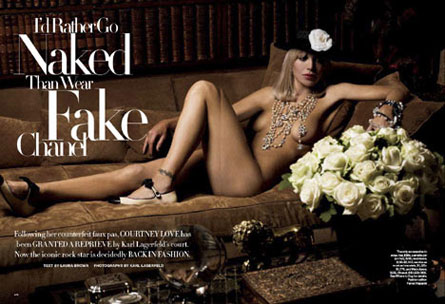 Courtney Love has a featured spread in next month's Bazaar magazine, on stands August 21st, but snippets of her interview have already leaked out online, and all I can say is, she's one hypocritical bitch. I can handle most flaws, but hypocrisy isn't one of them. She goes off on the unhealthy eating habits of thin starlets. This from the woman who appeared to lose at least 50 pounds in just a few short months. Seriously, she shocked everyone.
"'I've lost a lot of weight, and I have done it through being quite disciplined… Some people think it's about weight loss, but it's about detoxing. I hate reading magazines where the actresses are saying 'Broccoli and fish, broccoli and fish.' You liars. You bulimic liars.'"
[From US Weekly]
Um, I call bullshit on every single word that just came out of her mouth. What? Courtney Love, the queen of all things shot or snorted, is telling people she lost weight naturally by detoxing? That's such crap. No one loses that much weight like that, and I don't think anyone believes her. They're called amphetamines. I'm sure you know them well. Who the hell does she think she is? Just because it comes out of her mouth, we're all supposed to buy it? Since she lost all that weight, she's been accused of having an eating disorder by just about every article written about her. So I guess she's just "paying it forward" so to speak.
"Rocker Courtney Love has denied speculation she is too thin by announcing she has gained 10 pounds on a unique cupcake diet. The former Hole frontwoman has recently come under fire for shedding too much weight, but Love insists she is healthy and has blasted the attention surrounding her size.

"She writes on her MySpace website: 'I've put on 10 pounds (thank you Sprinkles cupcakes which I must admit are overrated). I must point out the hypocrisy of this crazy hysteria about my weight. No one's going to mistake me for Eva Longoria, and my God I am truly happy to be who and what I am. With my life and my experience I can do so many things to help so many people and make such a beautiful clothing line too!'

"Last month, Love's appearance at a concert in New York City sparked concerns about her shrinking frame – prompting the singer to tell fans: "I don't have an eating disorder."
[From Ireland Online]
So she doesn't have an eating disorder because she gained 10 pounds from eating too many cupcakes? Maybe she gained 10 pounds to get people to stop talking about how she was too thin… just a thought. Either way, I think it's hysterical that she calls people hypocrites for wondering if she has an eating disorder, and then a few days later the Bazaar article is leaked where she accuses thin celebrities of being bulimic. What I really want to know is, when is she going to take responsibility for those collagen fish-lip injections she had? That wasn't fair to the rest of us, making us look at those things.
Pictures of Courteney Love in Bazaar via DListed and StyleCrunch.