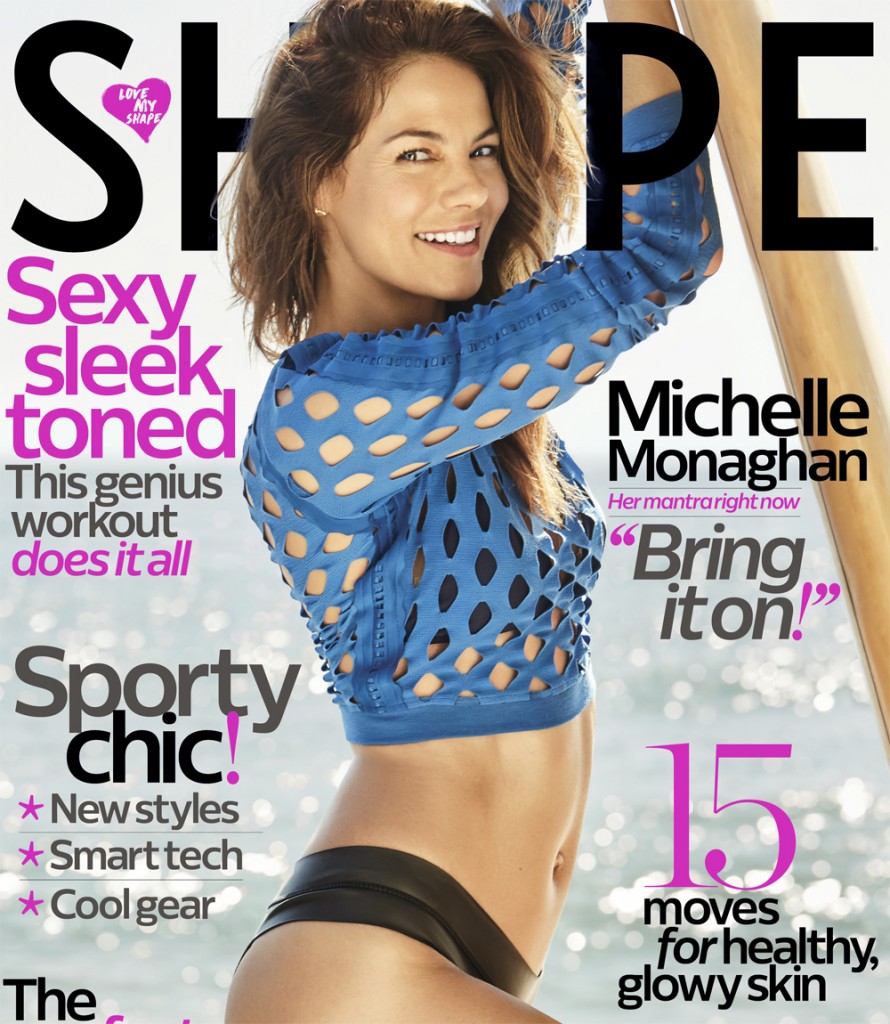 Do any of you watch Hulu's The Path? It's in its second season and centers around a Scientology-type cult called the Meyerists (except they're more of a hippie cult as they use drugs and were founded in the 60s) with high ranking members Michelle Monaghan, evil new leader Hugh Dancy and the incredible Aaron Paul as Michelle's estranged husband who is questioning the cult. (He's a "denier" in their cult speak.) I'm not in love with the show, but I do enjoy it and keep watching because the performances are so good and I want to know what happens. The good thing about Hulu is that you can't binge watch if you're current on the shows because they release one episode a week.
Anyway Monaghan covers Shape magazine, it's hard to recognize her with so little makeup but she looks gorgeous. In the interview I really enjoyed everything she said about her body and how she appreciates it and enjoys exercise. She's not faux humble, she loves her body because it's capable, she's into fitness and she loves it for the mental benefits, which I can definitely relate to. She enjoys running and it shows. They put her in all these 70s styles on The Path like flouncy floral blouses, high-waisted pants and bell bottoms and she just rocks those frumpy styles she's so tall and slender. Here are the excerpts from Monaghan's interview with Shape. She's promoting not only The Path but her films Patriots Day (with Mark Wahlberg, about the Boston marathon bombing) and Sleepless (a thriller with Jamie Foxx).
On being mentally tough:
"Confidence comes naturally to me now, but I think it's something you grow into. There are a number of things that gave me confidence over the years: going to college and writing my first rent check for $550, auditioning for and getting that first acting job. Reaching those kinds of goals gives you confidence to tackle new challenges. So when you have a setback, you think, It's OK. I'm going to recover from this."

On celebrating her body for what it can do:
"I love my shape because I know what it's capable of—running 13 miles, having two children, and learning to surf. I love my body so much; it's profoundly amazing. I have enormous gratitude for it."

On the healthy things she just won't eat:
"I have never liked fruit. To make up for it, I have a green juice every morning, which is totally devoid of fruit but has tons of vitamins from vegetables. A typical day of eating for me is eggs or oatmeal for breakfast, soup or salad for lunch, and fish or meat and lots of veggies for dinner."

On her love for cheese:
"I don't have a sweet tooth; I have a savory tooth. There are six or seven cheese in my fridge at all times. My idea of snacking is putting cheeses on a platter with prosciutto and crackers and sitting in front of it and stuffing my face."

On how she sets an example of positive body image for her daughter:
"When I'm not shooting, I aim to work out at least three times a week … On shoot days, I start at about five in the morning and don't get home until seven at night, so it's hard to find time for exercise. I throw myself a bone and don't get too worried about it. I know that when I have time again, I can kick it up a notch. I also need to be an example for my daughter. That means I can't run around worried about what I look like. We're active together as a family—the kids go hiking and biking with us. But I don't obsess about what I eat."

On why exercise is for her brain as much as her body:
"I get crabby when I don't work out. Just ask my husband! [Laughs.] I really depend on exercising to relieve stress. Last week, I was overwhelmed and I thought, I need to go for a run or a hike to clear my head. I had a to-do list that was a mile long, and I didn't know what to tackle first. When I run, it helps put everything into place.

"Years ago, when I started working out, it was about getting my body in shape. But now the mental benefits outweigh the physical ones. That's why I love going for a hike in the morning. There's something about climbing a mountain that's symbolic—you set your intention and what you want to focus on. I think about what I have to do today or what I have to accomplish this week. It allows me that space where there's no one else around."

On how her Midwestern roots keep her going:
"I run a half marathon every year with Maria, my best friend from my hometown in Iowa. I've known her since I was a kid. We usually do races in different cities, so we'll make a weekend out of it. It's great because there are days when I have to do an eight-mile run, and I'll get a text from Maria saying, 'I did eight miles! Did you do yours?' Training with her helps motivate and encourage me."
I'm like that with exercise, I really need it or I start to get grumpy. I've found that the harder I work out the better I feel so I've been trying to challenge myself and it helps. In the full interview Monaghan says that along with running she also does kickboxing, pilates and Soulcycle, which she compares to going to church. I've been getting back into spinning lately with RPM classes and it's such a good workout I love it. For kickboxing I do Body Combat, also from Les Mills. (I subscribe to their on demand workouts but my local YMCA has them too.) Also, Monaghan looks amazing in these photos from Shape. I thought she was in her mid 30s but she's 40, I wouldn't have guessed.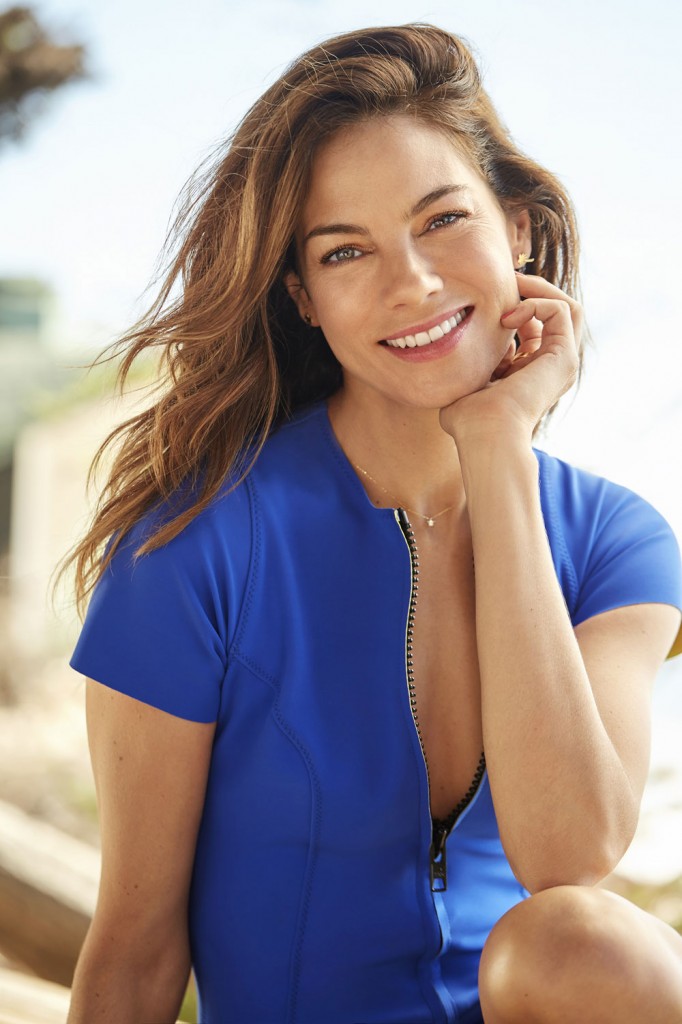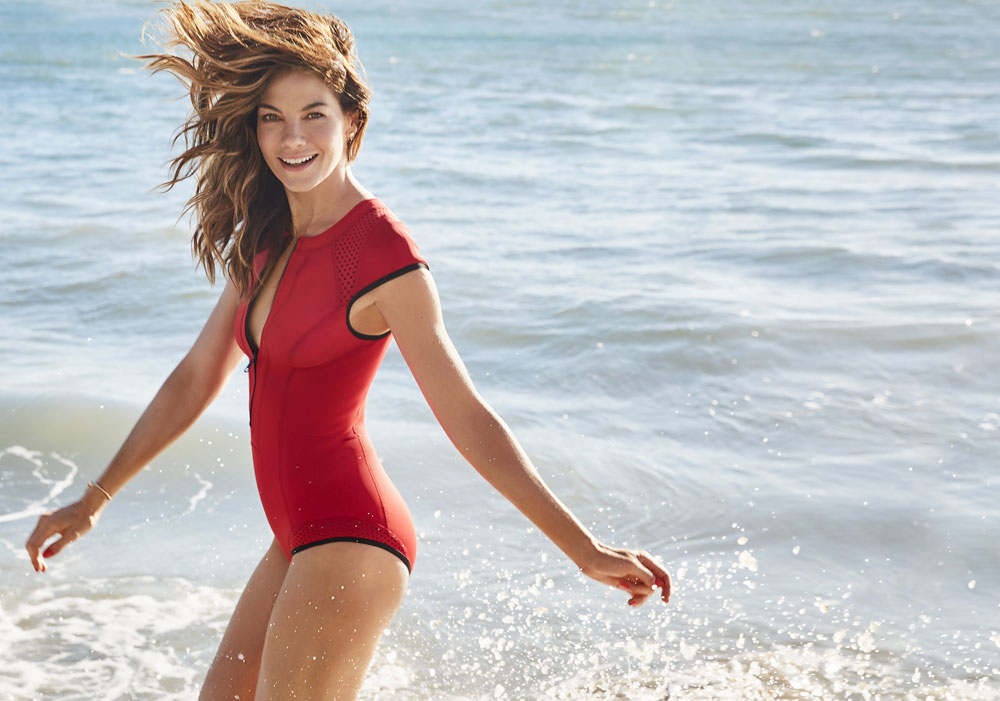 Photos are credit ©Arthur Belebeau/SHAPE magazine