The magic of Broadway – the sweeping orchestral music, the beautiful and historic architecture of the theater buildings, the incredible staging – should be enough to get butts in the seats, but sometimes a little star power can't hurt. Many of your favorite actors from film and television have trod the boards of the Great White Way, and Jake Gyllenhall is no exception, making his Broadway musical debut in a revival of Stephen Sondheim's Sunday in the Park with George.
Jake is taking on the role of French impressionist painter Georges Seurat in the revival of the Pulitzer Prize-winning musical, a role originated on Broadway by Mandy Patinkin in 1984. Jake co-stars with Tony winner Annaleigh Ashford, who originated the role of Lauren in the musical Kinky Boots and whom you may know better as Betty Dimello on Showtime's Masters of Sex. Robert Sean Leonard, whom I still miss from House, also appears in the musical.
Sondheim's songs often present a challenge to an actor (see Catherine Zeta Jones attempt to tackle "Send in the Clowns" from his A Little Night Music if you don't believe me,) But I think Jake may have managed to go toe-to-toe with Mandy with his vocal chops. Jake posted a video on his Facebook page, singing Georges' Act One show-stopping ballad "Finishing the Hat" during rehearsal of the show at the newly-renovated Hudson Theater. The clip was directed by Cary Fukunaga, who brought us True Detective. Get ready to swoon.
Dreamy, right? As a theater major/nerd myself (FSU School of Theater '90, holla!), I can attest that Jake's got a great musical theater voice. Of course, this isn't Jake's first live theater experience. He starred in the play Constellations in 2015. He also starred in a limited off-Broadway run of Little Shop of Horrors at New York City Center with Ellen Greene, who originated the role of Audrey and reprised her role for the 1986 movie. Jake and Annaleigh performed a concert version of George in October of 2016, and Jake got some great reviews, leading to his Broadway debut later this month. Previews of the show start this Saturday and the show's official opening is scheduled for February 23. This 10-week engagement ends on April 23.
Unfortunately for Jake, if he's looking for an EGOT, he's going to have to find another theatrical vehicle, as the show's producers have decided to take the show out of the running for the Tony Awards, citing financial concerns (such as providing free tickets for the 1,600 Tony voters) for the decision. Of course, when you're going up for Best Revival against Sunset Boulevard with Glenn Close and Hello, Dolly! with Bette Midler, your odds of losing are pretty good. Sorry, sometimes you've just gotta tell it like it is.
I used to go see a Broadway show every year, and I've had the pleasure of seeing Hedwig and the Angry Inch twice (with Neil Patrick Harris and John Cameron Mitchell), How to Succeed in Business with Daniel Radcliffe and tons more (I even saw Annaleigh in Kinky Boots). I would love to see this (my birthday is April 22, in case anyone if thinking of a nice gift). I hope this revival is a success and leads to more musicals for Jake – if nothing else, maybe he could reprise his critically acclaimed role in the Brokeback Mountain opera (yes, this really happened).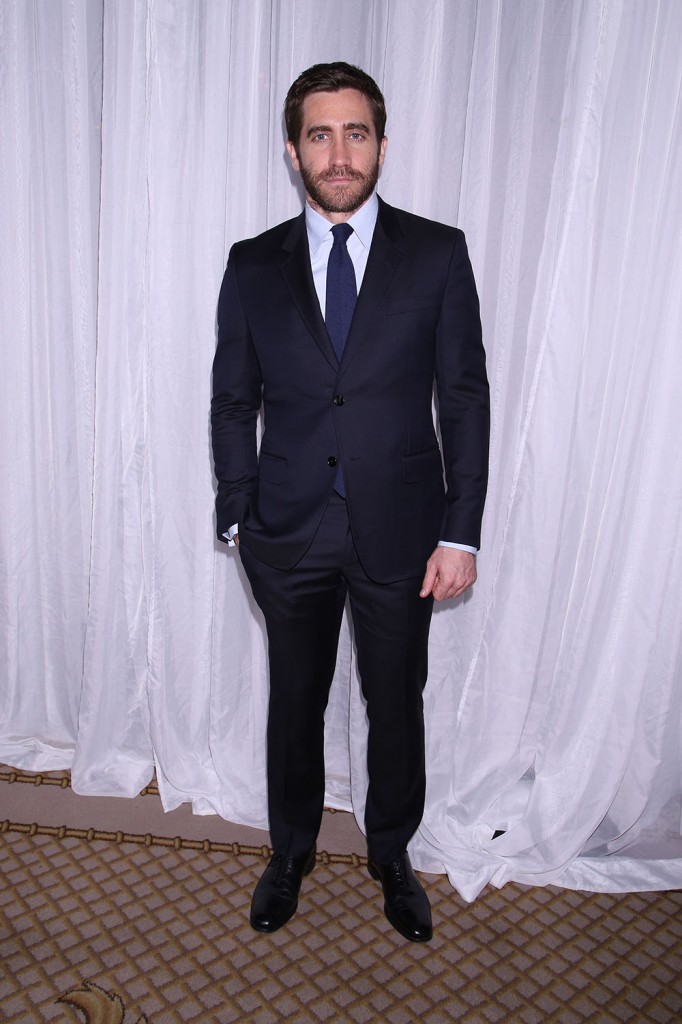 Photo credit: WENN.com, Getty Images