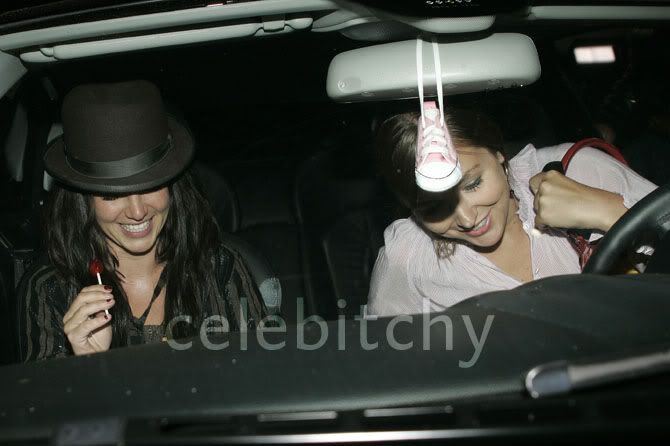 Paparazzi agency x17, who are all up Britney Spear's butt since she granted them an odd exclusive interview in which she mocked her ex manager in a faux Valley Girl accent, have another exclusive with a source "close to Britney," only identified by the name Jeff. The guy spoke to their photographer instead of getting massive coin for a tell-all with just about any gossip rag, because he wanted "to set the record straight."
They supposedly coaxed him to talk about Britney when they spotted him leaving Winston's Friday night out the back door while Britney and Alli left from the front. He is most likely someone who works for her, as is everyone who is close to her lately, but that was not mentioned.
He basically says that Britney is a great mom, that she cares a a lot about her kids and only goes out when she's not watching them during the week. He also says that she never does drugs. As for her relationship with Kevin, he was hardly ever around when she was married to him, although she wanted to stay with him for the sake of their kids.
The guy said Britney shaved her head because Kevin told her that he would have her drug tested in their custody battle. K-Fed told her that her hair would show that she was smoking pot just because she inhaled his second hand smoke.
Oh and Britney didn't need to go to rehab at all and never tested positive for drugs. Her family and then-manager forced her to go, as she claimed, says this guy. She was reported to have suffered from postpartum disorder because they didn't have any proof that she was on any kind of drugs. Britney's family and management threatened to take away her children if she didn't stay at Promises:
On Britney's family — our source says, "They have issues of their own that they need to work on. They need to quit blaming Britney." He's totally "turned off by Britney's family at the moment" He's also somewhat disappointed in her mom for being so naive and trusting the people that Britney fired rather than trusting her own daughter. It was due to the influence of Larry Rudolph on her family that Britney was forced in to rehab and while she was there, according to "Jeff." He also claims Promises staff administered medication on Britney despite a record of constantly clean drug tests that showed no traces of anything in her body. He says Promises quickly backed off from the accusations of drug and alcohol abuse and then claimed postpartum depression after the drug results were clean, but either way … Britney was FORCED to stay in rehab because her family, her manager and officials at Promises were all threatening to take away her children unless she completed the treatment program. "I think Lynne does love her daughter, however I also believe Britney's anger towards her is justified. But come on, all moms and daughters have their arguments. Britney is just upset right now, her family needs to just be there when she's ready to call upon them."

So why'd Britney shave her head? — Kevin taunted Britney that even his smoking of marijuana in her presence (Jeff showed us a pic of Kevin on his phone of Kev with a joint in his hands, partying with his friends) would leave traces of the drug that could be picked up by drug testing when they lived together and he threatened to use that against her in a custody battle. After Britney shaved her head, she begged her mom and Kevin to test the hair from the salon however no one went to claim it. Instead, Larry and her family staged an intervention in a hotel room with the same interventionist that put Britney's father Jamie in rehab and also worked with her brother. Britney begged for them to give her a drug test but eventually felt there was no other option but to enter a treatment program to prove to her family that she was clean and to protect herself from any unfounded accusations in a potential custody battle. Britney met with attorneys over a month ago regarding legal action against Promises. "I think she certainly has a case against the rehab center, I feel what they did to her was not only cruel and embarrassing it added more ammunition aiding Kevin's eagerness for custody over her finances, whoops I mean children."
[From X17 Online]
This guy is probably just trying to protect his ass by saying these nice things about Britney since he's still working for her and all. I bet that he's partially right, though. From what I've heard of her behavior she doesn't deserve to lose custody of her boys to K-Fed. They haven't proven that she's on drugs or that she's neglecting her boys, and the tabloids are only looking foolish by pointing out that OMG she left a restaurant at 10:30 with her boys in tow! 10:30? Is that all you've got? She probably brought her kids with her because she didn't want to be apart from them. She could have easily left them at the house with a nanny or bodyguard.
I used to be all gung-ho on K-Fed getting full custody, but the more the gossip rags bash her for minor things and make up stories like she's taking drug lollipops, the less I believe the crap I read about her. She may not take good care of her children's teeth, or she may make dumb mistakes like giving them sugar soda, but who knows if that is true and that's certainly not a reason to take someone's children from them. Sure she's a mess, rude as hell, and behaves erratically, but how much of that is true and how much is exaggerated to move magazines?
I don't care much for the woman, and I think she's a waste of press, but that doesn't mean her children should be taken away. As a mother, that would surely be devastating to her. I haven't seen Britney commit anything close to neglect or abuse apart from the dumb ass lap-driving incident, and that was just carelessness. She isn't the best mom, but she's far from the worst one, either.
There will undoubtedly be new pictures of Britney soon, but the latest pictures of her on Splash are from last week Tuesday, which does say that she hasn't been going out the past few days or at least that the paparazzi haven't found her.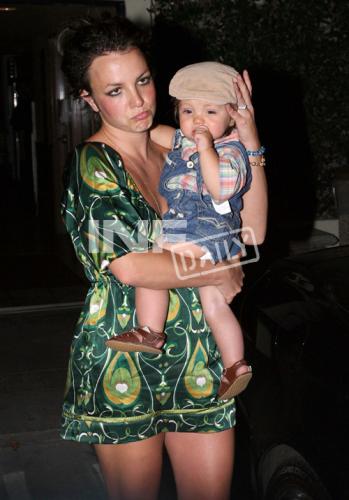 Update I spoke too soon. Britney was photographed out last night with Jayden James, and she flashed her panties again. Thanks to INFDaily for these pics. Used by permission.