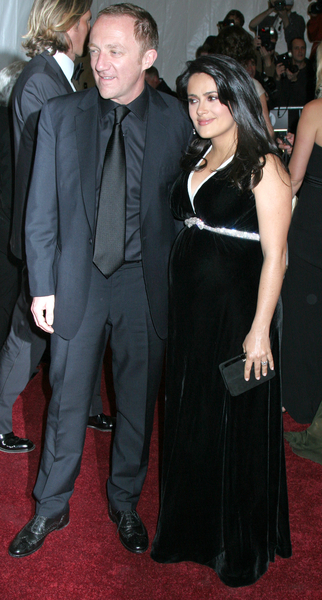 Salma Hayek, 40, is due to give birth to her first child in January later this Summer, according to Celebrity Baby Blog. Her fiance, 45 year-old Frenchman Francois-Henri Pinault, is the head of the company that owns labels like Gucci, Yves Saint Laurent, Bottega Veneta, and Balenciaga.
With Salma's star salary and her husband-to-be's wealth, they can certainly afford any kind of wedding they can dream up, and Salma is sparing no expense. She's said to be planning three fabulous ceremonies, one in her Mexican hometown, another in Francois-Henri's base of Paris, and yet another in LA. The guest list will number over 300 for each reception!
[Salma Hayek] wants to hold ceremonies in her hometown in Mexico; in Paris, where her billionaire fiance is from; and in L.A., where she's currently based, an insider tells Star!

Salma wants to invite 300 of their closest family and friends, including BFFs Penelope Cruz, Demi Moore and America Ferrara, to each of the receptions!
[From Star Magazine print edition, August 20, 2007]
The article goes on to quote the insider as saying that Salma's wedding "Will blow Eva [Longoria]'s gathering out of the water."
That's awesome, although the last time I heard of a celebrity couple holding multiple receptions, it was Pamela Anderson and Kid Rock and we know how well that worked out.
Salma is going to be seven months pregnant though! That takes nerve to throw a huge wedding when you're that far along. I got married after I had my baby as it was not a big priority for us to be married before he was born. It seemed easier for us to wait.
With three huge ceremonies and Salma's celebrity friends in attendance there are sure to be plenty of pictures. I wonder which magazine she'll sell the exclusive rights to. Maybe Hello!, or perhaps she'll split it up among the glossies. You can't blame her. She could probably pay for the whole thing with the money she'll get for photo rights.
Update: Thanks to commentor Kim for pointing out that Star was wrong about Hayek's due date. Celebrity Baby Blog estimates that it is later this summer. It looks like she will give birth before the wedding.
Salma and her fiance are shown in the header image at the Costume Institute Gala on 5/7/2007. Thanks to PRPhotos.