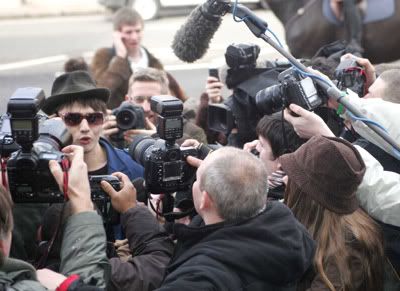 In a tribute to his supermodel ex-girlfriend, Kate Moss, Pete Doherty scrawled the message "I love Kate 4 eva" in marker on the windshield of his gold Jaguar as he left court in London today. Doherty faces charges on seven counts of possessing controlled drugs. His case was adjourned until March 23.
Appearing in court to review a different case yesterday: the judge inexplicably praised Doherty's progress:
During another court appearance Wednesday, Doherty breezed through a review of his earlier sentence for possessing hard drugs despite twice failing drug tests last month. "You're doing quite well, but you need to keep it up," Magistrate Jane McIvor Doherty said then.
Here is Doherty hanging out a window to take a smoke break from his court appearance.