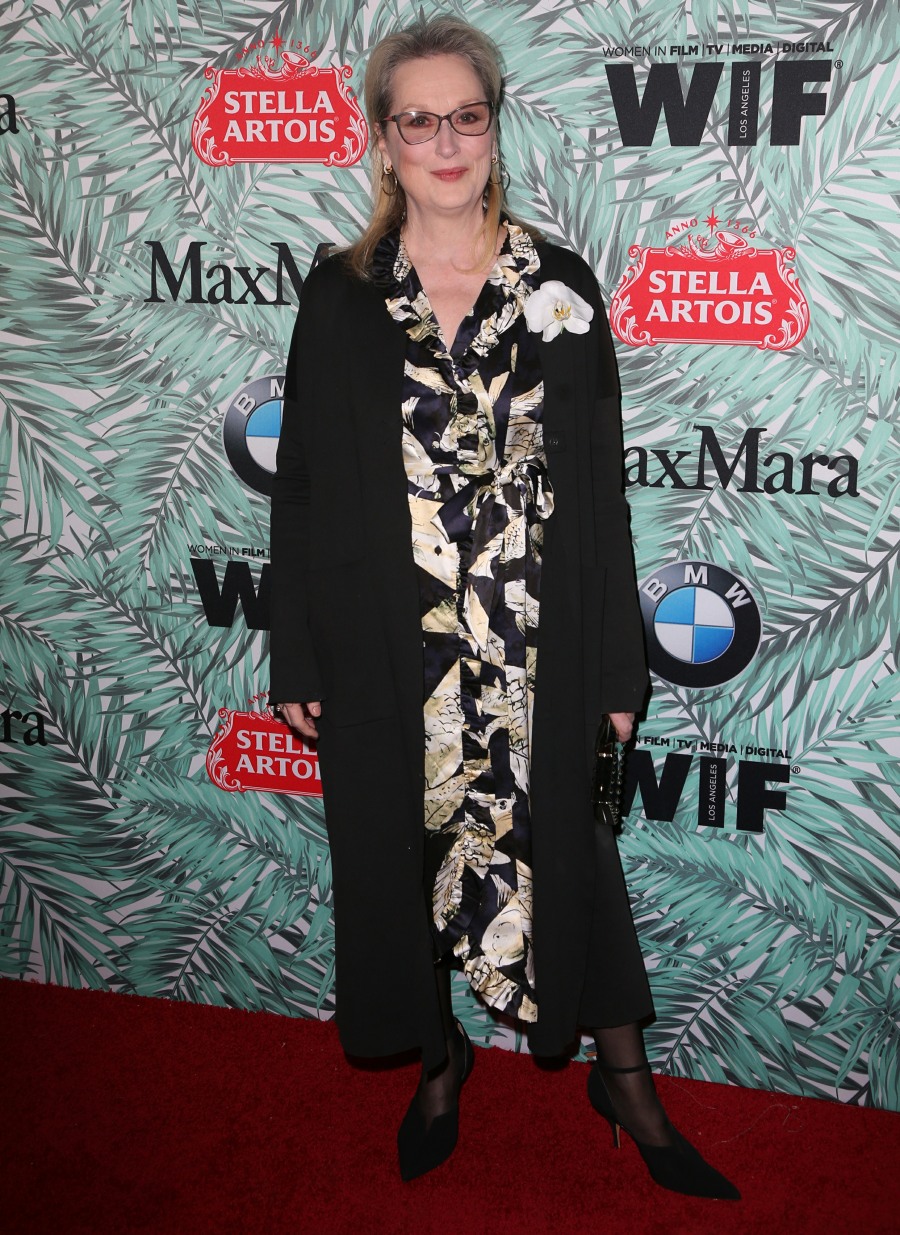 Here are some pics of Meryl Streep on Saturday at a Women In Film pre-Oscar event. She's obviously in LA for Oscars Weekend, and she'll be attending the Oscars as a nominee (her 20th nomination) and as a presenter, so she's guaranteed some time on stage, during which I expect she'll probably have some additional political stuff to say. Because she's a presenter, that also means people will really care about what she's wearing. On Friday, we discussed the absolutely weird and hilarious "fashion feud" between Meryl Streep and Karl Lagerfeld. Apparently, Meryl's stylist approached Chanel about customizing a dress for Meryl for the Oscars. Lagerfeld claimed that Meryl went with another designer because Chanel wasn't going to pay her for wearing Chanel. Lagerfeld called her "cheap." Meryl's spokesperson denied the entire thing. Well, the feud is still happening, only Lagerfeld has backed down significantly.
Meryl Streep has lashed out at Karl Lagerfeld for 'lying and defaming' her. A row between the actress and the designer blew up after he accused her of being cheap and demanding money to wear one of his dresses to the Oscars. Lagerfeld subsequently admitted in a statement that he was wrong.

'Chanel engaged in conversations with Ms. Streep's stylist, on her request, to design a dress for her to wear to the Academy Awards. After an informal conversation, I misunderstood that Ms. Streep may have chosen another designer due to remuneration, which Ms. Streep's team has confirmed is not the case,' he said. 'I regret this controversy and wish Ms. Streep well with her 20th Academy Award nomination.'

However the Florence Foster Jenkins star was far from satisfied with his response.

'In reference to Mr. Lagerfeld's 'statement,' there is no 'controversy': Karl Lagerfeld, a prominent designer, defamed me, my stylist and the illustrious designer whose dress I chose to wear, in an important industry publication,' she said in her own statement. 'That publication printed this defamation, unchecked. Subsequently, the story was picked up globally, and continues, globally, to overwhelm my appearance at the Oscars, on the occasion of my record-breaking 20th nomination, and to eclipse this honor in the eyes of the media, my colleagues and the audience. I do not take this lightly, and Mr. Lagerfeld's generic 'statement' of regret for this 'controversy' was not an apology. He lied, they printed the lie, and I am still waiting.'

Meryl's stylist Micaela Erlanger had also shot down accusation, revealing the acting legend had been in talks with a number of fashion houses, and simply decided to go with another option – and that money was never an issue.

'As a stylist working with a nominee for any major event, it's industry standard for designers to propose gown ideas and sketches — some custom, some not depending on the occasion. In the case of Chanel's submission, which was presented with full knowledge that Ms. Streep and I — her stylist — were having conversations with various brands, we were shown sketches of a dress from their most recent couture collection. Although [it was] an exquisite gown from the existing collection, we decided to go in a different direction, with another designer. At no point were there any conversations regarding monetary compensation. Nor were any other brands considered based on their willingness to pay for placement. This is not how my company operates and is very much a practice in conflict with Ms. Streep's personal ethics. Any reports or quotes stating otherwise are a complete fabrication."
Wow, Meryl sounds pissed. I would be too if Karl Lagerfeld was out there, calling me cheap. Then again, I AM cheap, so maybe I would be honored. I think it's pretty clear what Meryl wants – an explicit apology from both Lagerfeld and Women's Wear Daily, the outlet which conducted the interview with Lagerfeld. Both WWD and Lagerfeld should give Meryl the apologies she wants. They f–ked up. But… all that being said, I do think Meryl is overreacting just a little bit. Most of us heard the original story and shrugged, or we said "that doesn't sound like Meryl, it's probably a misunderstanding." Still, Lagerfeld lied and he owes her an apology.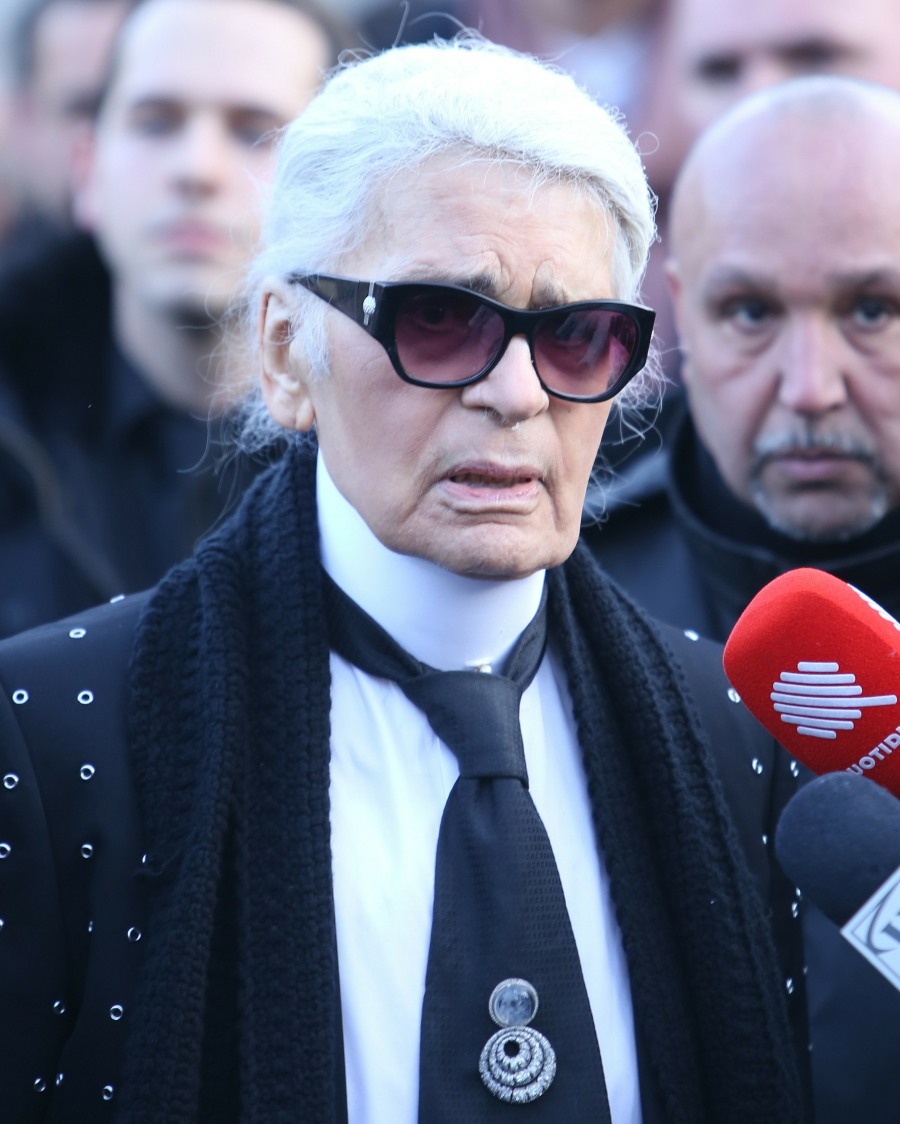 Photos courtesy of WENN.