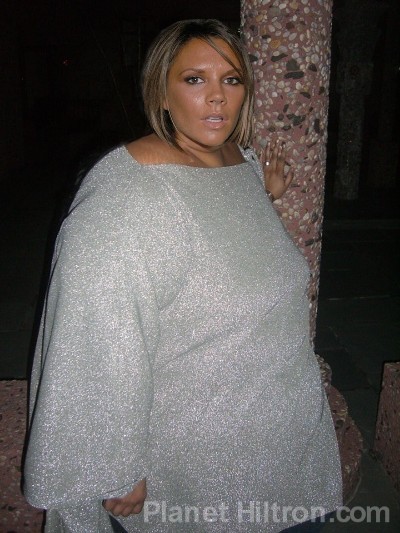 Photoshop creation by the talented artist at PlanetHiltron
Obviously Posh Spice isn't fat, but she'll be appearing as a fat version of herself at a wedding on television's Ugly Betty.
An insider at the ABC network said: "Everybody at the wedding will be expecting skinny beautiful Posh to show up.

"But they'll be horrified to see she's piled on the pounds because of major comfort eating and American junk food."

The 33-year-old singer – who recently moved to Los Angeles with husband David and their three sons after he signed a multi-million dollar contract with the Los Angeles Galaxy soccer team – admitted she was not invited to appear on the show for her acting prowess.

She said: "I'll be playing myself. And I'll get to wear a fabulous outfit, so I won't be acting."
I saw the Spice Girls movie, about 30 times when my little sis was crazy for them, and I believe Posh absolutely when she says she won't be acting!!
Posh, it seems, can write, gushing on her blog about how much she loves her life in Los Angeles.
Hi everybody
Hope you are all well? Well we have finally unpacked our boxes and I am loving our new house – it is totally major! Just adding some of the finishing touches to it actually and then it really will feel like home. On top of that the weather here has been amazing too so we are all a happy bunch. The boys are really looking forward to starting their new school so we've got to make sure they are all kitted out with new schoolbags and pencil cases – you remember what it's like going back to school, you've got to have a new EVERYTHING!
David and myself attended a launch last week in Bel Air (very swish) for the launch of our latest fragrance Intimately Beckham, we met lots of people there and I thought it went really well.
On top of that I have been busy having a good look around LA, checking out the restaurants and the beauty parlours – well you never know when you might need a facial!
I'm also just starting work on my new dVb denim collection – I'm really excited about starting the next project – it's going to be totally major so keep your eyes open for that.
Catch up with you all again very soon
Love
Victoria
x
Only Victoria, I'm not sure that the term 'swish' is much in use in America. I could be wrong. Then again, the last thing I would want to hear is Victoria telling us how A-list a party is in a broad West Coast twang. It just wouldn't be right.