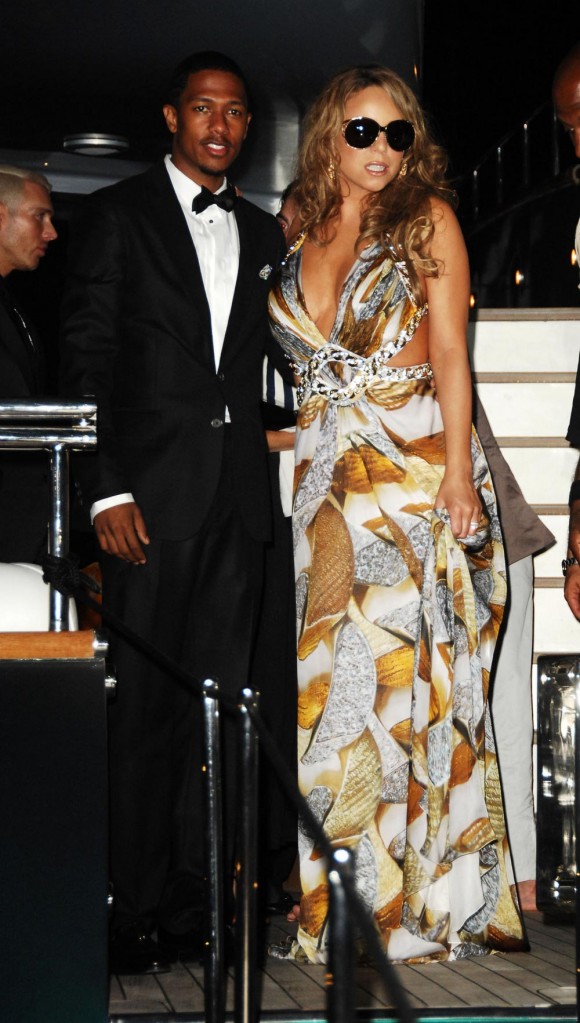 Mariah Carey was joking around with reporters when she was in Cannes, and she told them that her 40th birthday in March was just a "lie" being spread. She even calls forty "the F-word". It seems Mariah wants to be thought of a perpetual thirty-something, and has vowed never to say her real age again.
The worst part – and by worst, I mean too much information – is that this report from Bang Media has Mariah's husband/assistant Nick Cannon talking about how he gave Mariah a "bald eagle" for her 40th birthday. I don't have a problem with "bald eagles" in general, but I don't care to hear about them:
Mariah Carey will never turn 40.

The 'Touch My Body' star – who reached the landmark birthday in March – will never admit her real age and wants to remain a woman in her 30s for the rest of her life.

She said: "Read my bio again. We can't allow these lies to spread! Don't say the F word around me. It's just a number but I don't see why women should have to conform to what is expected of a 40-year-old – whatever that is."

To celebrate her birthday – which was on March 27 – Mariah's husband Nick Cannon whisked her away to Barbados on a private jet.

Mariah enjoyed an intimate dinner party with 11 close friends at the exclusive Wispers restaurant, which was filled with hundreds of pink and lavender balloons.

A source said: "It was important to Nick that the trip be a very relaxing one, where Mariah and her friends could truly enjoy themselves."

At the time, Nick revealed he wanted to treat his wife to a "bald eagle" for her birthday.

But as well as being an endangered species, a "bald eagle" is also a slang term for someone with shaved pubic hair.
[From BANG Media International via Gossip Rocks]
Alright, not to wade too deeply into the "bald eagle" discussion (I just grossed myself out), but who really thinks that Nick Cannon gave Mariah her first "bald eagle"? I realize that's not what he's claiming, he's just saying this one was special, because it was his treat. But considering all of Nick and Mariah's beach photo-ops featuring Mariah's too-flat stomach in itty-bitty bikinis, I think the girl's had a bald eagle for the better part of a decade.
Mariah Carey and Nick Cannon are shown at Cannes on 5/16 and 5/17/09. Yacht photos from WENN.com. Event and other photos from Fame Pictures