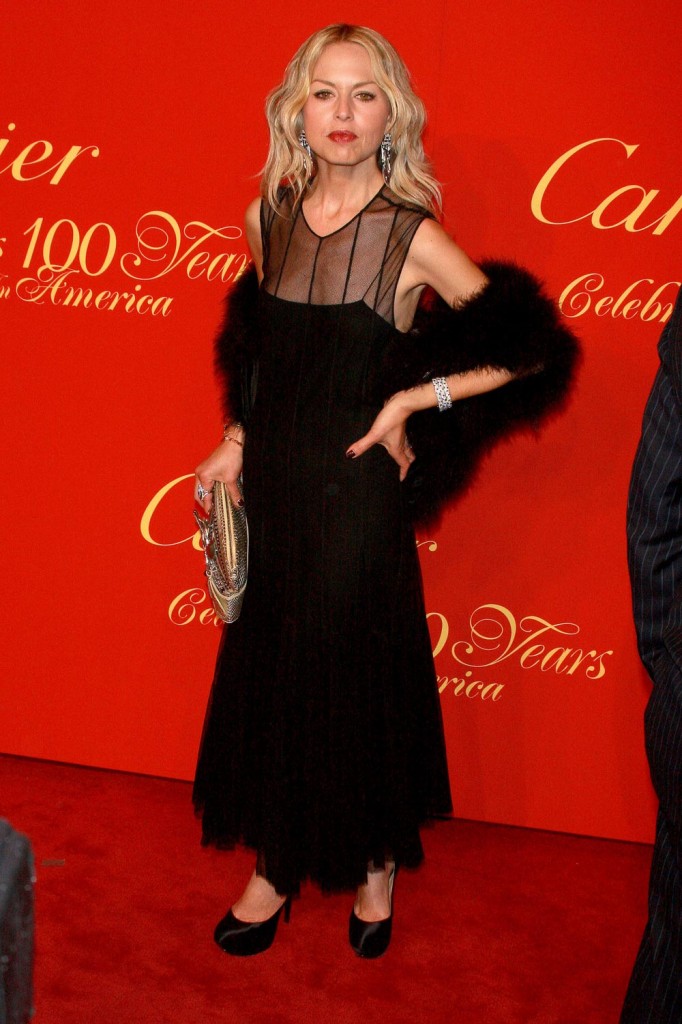 Is it any secret that stylist Rachel Zoe has some kind of weight issue? I watch The Rachel Zoe Project, and (as I've pointed out before), she doesn't even want to eat for the cameras, or for her husband. She just drinks coffee all day and picks at whatever food is put in front of her. Now she's given another interview where she claims that she's not trying to single-handedly make Hollywood a size zero. But first, some background.
Back in 2006, there was something of a catfight between Zoe and her ex-client Nicole Richie. Nicole posted a "blind item" on her MySpace, writing about a "raisin face" who "whispers her order of 3 peices of asparagus for dinner at Chateau every night, and hides her deathly disorder by pointing the finger at me." Zoe responded by issuing a denial, saying "The tabloid reports have no merit. After trying to be a good friend to Nicole, we made a mutual decision to sever our working relationship." Blah blah blah.
Last year, Zoe gave a really strange interview to Harper's Bazaar about her own weight issues. The magazine had to photoshop Zoe – because she was too thin. In the interview, Zoe said "It's hard for me to take care of myself, let's put it that way. I am my last priority…[sometimes I'll only had coffee and a grapefruit [all day]… it's not that I don't eat. I eat."
Now, for the latest denial, this time to Hello! Zoe has got her denial down pat now, saying "It's old news and it's ridiculous." Hmm… so it used to be true (thus "old news")?
[Rachel Zoe] is credited with changing the face of Los Angeles daytime dressing from the old velour-tracksuit-and-Ugg boot uniform to a far more glamorous 1970s-inspired look.

"I would never take credit for that," she says modestly. "But I think that if I've changed the way people view LA style, then that's great, because LA really is one of the fashion capitals at the moment."

Rachel has been busier than ever recently filming her new reality TV six-parter The Rachel Zoe Project and working on her second book, a follow-up to her style bible Style A to Zoe.

The influence the slender fashionists has had on the industry is not to be underestimated. The 37-year-old was everywhere at the Oscars, styling the stunning Anne Hathaway and partying with Mischa Barton and Lindsay Lohan.

Under Rachel's guidance, celebrtities such as Nicole Richie have gained plenty of exposure with her trademark look of oversized sunglasses and equally jumbo designer handbag. But she rejects criticism that her style emphasizes skinniness and has encouraged women to seek a size zero boy.

"It's old news and it's ridiculous," says Rachel. "I work with Liv Tyler, Jennifer Garner, Demi Moore, Cameron Diaz, all extraordinary healthy, beautiful women. They would laugh at that question."

"I never think about skinniness when I'm getting dressed or dressing anyone. It's just the style I'm most comfortable with. If people like big glasses and big bags, that's great. It's just an exaggerated style."

"I think [glossy teen dramas like 90210] are fantasy. It's not meant for every 16-year-old girl to run out and buy the new Christian Dior bag. It's meant to say, 'This is what I'd like to look like,' and for girls to run out to Topshop or Urban Outfitters and create a similar style for very little money."
[From Hello Magazine, print edition, June 2, 2009]
I think Zoe has real body image and health problems, but I don't think she's totally to blame for the super-skinny girls back in the day, like the thinnification of Lindsay Lohan and Nicole Richie circa 2005-2006. I'm sure Rachel probably encouraged them to lose weight, but she probably wasn't the only one in weight-obsessed Hollywood. And the point Zoe makes about her current client roster is a good one – those are some healthy girls, so Zoe's probably not handing out diet pills and/or cocaine to them.
Rachel Zoe is shown on 5/7/09 and 4/30/09. Credit: Patricia Schlein/ WENN.com