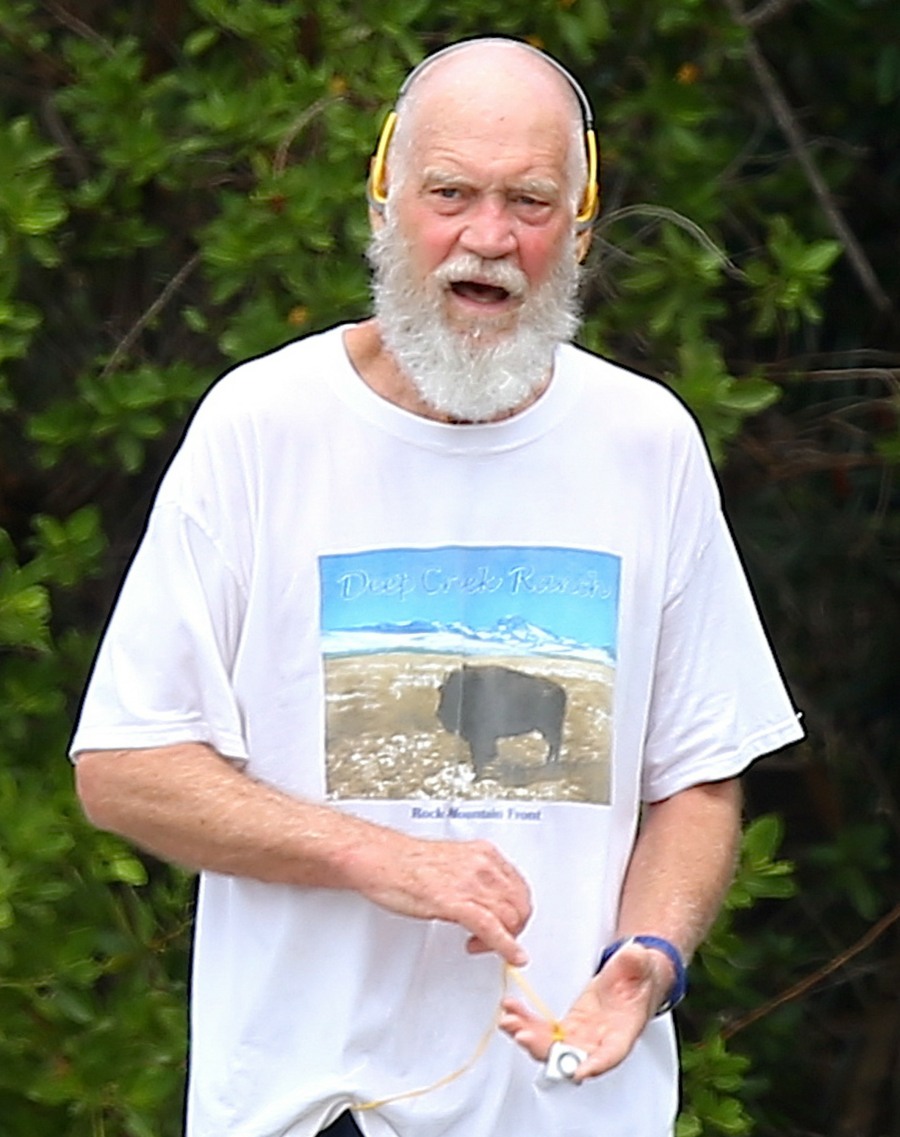 Last year, David Letterman gave a few interviews which ended up making headlines. Letterman has been retired for a few years, and while he doesn't exactly miss having a show, I get the feeling that he misses talking about the news of the day with other people, possibly an audience. Letterman slammed Donald Trump repeatedly last year, before Trump was elected president. So, this new interview that Letterman did with NY Magazine is Letterman's first "Trump presidency interview." And Letterman still hates him. I would recommend reading the whole piece here, which is super-long. Here are some highlights:
He misses talking about politics: "If I still had a show, people would have to come and take me off the stage. 'Dave, that's enough about Trump. We've run out of tape.' It's all I'd be talking about. I'd be exhausted."

Whether he wishes he could interview Trump right now: "No, I haven't thought about it. See, I was out running one day when he was still president-elect, and I thought, Let's call him. I've known the guy since the '80s. I was one of a few people who had routinely interviewed him. I'm not blinded by the white-hot light of "president-elect." I mean, we elected a guy with that hair? Why don't we investigate that? He looks like Al Jardine of the Beach Boys. I don't know. I'm sorry for rambling. I'm afraid something has happened to me hormonally. I can't stop talking.

Trump was always a joke: "I always regarded him as, if you're going to have New York City, you gotta have a Donald Trump. He was a joke of a wealthy guy. We didn't take him seriously. He'd sit down, and I would just start making fun of him. He never had any retort. He was big and doughy, and you could beat him up. He seemed to have a good time, and the audience loved it, and that was Donald Trump. Beyond that, I remember a friend in the PR business told me that he knew for a fact — this was three or four presidential campaigns ago — that Donald Trump would never run for president; he was just monkeying around for the publicity. So I assumed that was the story and now it turns out he's the president.

How we can protect ourselves: "Comedy's one of the ways that we can protect ourselves. Alec Baldwin deserves a Presidential Medal of Freedom. Sadly, he's not going to get it from this president.

Whether laughing at Trump helps to normalize him: "I guess it's a possibility. On the other hand, Donald Trump can be Donald Trump, but if he doesn't help the people that need help, then he's just a jerk. That press conference that he held berating the news media? I mean, how do you build a dictatorship? First, you undermine the press: "The only truth you're going to hear is from me." And he hires the Hunchback of Notre Dame, Steve Bannon, to be his little buddy. Bannon looks like a guy who goes to lunch, gets drunk, and comes back to the office: "Steve, could you have just one drink?" "F–k you." How is a white supremacist the chief adviser to our president?"

Trump's people: "It's such an amazing group of targets. The comedy potential of these people is incredible. It's delightful. Kellyanne Conway was my favorite for a long time. This thing about her telling everyone, "Go buy Ivanka's shoes; I'm going to go buy Ivanka's shoes. Hell, I'll buy you a pair of Ivanka's shoes." Then they had to counsel her. Boy, if this administration decides you need counseling — whoa. And poor Sean Spicer is a boob who just got out of a cab and now here he is. Then the other kid, is it Miller? [Stephen Miller.] Wow, that guy is creepy. He fell out of a truck."

On Mike Pence: "Yes, conversion therapy. That's when I just thought, Oh God, really, Indiana? I don't care if you're a fundamentalist Christian — even they have gay relatives. They can't be saying homosexuality is a sin. It's horsesh–t. Then In February, the Trump administration reversed the Obama administration's directive that directed schools to allow transgender students to use the bathrooms that correspond to their gender identity. this transgender issue that just happened, I just think, Are you kidding me? Look, you're a human, I'm a human. We're breathing the same air. We have the same problems. We're trying to get through our day. Who the f–k are you to throw a log in the road of somebody who has a different set of difficulties in life?

Trump cares about people laughing at him: "He would really rather not have a society where free speech was going to be a factor. I'm telling you, there's something between him and the Russians. "What color tie should I wear?" "Tell him red." "They say red, Don." "Okay, red it is."
Letterman goes on like that for like three more pages. He really does miss being able to vent through comedy, and I think he's probably only realizing it now, that being able to make jokes about this stuff was cathartic for him. Anyway… yeah, Letterman is absolutely right across the board. I really wish Letterman had still been on the air during the election. And right now.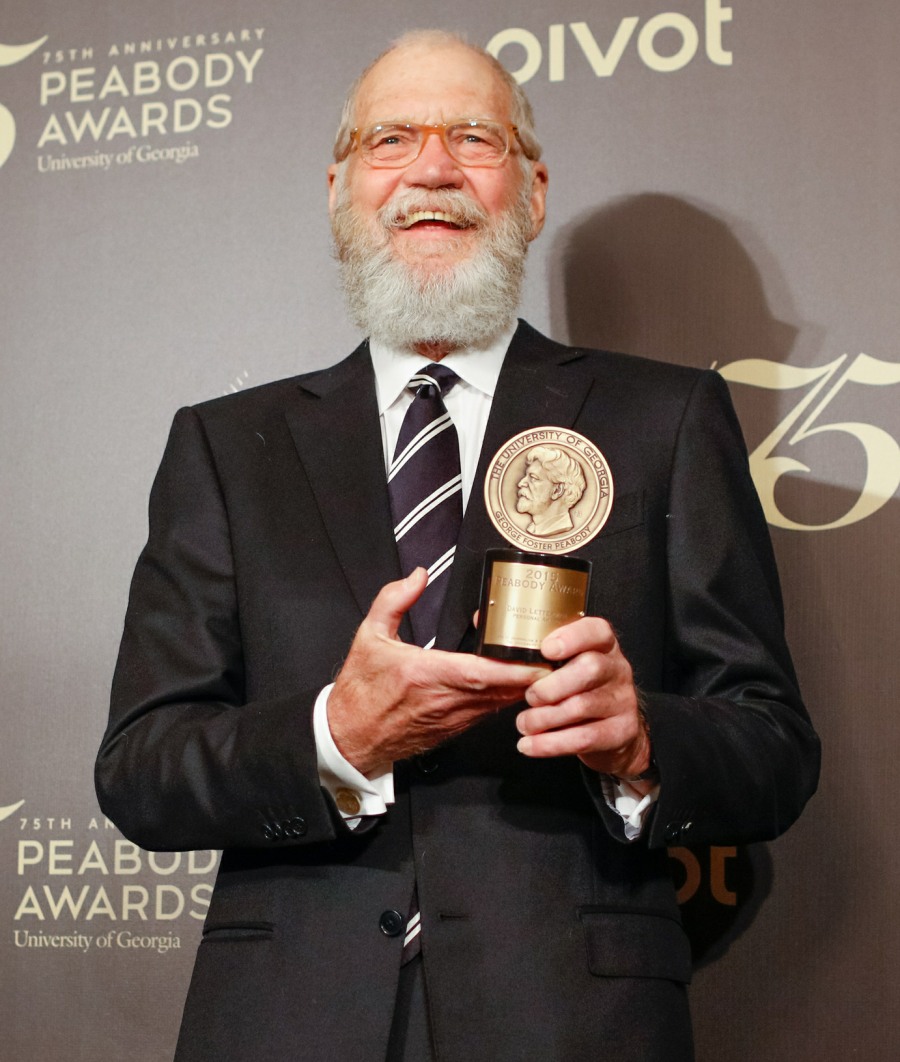 Photos courtesy of WENN.