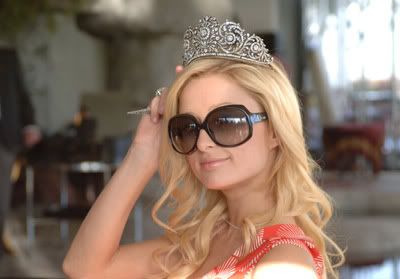 The track list on Paris' upcoming album was announced today in a published interview. Fox News, grateful to be granted five minutes of the heiress' time, edited out her spiteful comments, fed her lines, and credited her with intelligence and wit far beyond her ability to comprehend:
Indeed, the whole Paris mystique is a put on — and one that's earning her millions of dollars. She actually has kind of an ironic sense of humor. When I asked her what happened to fiancé Paris Latsis, she replied: "He wasn't hot enough." She concluded that the latest boyfriend, Stavros Niarchos, "is very hot."
Me: "But really you're not getting married or anything, are you?"
Her: "Are you crazy? I'm 25. No way."
Me: "In fact, you don't need these boyfriends do you? They're just ornaments."
Her: "That's right."
She has not-so-nice things to say about her ex-pal Nicole Richie. They're probably printable, but hey — this isn't the Star.
Paris' three word remarks do smack of irony, don't they? Someone talks in a normal voice and suddenly they're brilliant.
The song list on Paris' new CD must also be ironic, because surely it's not just moronic and predictable:
1.) Turn it Up 2.) Turn You On 3.) Stars Are Blind 4.) Jealousy 5.) Heartbeat 6.) Fightin' Over Me featuring Fat Joe and Jadakiss 7.) Are You With It? 9.) Do You Think I'm Sexy? 9.) Screwed 10.) Not Leaving Without You
That's right, Paris is doing a cover of Rod Stewart's "Do You Think I'm Sexy." Many people think you're sexy, Paris, and now at least one guy at Fox thinks you're clever, too. [via]