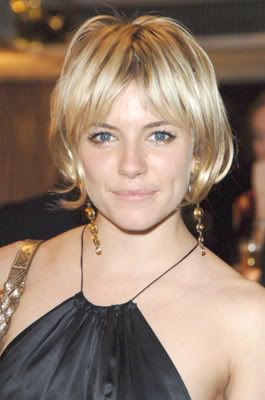 Sienna Miller took some time off from attacking paparazzi to attend a benefit in her hometown of London. She is at a ball for The Starlight Children's Foundation, which grants wishes for seriously ill children.
She's helping a worthy charity and that's commendable, but she's still wearing those goddamn awful shapeless frocks. This dress at least has a partially fitted top, but that doesn't make it fashionable. Someone should seriously help her clean up her style.
Miller was just announced as the new star in a Robert De Niro film, Stardust:
Sienna Miller is to star opposite Robert De Niro, Michelle Pfeiffer, Claire Danes and Charlie Cox in 'Stardust', the big screen adaptation of Neil Gaiman's fantasy novel of the same name.