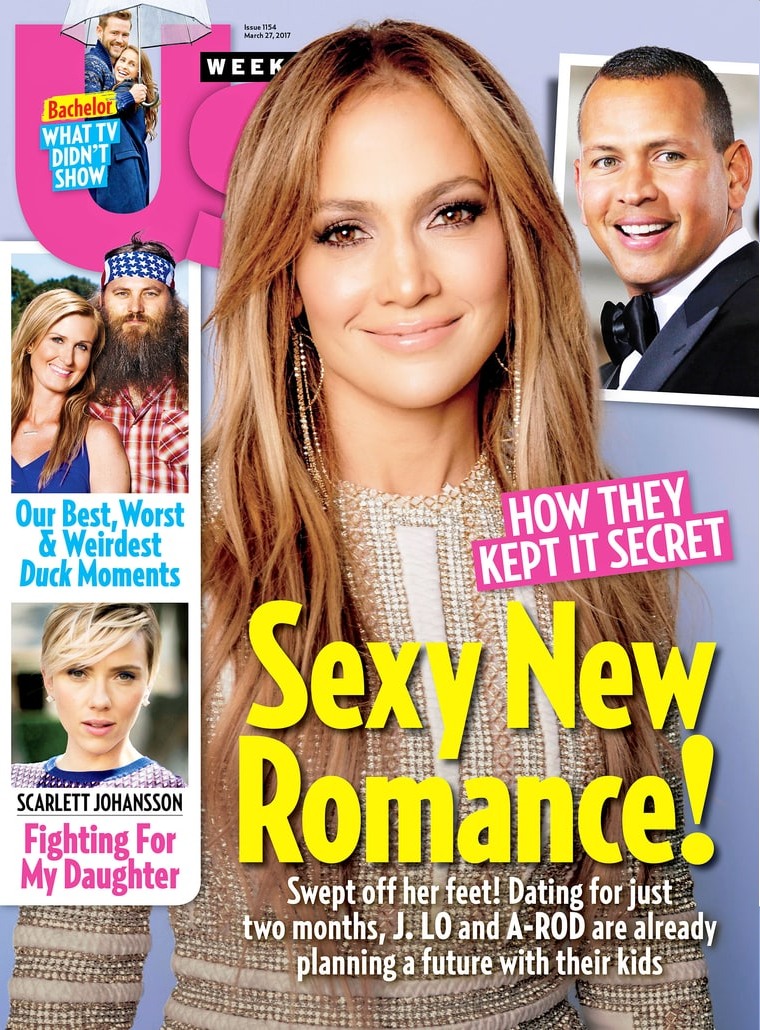 This is so gross. Or is it? Jennifer Lopez and Alex Rodriguez are a thing. I'm a J.Lo Apologist, but my God, she makes it difficult. Her picker is so OFF. You can put her in a room full of eligible, interesting men and she'll end up with the biggest douchebag in the room, never fail. It's like she has a douche-radar. Anyway, J.Lo and A-Rod (J-Rod) have been happening for weeks, if not a few months now. So Us Weekly devoted this week's cover to their situation, and Us Weekly is really hyping it like A-Rod is about to become the fourth Mr. Jennifer Lopez.
Jennifer Lopez is through playing the field. The "Ain't Your Mama" singer has been dating retired baseball pro Alex Rodriguez "for about two months," a close Lopez insider reveals in the new issue of Us Weekly. In that short time, those close to the 47-year-old multihyphenate have already deemed the 14-time MLB All-Star, 41, a more worthy mate than her previous fling, 17-years-younger Drake.

"He's a better fit," explains the insider, ticking off the new duo's commonalities: They're both Latino superstars and New York natives (their childhood homes are roughly 7 miles apart); both are parents (he shares daughters Natasha, 12, and Ella, 8, with ex-wife Cynthia Scurtis; she's mom of 9-year-old twins Max and Emme with former husband Marc Anthony); and both are legends in their field. After decades of serial dating, both believe they may have found their match. Says the insider, "They definitely see a future together."

Their connection was more than a decade in the making. For years, Lopez and the New York Yankees third baseman were casual acquaintances (she was first photographed with him and Anthony, a Mets fan, at a 2005 game). But even as the suave home-run hitter romanced the likes of Madonna, Cameron Diaz and Kate Hudson, he always harbored a crush on Lopez. So when he attended her All I Have Las Vegas show in January, newly single after ending things with Silicon Valley tycoon Anne Wojcicki, he decided to make a play. "He went backstage to meet her," says the insider, "and they swapped numbers."

With her Drake fling fizzling, Lopez was primed for a new romance. "Alex swooped right in there," says the insider. "It was perfect timing." Rodriguez, now a Fox Sports analyst, was an ideal suitor. "He swept her off her feet," says the insider. First came texts. Then came flowers. Says the insider, "He sent her a ton."

Pals think Rodriguez could be the pop star's guy. The thrice-wed Shades of Blue actress has said her dream man should have similar goals, be good with her kids and ooze confidence. Rodriguez rounds all three bases. Plus, there's the potential for the Dominican baseball champ and the Puerto Rican triple threat, who recently enjoyed a romantic getaway to the exclusive Baker's Bay Golf & Ocean Club in the Bahamas, to become one of Hollywood's top power duos. "They're kind of like Jay Z and Beyoncé," muses a source close to the pair, dubbed "J-Rod" by fans. "If people thought she and Marc were the Latin supercouple, this is on another level."
J-Rod as the new Bey-Z? Doubtful. Beyonce has mystique and Jay-Z has his eye on the money. Jennifer is an open book which every douchebag in the world can read and A-Rod is King of D-Bags. That being said, so many "sources" are coming forward these days to say that J-Rod is the real deal. E! News' source says the Jennifer and Alex "are heating up big time. They went from zero to 100 really quick." That's how she likes it. She loves the first rush. She loves being pursued. And what does Alex love? I think he loves passive-aggressively negging women into changing for him. Ugh.
Here's the Instagram of J-Rod that Jennifer posted and deleted a few days ago.
Photos courtesy of Instagram, Us Weekly and Fame/Flynet.