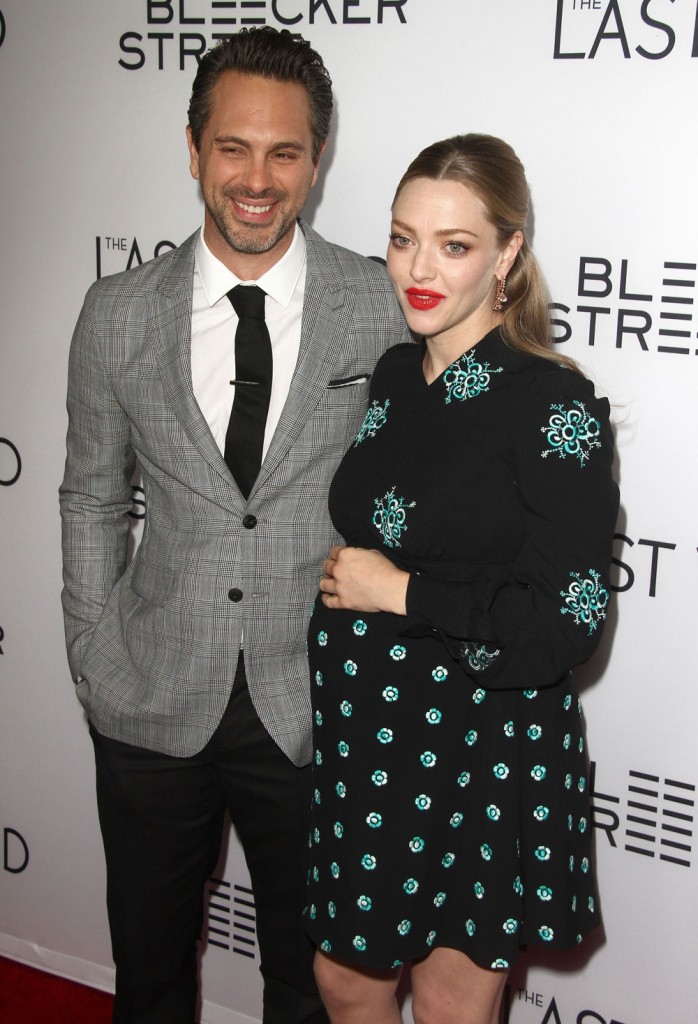 Thomas Sadoski, perhaps best known as Amanda Seyfried's fiance, was on The Late Late Show with James Corden yesterday. Sadoski is promoting his role on the CBS sitcom Life in Pieces, costarring James Brolin, Dianne Wiest and Colin Hanks. He also has a film out in limited release which costars Amanda called The Last Word. Sadoski showed off his wedding ring and opened with the news that he married Amanda on Sunday, in a private civil ceremony attended only by the two of them and an officiant. He said "We eloped, we just took off into the country with an officiant and just the two of us, and we did our thing. She's the person that I love, admire, respect most in the world."
He said they wrote their own vows and that "it was beautiful, it was everything that it should be. It was just the two of us talking to each other."
Corden asked if it was weird afterwards because no one else except the officiant was there and Sadoski enthused "It's great, it's sort of perfect. Then you take the dog, you walk through the country and you go home. And you, like, have your life. We went out to dinner. We had a great day it was perfect."
Amanda is of course pregnant and looks to be due any day now. As for whether he's ready to be a father, Sadoski said "No, how can you be? I'm more excited about this than I've ever been about anything in my life. And I'm also more terrified about it than anything I've ever been in my entire life. If I'm too confident then I'm just kidding myself.
At that point Corden changed the conversation to address Vanessa Hudgens who was also on stage. In his transition Corden mentioned that Thomas and Amanda met when they were in a play together on Broadway (because Vanessa was just on Broadway in Gigi). When Amanda and Thomas met on Broadway in April of 2015 he was married and Amanda was with Justin Long. Thomas filed for divorce in August of 2015 and Amanda and Justin broke up a month later.
Amanda and Thomas officially reconnected on the set of The Last Word early last year, and made the announcement that they were dating in March, 2016. So now they're married and expecting a baby. It happened quickly, the beginning of their relationship was a bit suspect/messy, but they do seem happy. I've never seen Thomas interviewed before and he comes across as an earnest guy who really loves Amanda. Best wishes to them. I want a nice family for Finn and I know Amanda will be a great mom.
Here's the video with Thomas on The Late Late Show

photos credit: WENN, FameFlynet and Instagram/Amanda Seyfried