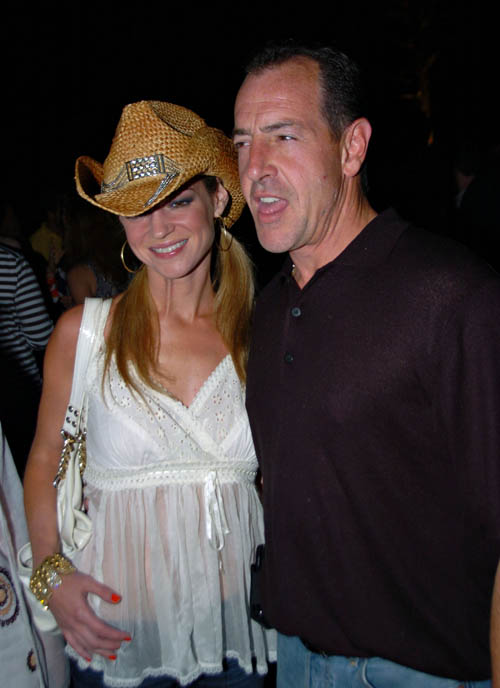 Everyone remembers Michael Lohan, right? Known mostly for being some kind of preacher/parolee, a violent son of a b*tch, and Lindsay Lohan's father. You'd think Michael would be on top of the world right now – his little girl Lindsay is no longer with Samantha Ronson (sort of), all is right with the world. But not so much for Michael. Page Six is reporting that Michael was arrested again in April for "a phone threat cops said he placed to off-again, on-again gal pal Erin Muller." Michael allegedly threatened to kill his girlfriend and himself in the phone call, all because Erin had the nerve to try to dump him. What's weird is that the phone threat may have worked – it seems Michael and Erin are back together, because when Page Six spotted Michael at his arraignment, and instead of strutting his violent self for the cameras, Michael and Erin hid in her car:
LINDSAY Lohan's sleazebag dad, Michael Lohan, is in trouble again — this time for allegedly threatening to kill his fiancée and himself when she tried to dump him.

Michael was quietly arrested on April 6 for a phone threat cops said he placed to off-again, on-again gal pal Erin Muller, 34, on March 18.

Lohan, 48, flipped out yesterday when he walked into Central Islip court and spotted Post reporter Kieran Crowley and photographer Dennis Clark.

"Michael! Plan two!" shouted Lohan's lawyer, Anthony Grandinette, as his client fled.

"Plan two" consisted of Lohan and Muller hiding in her car while Grandinette appeared on his behalf. Lohan faces up to a year behind bars.

He couldn't have picked a better time for the alleged threat, because terms of his parole ended on Feb. 7. He's due in family court in Westbury today, when he'll have to explain why he's behind in child support — by $12,000, sources told The Post.
[From Page Six]
Seriously, how was this guy out on parole? Hasn't he been arrested and charged with like two dozen different crimes in his life? Whatever happened to all of those "three strikes" laws? I guess those are only for non-violent drug offenses, not stuff like beating up people, threatening to kill you girlfriend and owing thousands of dollars in back child support.
Michael Lohan and Erin Muller are shown on 7/3/08. Credit: Fame Pictures