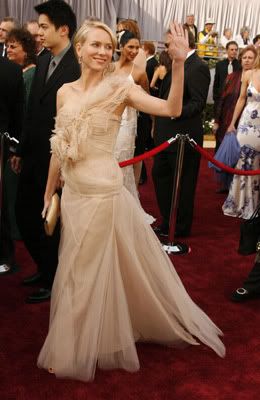 Naomi Watts has mentioned that she would like to take some time off from acting and "start a family." That's celebrity code for "I'm pregnant." Watts is on minor bump-alert watch after wearing a complicated dress with a shredded front to the Oscars. A piece of gauze draped over her midsection may have been a misguided attempt to hide a small bump. Her Oscar after-party dress was an ugly flower print number with a flouncy lace front and even more tummy coverage.
Female First reports that Watts had to be sewn into her Givenchy Oscar gown. Surely that means she's gained a little where it counts:
The stunning actress spent hours getting into the figure-hugging Givenchy creation she wore to the star-studded bash on Sunday (05.03.06).
She revealed to Britain's Now magazine: "I started getting dressed really early on because I wanted to take my time and eat a bit, too.
"It took a few hours."
Watts admits that she eats. That is also celebrity-speak for "I'm pregnant."
The article goes on to quote Watts saying that she wants to take time off to "start a family." I wanted to jump all over that, because it sounds as if she's hinting at a pregnancy. Sadly, those comments were made back in December, when there was only a small amount of buzz about Watt's potential pregnancy.
Watts has been dating Liev Schrieber for almost a year.