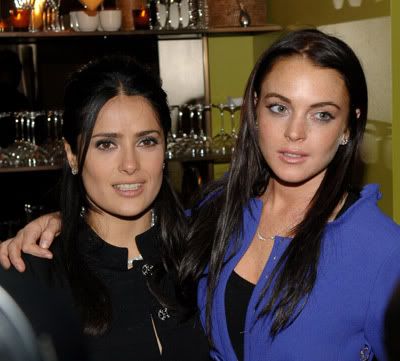 "Ask the Dust," starring Salma Hayek and Colin Farrel, is the story of the sadistic relationship between a struggling novelist and a Mexican waitress in the 1930s. It is playing in limited release.
Hayek stars as the beautiful Camilla Lopez. She put on weight for her character by eating hamburgers and suffered hypothermia while filming an ocean-set love scene. Farrel was a gentleman on set and did not sneak a peek at Hayek while they were both naked while filming. He was also comfortable with his nudity, and did a little naked dance to help Hayek relax for the the scene. Hayek was so moved by her character's plight that she broke down and cried when she tried to read the book that the film was based on.
Celebrities in attendance at the party after the NY premiere last night included Hayek, Lindsay Lohan, Petra Nemcova, Iman, and Indina Menzel.
Fifteen more pictures after the jump.