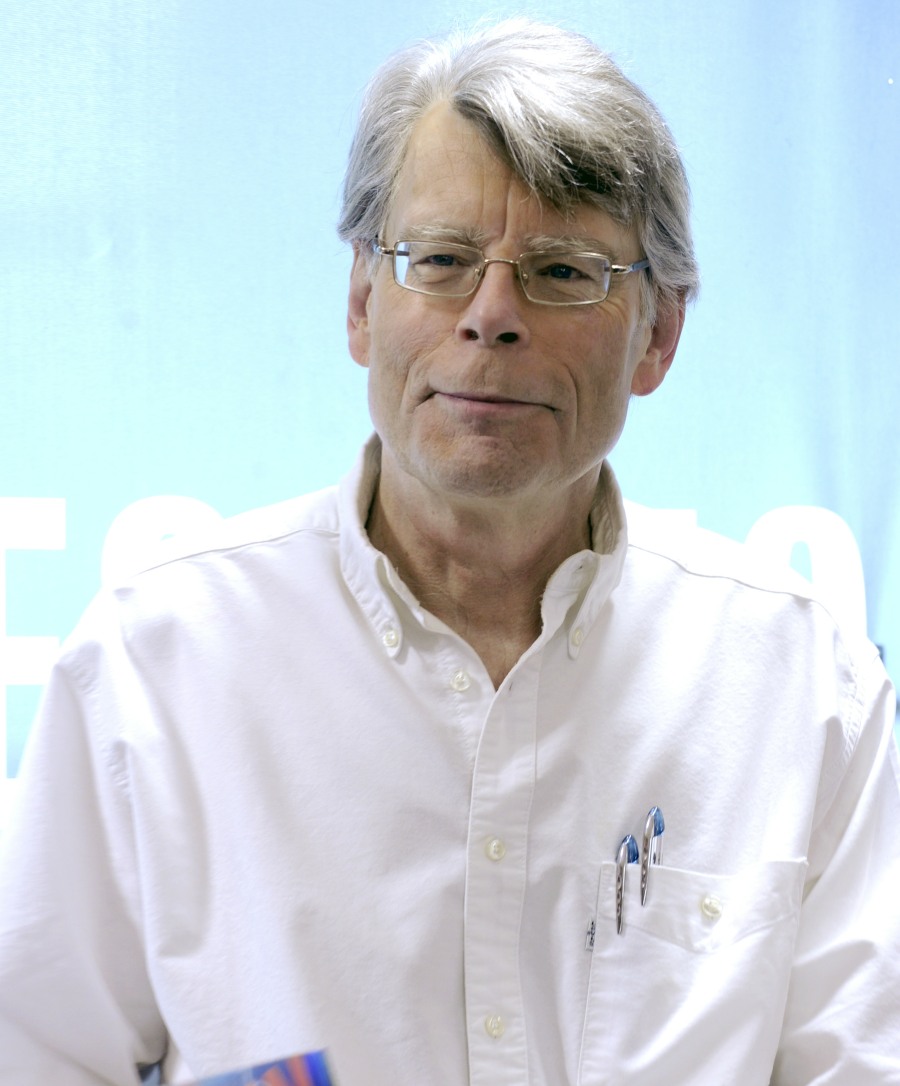 Stephen King is a politically liberal guy. He's not "Hollywood" in any sense – he reminds me very much of the sort of a very old-school New England liberal, probably because that's what he is. King writes columns for various media outlets, and he's also pretty active on social media, so his views on most subjects are well-known. I really admire King, by the way – I think he's an American Original, a deep thinker and a fascinating human being. He wrote a piece for the Guardian where he discusses the election, Donald Trump, Hillary Clinton and how Trump comes across like a fictional villain in one of his books. You should read the full piece here. Some highlights:
He knew Trump would win: I started thinking Donald Trump might win the presidency in September of 2016. By the end of October, I was almost sure. Thus, when the election night upset happened, I was dismayed, but not particularly surprised. I didn't even think it was much of an upset, in spite of the Huffington Post aggregate poll, which gave Hillary Clinton a 98% chance of winning – an example of wishful thinking if ever there were one.

The lack of strong feelings for Hillary: "Some of my belief arose from the signage I was seeing. I'm from northern New England, and in the run-up to the election I saw hundreds of Trump-Pence signs and bumper stickers, but almost none for Clinton-Kaine. To me this didn't mean there were no Clinton supporters in the houses I passed or the cars ahead of me on Route 302; what it did seem to mean was that the Clinton supporters weren't particularly invested. This was not the case with the Trump people, who tended to have billboard-sized signage in their yards and sometimes two stickers on their cars.

Brexit/2016 vibes: "Brexit also troubled me…. there was a vibe in the air during most of 2016, a feeling that people were both frightened of the status quo and sick of it. Voters saw a vast and overloaded apple cart lumbering past them. They wanted to upset the motherf–ker, and would worry about picking up those spilled apples later. Or just leave them to rot.

Trump voters saw him as "the man on horseback." "I had written about such men before. In The Dead Zone, Greg Stillson is a door-to-door Bible salesman with a gift of gab, a ready wit and the common touch. He is laughed at when he runs for mayor in his small New England town, but he wins. He is laughed at when he runs for the House of Representatives (part of his platform is a promise to rocket America's trash into outer space), but he wins again. When Johnny Smith, the novel's precognitive hero, shakes his hand, he realizes that some day Stillson is going to laugh and joke his way into the White House, where he will start world war three. Big Jim Rennie in Under The Dome is cut from the same cloth. He's a car salesman (selling being a key requirement for the successful politician), who is the head selectman in the small town of Chester's Mill, when a dome comes down and cuts the community off from the world. He's a crook, a cozener and a sociopath, the worst possible choice in a time of crisis, but he's got a folksy, straight-from-the-shoulder delivery that people relate to. The fact that he's incompetent at best and downright malevolent at worst doesn't matter.

How sociopaths rise: "Both these stories were written years ago, but Stillson and Rennie bear enough of a resemblance to the current resident of the White House for me to flatter myself I have a country-fair understanding of how such men rise: first as a joke, then as a viable alternative to the status quo, and finally as elected officials who are headstrong, self-centered and inexperienced. Such men do not succeed to high office often, but when they do, the times are always troubled, the candidates in question charismatic, their proposed solutions to complex problems simple, straightforward and impractical. The baggage that should weigh these hucksters down becomes magically light, lifting them over the competition like Carl Fredricksen in the Pixar film Up. Trump's negatives didn't drag him down; on the contrary, they helped get him elected.
King is sort of talking about what happened through the perspective of character-analysis, treating Trump and the election almost like a writing exercise. So much is happening so fast with the Bigly Administration, it sometimes feels like we need more people like King to take a step back and remind everyone: what has happened and what is happening will be studied and analyzed for years to come. We have witnessed the rise of an incompetent, petty, childish, corrupt, unhinged sociopath to the highest office in the land and we will never be the same.
Photos courtesy of Getty, WENN.