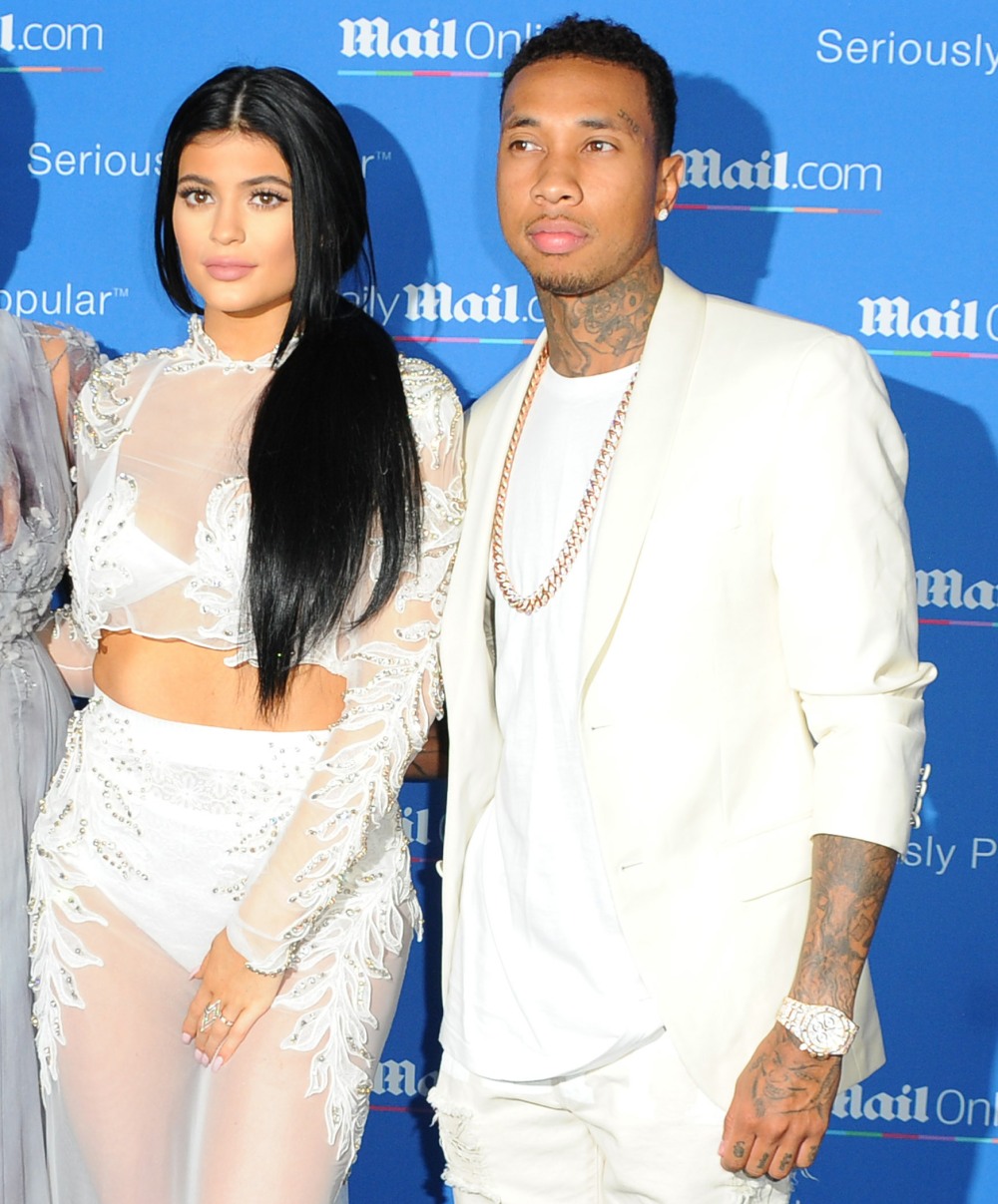 I can't believe I'm writing about yet another Tyga-Kylie Jenner breakup, but here we go. They broke up again. They'll probably be back together by the end of the week. To recap, Kylie met Tyga when she was like 15 years old or so, and he was with Blac Chyna. Blac Chyna and Kim Kardashian used to be friends and so the whole Kardashian-Jenner clan was friendly with Tyga and Blac Chyna. Then bippity boppity boop, suddenly Tyga and Chyna were no more and Tyga was dating an underaged Kylie Jenner. Tyga was and is Kylie's first love, her first big relationship. And chica has issues, so who even knows?
Kylie Jenner and Tyga are taking some space. Multiple sources confirm to PEOPLE that the Keeping Up with the Kardashians star and the rapper are currently in an off phase of their on-and-off relationship.

"They tend to take little breaks all the time and then get back together," says one insider. "It's definitely possible they'll work things out again."

Jenner, 19, and Tyga, 27, were first linked in the fall of 2014, though they didn't confirm the relationship until March 2015. Following Jenner's 18th birthday in August that year, the two became much more open as a couple, regularly stepping out together and documenting much of their love on social media. Tyga soon became a family fixture, joining the reality TV mavens on family trips and regularly appearing on episodes of KUWTK.But throughout their relationship, the former couple experienced ongoing ups and downs, including cheating accusations and financial woes for Tyga. They first split briefly in November 2015 and later faced turmoil when Jenner's brother Rob Kardashian began dating Tyga's ex-fiancée Blac Chyna.

Amid several rounds of makeups and breakups in 2016, a source told PEOPLE that "over and over again, she feels like she can't trust Tyga. There have been and continues to be too many lies."

Still, another insider source told PEOPLE last year that, for Jenner, Tyga "was her first true love. That's something that she just can't walk away from entirely."
Oh, yeah, I totally forgot about the well-earned trust issues. Tyga is constantly hitting up pretty young girls on social media, claiming that he wants to make them professional singers or something. And Kylie just shrugs it off, just like she shrugs off his financial issues, just like she shrugs off the fact that Tyga is seemingly convincing her to remake herself into a plastic doll. There are so many levels of gross and wrong here. Here's hoping this is truly the end, but as I said in the intro, they'll be back together by the weekend.
Photos courtesy of WENN, Instagram.