Of all of the women currently on top of the country music charts, it seems Miranda Lambert's been really living a country song – and not one of the happy ones. She went through a tough, emotional divorce from her husband of four years, Blake Shelton, in 2015. The 33-year-old singer strikes me as someone who definitely wears her heart on her sleeve, getting emotional and crying on stage during a performance back in August of last year. So, then, it's probably no surprise that she turns to the bottle at times for a little "self-medication." She DID have a recent hit song called "Vice" you know.
Miranda recently told Sounds Like Nashville that her assistant keeps a little "medicine" around for her, stating "My assistant packs — I call it my nanny bag — she packs a bag of liquor for emergencies, for meltdowns and things like that." One very recent "emergency" came up on Thursday, when Miranda's flight to Las Vegas for the ACM Awards ceremony was cancelled, forcing Miranda and her crew to rent a van and road trip it to Sin City. Miranda handled it like a champ, telling SoN, "I'm like okay, we're good, I'm golden. We just need a cooler of ice and we're going. It was fun." She posted a pic of her makeshift bar on Instagram with a caption that read, in part, "Y'all…. @ACMawards 75 or bust! Storms diverted our plane to Laughlin Nevada. So… Rent a car set up the bar!! Vegas here we come."
Miranda is no stranger to the bottle, confessing that her song "Ugly Lights" was written because of her reliance on booze. When introducing the song at a concert in January, she told the audience, "I got divorced so I started drinking a little extra. I found myself in Midtown in Nashville three nights in a row at like last call and with the lights coming on, and I'd be sitting there. So I wrote a song about it."
"Ugly Lights" is just one of the songs that Miranda wrote for her latest double album, The Weight of These Wings, to help her cope with the split. In an Instagram post from December, she shared her thoughts about using the album as her statement on the divorce, explaining, "I feel really strongly about the only talking I needed to do, I've done and it's on tape. All the parts of me, the parts of the pain I went through, everything that happens to a person in their life — especially in the last couple years for me — is on this record."
The record not only serves as a source of catharsis for Miranda, it also helped her rack up some awards at Sunday night's ACM Awards. Miranda was up for five awards and won two. The Weight of These Wings took Album of the Year honors and Miranda won her record eighth Female Vocalist of the Year Award – the most won by any female artist in the awards' history. Upon winning Album of the Year, Miranda thanked her fans in a short but sweet acceptance speech "for letting me use my heartbreak and sharing it with me."
Female Vocalist of the Year at the #ACMs goes to @mirandalambert! ✨ Congratulations! pic.twitter.com/2FFJ8OVbgD

— ACM Awards (@ACMawards) April 3, 2017
Later, in the press room, Miranda added,
I'm so thankful because I really used my stories and it's basically like my diary won album of the year. To me, country music is about truth, about what's really going on, whether it's happy or sad or somewhere in the middle. For me in the past couple of years, it's been more sad than happy, but it's moving to another direction. I'm really glad people can relate to an emotion like that.
I am hardly the one to say anything about how one deals with sadness and stress, but, to quote Homer Simpson, alcohol is "the cause of, and solution to, all of life's problems." I get that Miranda has that hard living, country singer persona, but maybe she can deal with things in a healthier way. She looks really happy with her beau Anderson East – I have to agree with Kaiser that her ACM red carpet look was gorgeous. You've got a lot going for you girl, ease up on the hooch and you could be even happier. Geez, I sounded like my mom just then.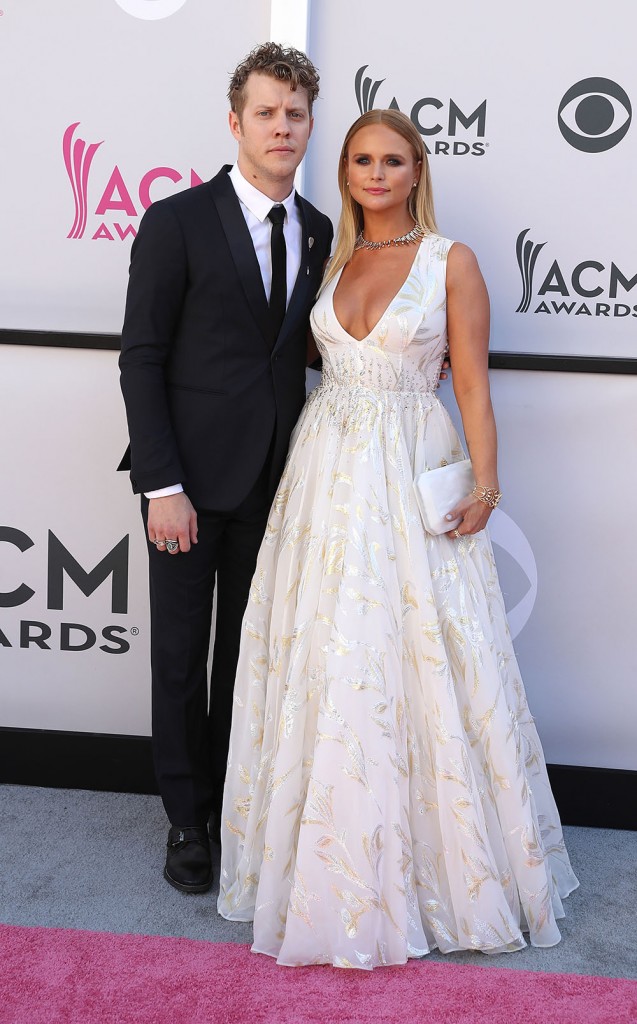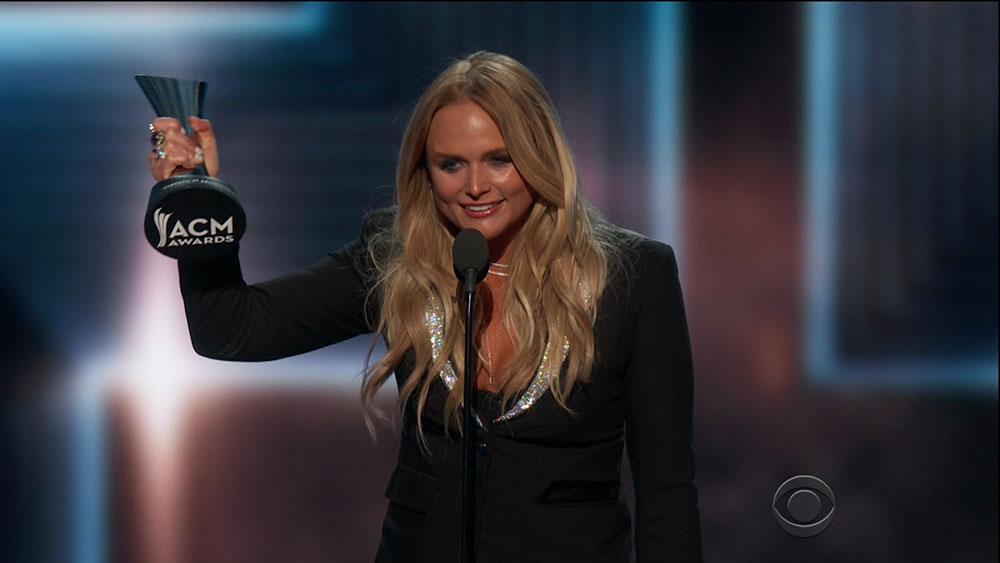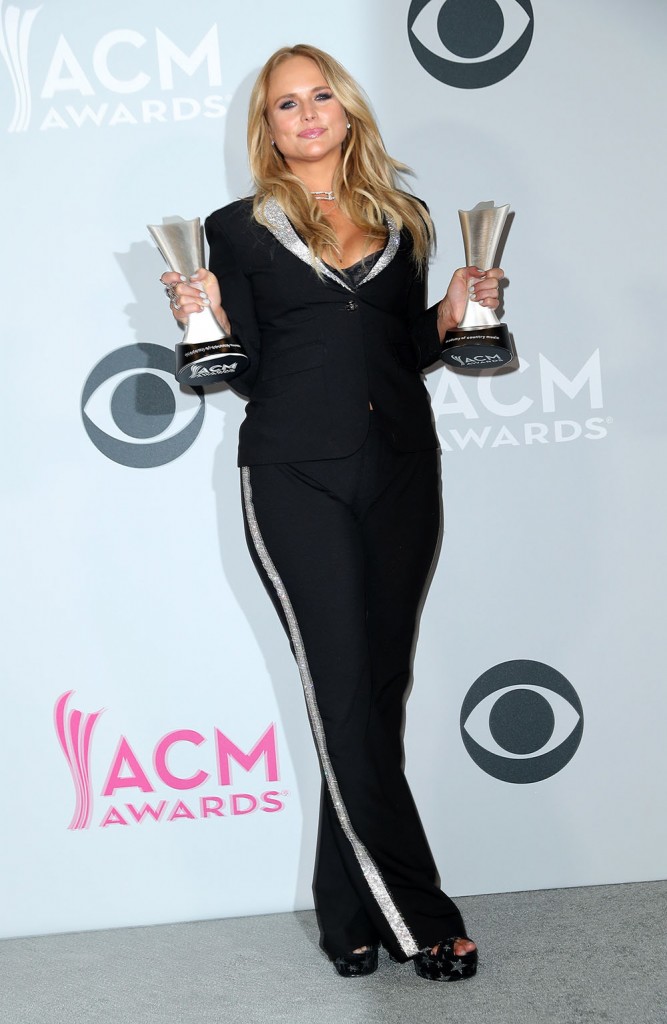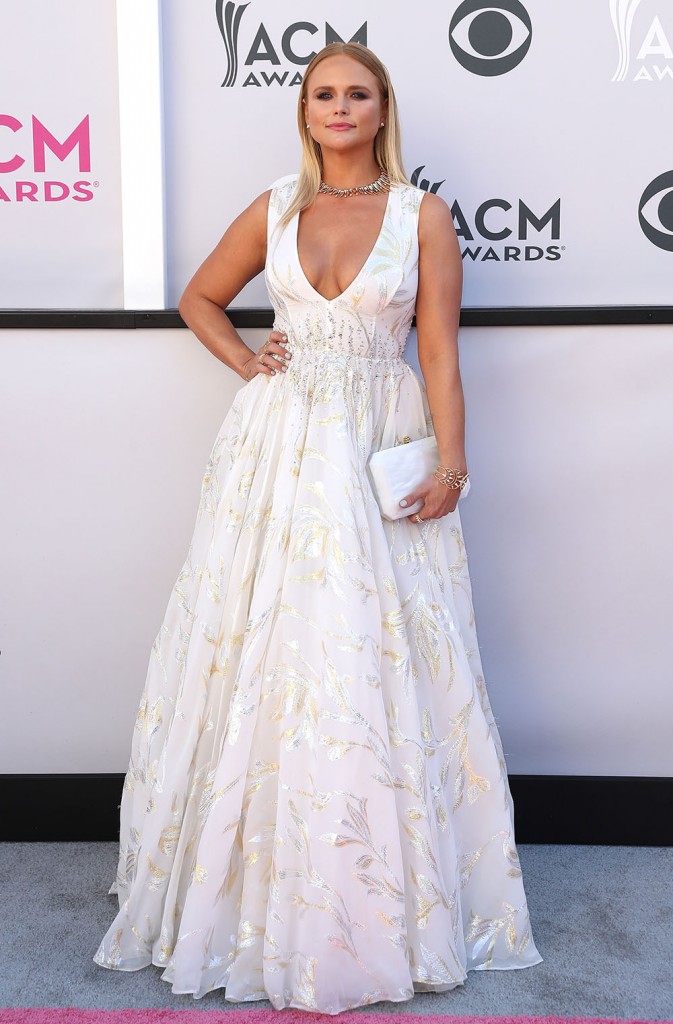 Photos: Getty Images, WENN.com