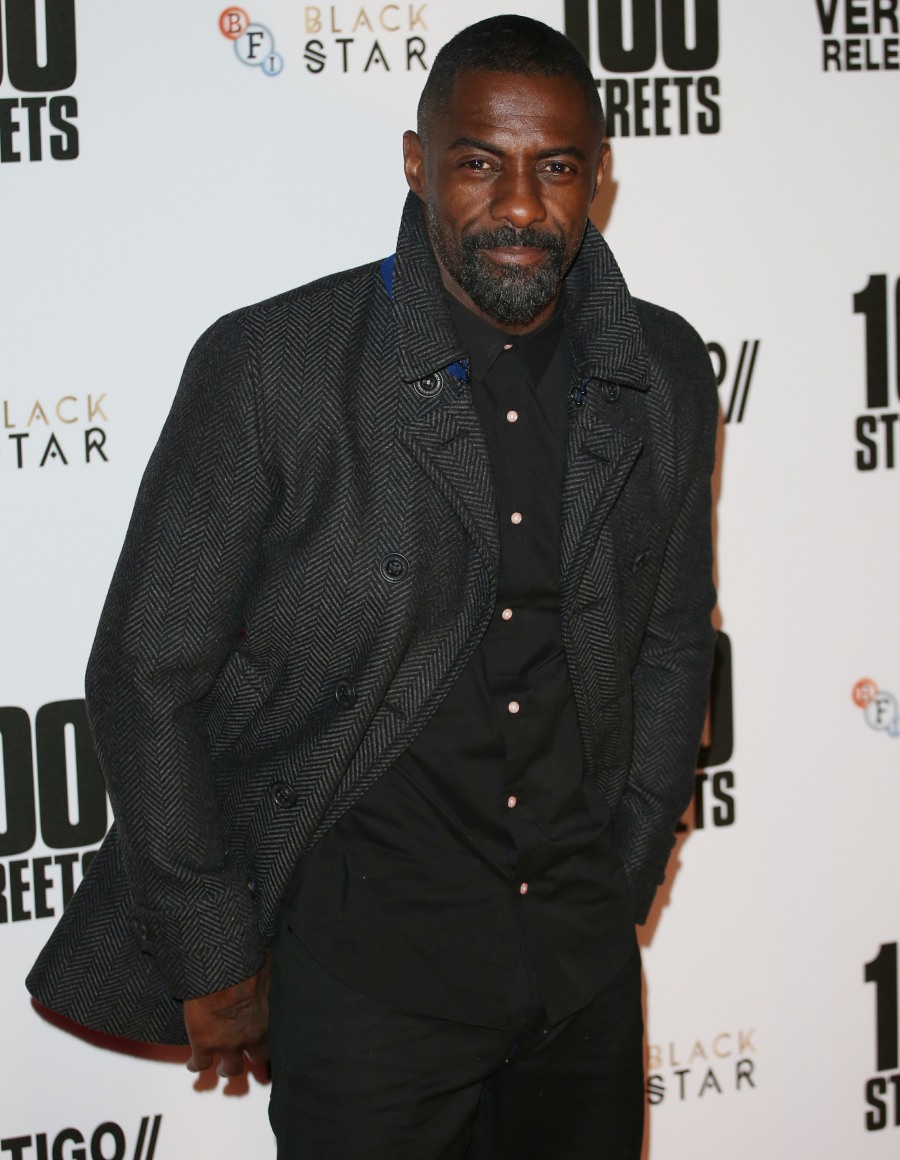 There's always a question creeping around, in the back of my mind, when Prince William does work around homelessness and his patronage Centrepoint. The question is… would homeless charities and homeless-youth organizations be better served by celebrities who actually understood the issue from the inside? Take Idris Elba, for example. Idris could have fallen through the cracks. He basically supported himself, early in his career, by dealing drugs. He was able to go to acting school because of a scholarship from The Prince's Trust (and now Idris is an ambassador for the organization). Idris knows what it means to struggle and he never forgets it. So Idris will actually speak out on vital issues involving homelessness and homeless youth… and he can do it in a way that William is incapable of.
So, Idris Elba made an appearance as a fundraiser/concert a few nights ago. The fundraiser was for Shelter, a homeless charity. Idris made a speech about the current Tory government's move to radically slash housing benefits for young people, meaning… if you're a young person struggling to get by and you lose your job, the government will probably take away your housing benefits and you're more likely to end up homeless. Here's part of what Idris told the crowd:
"There's a real problem, man. There's a real problem in 2017, where there's 850 people here tonight, but there's at least 1,000 men and women on the streets tonight. That's f–keries alright? We need to do something about it and that's why we're here. That's why we back Shelter, that's why I back Shelter."

There are 60,000 families homeless. I mean, we have one of the strongest currencies in the world, why do we have 60,000 women, single mothers, homeless. That's f–keries, that's bullsh-t. So listen, even though, everything's done in increments, this room, although we're here all jolly, having a good time, there is a point to the situation. We need to make some change. Brick by brick. There's a petition outside, you can sign it. The government's probably trying to take away housing allowances for 18-21 year olds. They're gonna get their housing benefits whacked out. We need to stop that, because we can. And that's where Shelter come in, alright? Seriously, man, no-one should be homeless, that's f–king bullsh-t. No one should be hungry.

This is isn't about any celebrity giving back, this is about us all giving back. Everyone should give back, everyone. How important is it for people in my position to give back?' … I'm like, what position is that bruv, everyone should give back, it's a normal procedure.'
I applaud Idris for this, for talking about it in such blunt terms and for putting his time and his money where his mouth is. Idris is a hero. And now I wonder… why didn't Prince William summon a government minister to his palace to discuss this issue? If William is so keen and he cares so deeply about these issues, surely he should be out in front of it?
I'm including NSFW (for language) footage of Idris's speech below, but the video is low-quality. You can see a better quality video here.
Idris Elba savages housing benefit cuts at Shelter fundraiser https://t.co/1Pnyu0TmAe pic.twitter.com/xfeN2NTMuN

— I was a JSA claimant (@imajsaclaimant) April 5, 2017
Photos courtesy of Getty, WENN.