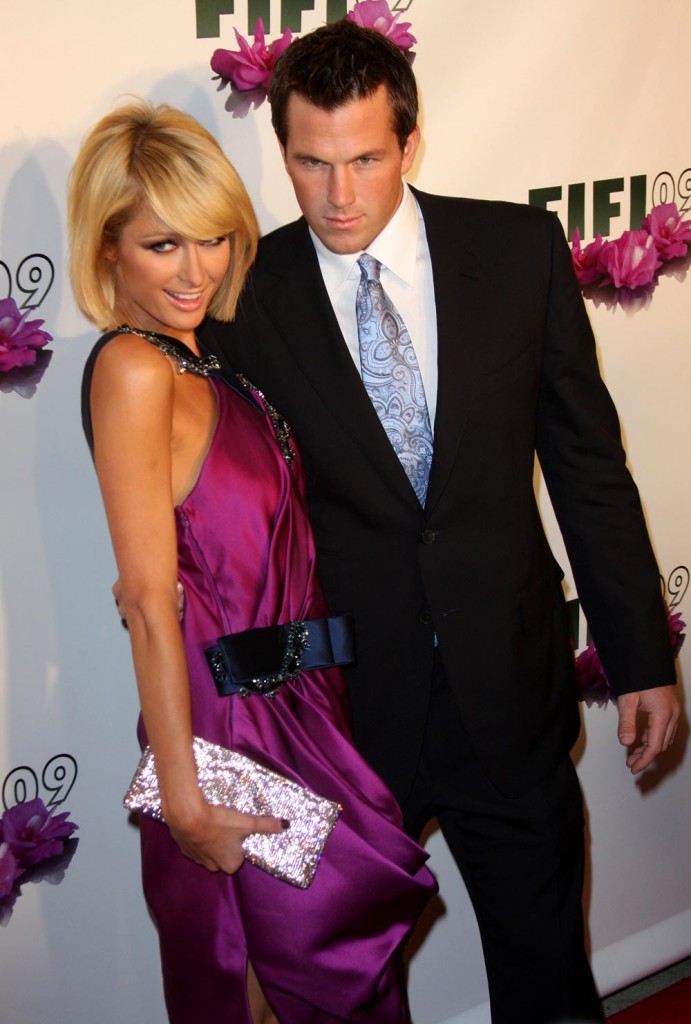 How does Paris Hilton have the nerve, the audacity, the obliviousness to call anything "lame and fake"? Because those are the words that will be on her tombstone. So what was so lame that Paris had to speak out? It was totally The Hills, the show her boyfriend (Doug "Budget Ryan Reynolds" Reinhardt) is on. So Paris is dissing her boyfriend's show? As if, Sparkles. According to Paris, "He doesn't even want to be a part of it." I must have missed the part where someone held a gun to Doug's head and forced him to sign a contract. But you know our Paris, she couldn't just declare something totes lamers without making some kind of statement that made her seem like an enigma wrapped in a contradiction, accessorized by a Be-Dazzler. Even though Paris claims to have "never seen the show in my life", she still says the show portrayed Budget Ryan "in a way he's not." Paris is so deep, she just gave me a headache.
Paris Hilton says her beau Doug Reinhardt won't be appearing on MTV's The Hills again.

"The show is, like, so lame and fake. He doesn't even want to be a part of it," Hilton told Usmagazine.com Wednesday at the Fifi Awards in NYC.

Lauren Conrad famously dumped Reinhardt on the show. Brody Jenner later accused Reinhardt of going behind Conrad's back by pursuing Stephanie Pratt.

But Hilton told Us the show portrayed Reinhardt "in a way he's not."

"They make up relationships when they're not there, and he just thinks it's lame," she said. "I've never seen the show in my life. I have no idea what it's about. But he just thought it was cheesy."

Reinhardt's reality days aren't entirely over. He will appear on the second season of Paris Hilton's My New BFF, which debuts June 2 on MTV.

"It was great," she told Us. "He was always on set every single day, giving fun ideas. With him there, he always gave the most amazing ideas. They actually hired him as a producer to be on BFF Dubai [Hilton filmed a version of her American reality show there]. They loved his ideas so much."
[From US Weekly]
Jesus Christ, what State Department moron let Paris Hilton enter Dubai? Dubai is one of America's strongest allies in the Middle East, and we should never, ever let them see or hear about Paris Hilton. She's the kind of person who ruins our image abroad, and she's maybe the worst example of American womanhood that we could ever send to another country. Totes lamers.
Paris and Doug are shown at the FiFi fragrance awards on 5/27/09. Credit: RAM/Fame Pictures