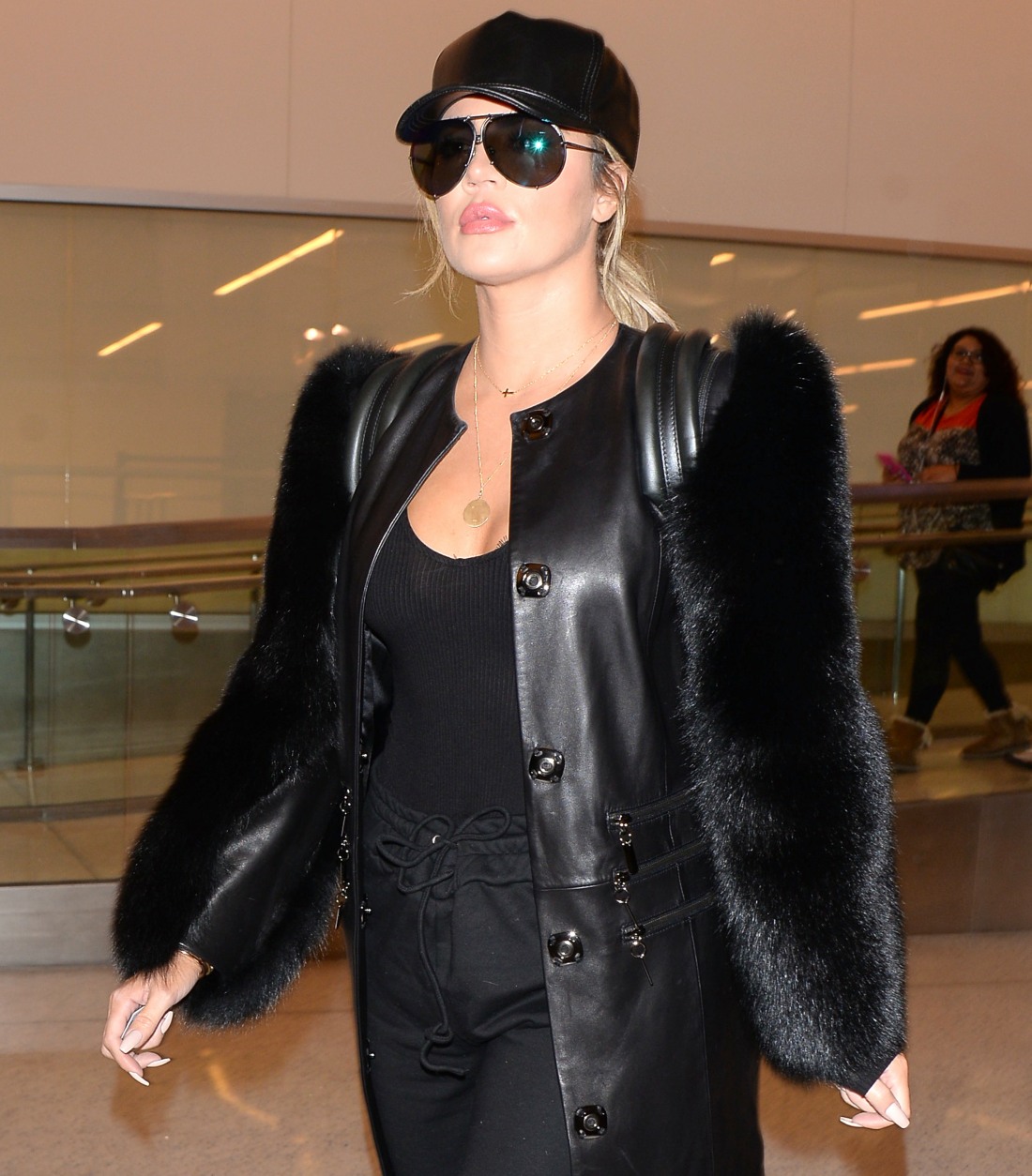 Khloe Kardashian covers the newest issue of ES Magazine, which is the British newspaper The Evening Standard's in-house weekend magazine. The cover is pretty assy so I'm not going to use it, but just trust me when I say that all of us could probably draw the Pinocchio Butt from memory at this point. Khloe spoke to ES to promote the current season of Keeping Up with the Kardashians, to promote her denim line and to promote the idea that Tristan Thompson needs to propose to her. I'm being serious. She uses the platform to basically tell her boyfriend that he should propose to her. You can read the full piece here. Some highlights:
Her Good American denim line is revolutionary: "The line is all about empowerment, making women feel great about themselves and embracing women of all shapes.' There's no 'plus-size' in the range, a term Kardashian detests. Instead, the jeans come in UK sizes 6 to 24, differentiating them from anything on the market.

When she was heavier: 'I never considered myself fat, but when I used to shop with my sisters I was always really shamed and shunned by [sales assistants] who would say: "We don't carry that size here"… I was always so embarrassed, so for a long time I didn't wear denim at all. I kept getting angrier.' Celebrity stylists would refuse to work with her. 'They said they didn't dress people my size. It's shocking,' she says, but 'once I lost weight, the same people would reach out, and be like, "We would love to style you". I was like, "Screw you".'

She was introduced to Tristan Thompson by a mutual friend: 'He said: "I have someone I want you to meet." I said: "Absolutely not. I don't go on blind dates."' But when she met the basketball player (who has a four-month old son with his former girlfriend, model Jordan Craig) she says 'we both felt this strong energy. I was like, oh this is such a nice, normal man — the normalcy is what I was craving. I'm a Christian; he's a believer in God and that's important to me. Tristan's morals and ethics are everything I've wanted and need in my life.'

Tristan appeals on KUWTK: 'If I'm at a dinner with my family and he's there. But now I know I don't need to put everything on social media and I like to keep some things close to my heart'.

On Kim's Paris robbery: 'I get really angry when people blame her for her robbery — I think that is the most irresponsible accusation. I don't care how little or how much you have, nobody deserves to be violated and robbed and assaulted and traumatised. I got very frustrated with that and [the suggestion that] "oh this was scripted" or "we planned it". What is wrong with human beings?' How is her sister? 'Kimberly is one of the strongest women I've ever met. We're not people who sit in sorrow if something bad happens and go, "woe is me". We take these experiences and try to help somebody else with them, or just make sure they don't happen again.'

Her childhood: 'We always went to feed the homeless on skid row. We lived in a beautiful mansion in Beverly Hills, I had miniature ponies at every party, but my dad never wanted us to think that was reality. He was really strict. We had a lot of chores.' When she turned 16, 'my friends had brand new BMWs — I had a 15-year-old car… A lot of people don't know that we didn't have an inheritance. I think there is a silver lining to my dad's passing: he has been my guardian angel and in a way has guided us through life. There's a blessing even in the most tragic of things.'

Her work ethic: 'I worked for my dad as a secretary in the summer and after school. I was never allowed to sleep in. They wanted to teach us the value of being productive with your day.'

She wants a family: 'I would love to have a family,' she says. With Thompson? 'We've talked about it. He [already] is a father, and I know for a fact that he would be an impeccable father. I definitely want to be a mom. But I don't put the pressure on it. It's not like, "the clock is ticking". I feel in my soul it will happen.' There are no immediate plans to walk down the aisle but she does say she has 'never been in this type of love'. If he proposed, would she accept? 'Yes I would.'
Meh. That's how I feel about all of this. I'm not going to scream "leave Khloe alone!" nor am I going to act as a Khloe Apologist (even though she used to be my favorite). I don't think she comes across badly here, but I also think… the tide is turning on the Kardashians a bit this year. People aren't as eager for Kardashian coverage these days, and I think that's a good thing overall. Of course, I also don't think Tristan is going to marry Khloe?
Photos courtesy of Fame/Flynet and Instagram.