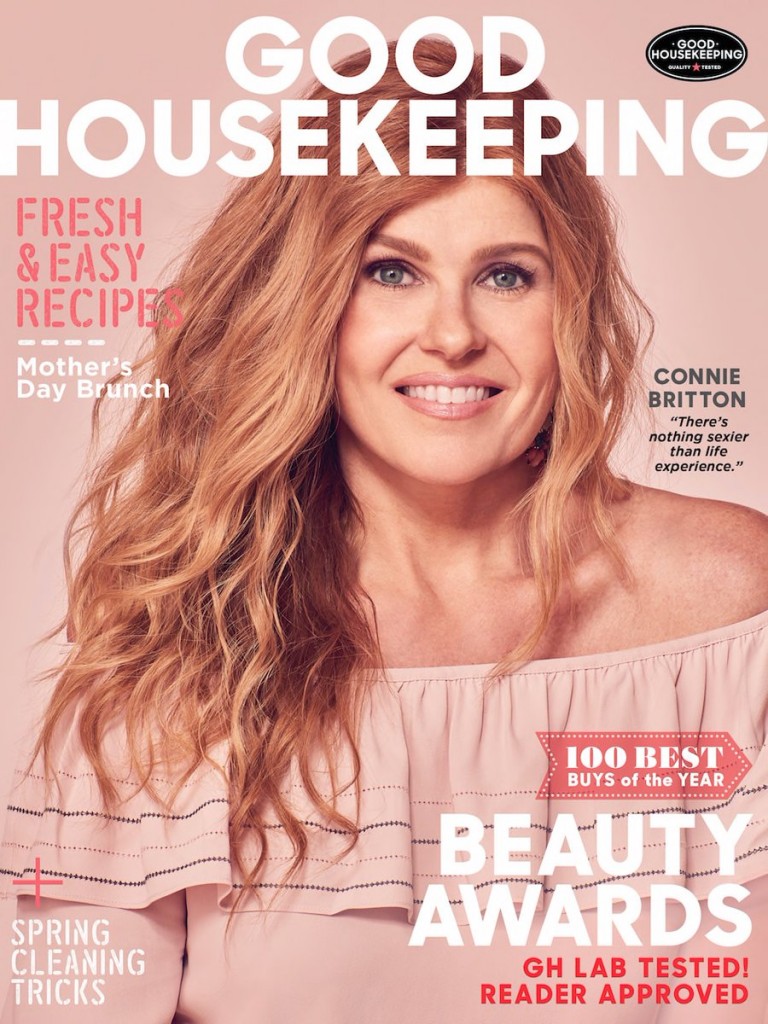 Connie Britton, 50, is one of three Good Housekeeping cover women this May. All the interviews are surprisingly candid and thorough. Good Housekeeping did a good job with getting the celebrities to open up, and with the editorials, which are peach-colored and evocative of spring. Also featured are Tracee Ellis Ross and Rashida Jones. Connie's interview focuses on self image and change, and she talked about her decision to adopt a child from Ethiopia five years ago, and how she's considering adopting another. Connie is one of my celebrity crushes. She's not always on point fashion-wise, but she has amazing hair. I remember when I first noticed her, in the first season of American Horror Story. (I didn't watch Friday Night Lights.) She's such a striking woman. She doesn't look Botoxed or filled at all either, and that's rare. Anyway here's some of what she told Good Housekeeping, with more at the source including the photos.
On feeling sexy
That whole stigma of being over 40 and not being sexy anymore is fake news. We're more vibrant because we have experience, we know our bodies. I have a friend who says that you always want to make sure it's your life that you're living — it's a constant mantra.

I don't know a single woman in her 40s who isn't incredibly full of life and sexuality and desire for everything. There's nothing sexier than life experience, and there's nothing sexier than knowing your own body and having a little bit of experience with that!

On her hair being famous
I actually neglect it. It's easiest when it's long, but I'd consider chopping it off. I don't want to be attached to this external thing.

I try to put as little stuff into my hair as I can, which tends to be the best for it. I started hearing people say, 'There's a blog about your hair, and there are all of these Tumblr accounts.' I'm like, 'What's Tumblr?'" I'm pretty mystified by it, because I look around and a lot of people have great hair."

On deciding to adopt her son
I lost my mom to breast cancer, and then I lost my father three years later. I thought, What am I waiting for? Motherhood has been the greatest gift of my life. I have a friend who is very active with orphanages in Ethiopia, and he had just come back from a trip where he had been spending time with the orphans. I was incredibly compelled by the sort of light around them even though they were living in extreme poverty without parents. Some of them had AIDS. It made me want to go to Ethiopia and to see how I could help. Right now I've got one kid and there's one of me, and if I find a man who wants to have another child, I'd love to do it. I might do it as a single mom, too.
Later in the interview she talked about leaving Nashville and how moving it was to say goodbye to the other castmembers. She also called Meryl Streep her role model and said that Meryl taught her about courage in life and in her career. I agree that I feel better about myself now, at 44, than I did in my 30s. Most of the time I'm really happy where I am in life and it's easier for me to be myself. That's sexy, when you know what you like to do and want you want out of life and when you pursue that. Also, I like that she admits that she's looking for a partner but that it won't dictate her life decisions. There's something powerful about that.