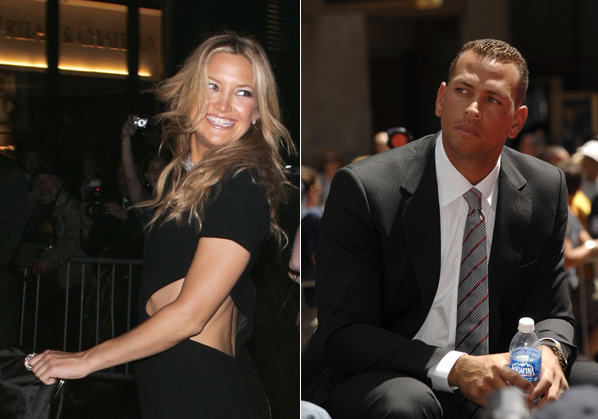 Kate Hudson seems like one of those women who moves too fast in relationships and is all too eager to rearrange her life to center around her new man. She dated athlete Lance Armstrong last summer and the two quickly met each other's families and jetted around the country together. That relationship lasted three months and seemed to flame out almost as soon as it began. To their credit, neither of them spoke about the other to the press although there were enough photos of them at hitting the paparazzi hot spots together.
Now Kate is dating a notorious ladies' man, Yankee player Alex Rodriguez, and seems to be making the same mistakes. Rodriguez is an even worse choice for a mate than Armstrong, and Kate is supposedly traveling with him as he tours with his team. The NY Post words this to make Kate sound like a puppy dog, she's "following Alex around," but I would bet that the feeling is mutual and that A-Rod is more than happy to have her with him:
Alex Rodriguez, is nursing his hurt ego with Kate Hudson. They've been together for little more than a week, but already Hudson is following A-Rod around. She even stayed with him at the Hotel ZaZa in Dallas Wednesday night after the Yankees played the Texas Rangers.
[From The NY Post]
In Touch has a story this week that claims that Hudson's friends and family are advising her to be careful with A-Rod. This could be pure conjecture but I can't imagine that anyone really approves of that guy as good boyfriend material:
While an associate of the baseball star says that Alex and Kate, 30, are longtime friends, it's clear that they've taken their relationship to a new level. But Kate's friends fear she's setting herself up for heartbreak. "She should not take this too seriously," says one pal. "Alex doesn't stick with one woman…"

Many worry that, like Kate's marriage to Chris Robinson and her failed romances with Owen Wilson and Lance Armstrong, her romance with A-Rod will ultimately fall apart. "He has a very short attention span when it comes to dating," says a pal.
[From In Touch, print edition June 8, 2009]
It seems like Kate is happy to go along with what the guy wants and to honor however much privacy he'd like to have, which could explain why there are almost no photos of her out with Owen Wilson during the months they dated on and off. Owen guards his privacy and probably wanted to make sure to keep the relationship under wraps. I doubt that Rodriguez cares much either way and we will probably see photos of the two of them together at some time – if their relationship lasts much longer. Why do otherwise smart and successful women make such bad choices for partners? This is a guy who visited prostitutes while he was married. Maybe Kate will find the right one soon, though. You have to kiss a lot of frogs.
Photo credit: PRPhotos