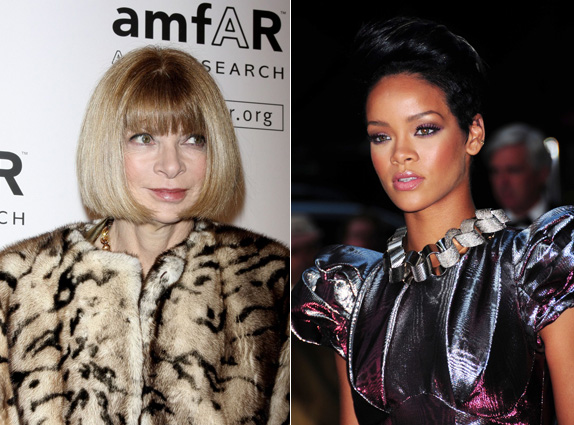 Two weeks ago much-maligned Vogue editor Anna Wintour, the alleged subject of the movie The Devil Wears Prada, had an interview with Mike Wallace that aired on "60 Minutes." Wintour seemed haughty and made some obnoxious statements. The most offensive thing Wintour said was cut from her "60 Minutes" segment, but details leaked online. Wintour admitted that she asked Oprah to lose weight ahead of her Vogue cover in 1998, and she also claimed "most" residents of the state of Minnesota are fat, saying "on a trip to Minnesota…I can only kindly describe most of the people I saw as little houses." If the nasty harpy thinks it's "kind" to call people "little houses" you have to wonder the lengths she'll stoop to when she's actually trying to be mean.
This week's Star Magazine has a story that Wintour was considering putting singer Rihanna on the cover of Vogue, which would be significant because she hardly ever chooses African American celebrities and models to grace the sainted cover. Rihanna got the cold shoulder from Wintour, though, after her nude photos were leaked online:
It could have been Rihanna's shining moment: the cover of Vogue! But when the nude pictures hit cyberspace, her once-in-a-lifetime chance was gone in a flash. Rihanna and Vogue editor-in-chief Anna Wintour had been talking for weeks about doing the cover and an inside spread, says a close friend of the singer, who adds that the two even chatted about it at the Met Costume Institute Gala on May 4. "Anna told her Vogue absolutely loves her and really wanted to work with her. Rihanna was ecstatic!" But since the photos came out, says the friend, "Anna hasn't returned any of her calls. Rihanna's so upset!"
[From Star Magazine, print edition, June 8, 2009]
The rest of the Star article is all about how Rihanna supposedly wants revenge on Chris Brown for leaking those nude photos of her, and we mentioned this briefly in an earlier story about Rihanna's upcoming appearance in court. If the photos cost Rihanna the coveted cover of Vogue she's got even more reason to want to get back at Brown. Let's hope that translates to Rihanna giving compelling, damning testimony in the felony assault case against Brown.