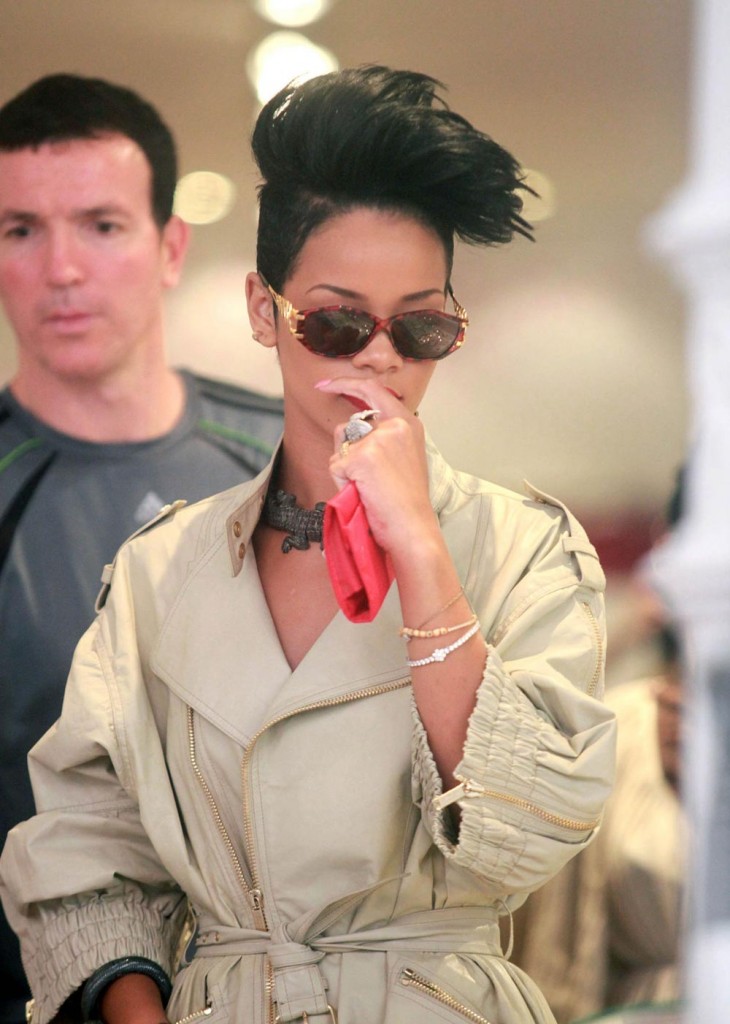 Rihanna is expected to receive a subpeona to appear in court on June 22 for a preliminary hearing the felony assault case against her ex boyfriend, singer Chris Brown. Brown will also be present at the hearing. It will be up the to District Attorney whether Rihanna will be called to testify. Brown brutally beat Rihanna in an incident in early February. A leaked photo of Rihanna's injuries showed two contusions on her head, two black eyes, and a bloodied mouth. Brown's attorney is said to hope to call for a mistrial based on that photo showing police misconduct, but the judge isn't looking kindly on his efforts to get access to police records to prove his case:
Rihanna is among the witnesses whom prosecutors plan to call during a hearing in Chris Brown's assault case, an attorney said Thursday.

Donald Etra, Rihanna's lawyer, told reporters that prosecutors have told him the Barbados-born singer will receive a subpoena to testify at a preliminary hearing June 22. The hearing will focus on whether there is enough evidence to continue the case against Brown.

Etra said Rihanna will comply with the order. It would mark her first appearance in court since felony assault and criminal threats charges were filed against Brown in March.

If she is called to testify, the 21-year-old singer would be subject to cross-examination by Brown's attorney, Mark Geragos.

Other potential witnesses have not been named, but will likely include police investigators.

Brown was arrested in February on suspicion of hitting and choking Rihanna in a rented car hours before the couple were scheduled to appear at the Grammys.

Etra wouldn't address their relationship now, but said Rihanna, whose real name is Robyn Rihanna Fenty, was following the case closely.

A judge on Thursday rejected a motion by Geragos to receive police and investigative records related to the case and the apparent leak of a photo of a beaten and bruised Rihanna.

Los Angeles Superior Court Judge Patricia Schnegg told Geragos the motion was premature and he could file it again after the preliminary hearing.

Brown wasn't in court Thursday, but he's required to attend the preliminary hearing. The 20-year-old R&B singer faces possible sentences that range from probation to nearly five years in prison if convicted.

Geragos argued that he should have access to the records to properly cross-examine police witnesses during the preliminary hearing. He also said intense public interest in the case should require the records' release.

Schnegg said Brown's fame wasn't an issue she was going to consider. She also called Geragos' motion "a fishing expedition."

She also said the records, which Geragos wants to use to search for police bias or misconduct, don't have anything to do with Brown's arrest. She said officers responded to a 911 call and the "Run It!" singer was arrested well before the photo of Rihanna's battered face was posted by celebrity gossip Web site TMZ.
[From AP via Huffington Post]
The last we heard from Brown he released an obnoxious home video plugging his album and defiantly dismissing people for paying attention to this case. In our coverage of this, I missed another video that Brown made with his buddy in which he denied that he had a black eye and said "All the blog sites are liars." (Reading this transcript I thought he meant that he didn't give Rihanna a black eye, but he clearly points to his own eye in the video and the title is "Chris Brown does not have a black eye!")
All the blog sites are liars. You guys lie. No black eye [points to own eye] I just want to say 'What up' because I ain't been out there in a minute [...] We ain't going nowhere. Everybody that's haters, they just been haters. All my real fans, I love you all. I ain't a monster
[via Wikipedia]
I hope the judge takes Brown's attitude into consideration in sentencing. He made a huge mistake making that video. He was probably thinking that he was showing that he's fine and still working, but he's really making it clear that he has no remorse or regret for his awful actions.
Rihanna has clearly moved on. She was seen out on what looked like a date with Drake, a rapper and Canadian actor who appeared on Degrassi: The Next Generation, on May 18. According to the latest Star Magazine, Rihanna is furious about the nude photos of her that leaked earlier this month, and she knows that Brown is behind it. She is said to want revenge. Maybe she'll get it on the witness stand and maybe Brown will spend some time behind bars for his horrific act.
Rihanna is shown at an event on 5/6/09 (Credit: Fame Pictures) and out in NY on 5/22/09 (Credit: WENN.com)