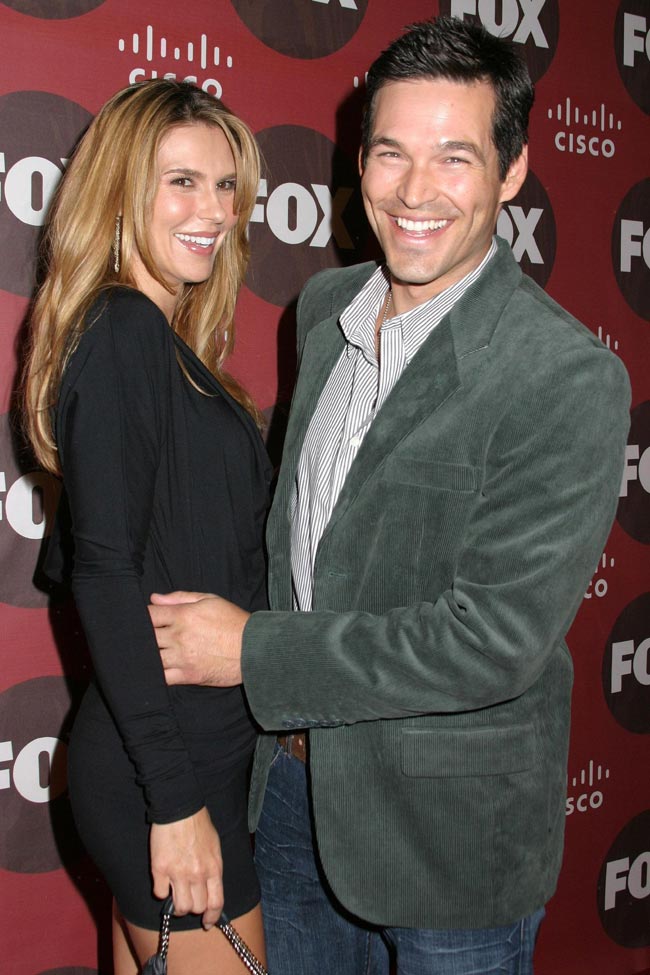 The alleged affair of two married costars is always good gossip, but this LeAnn Rimes-Eddie Cibrian stuff just keeps going and going. US Weekly busted the married LeAnn and the married Eddie having an affair while filming a Lifetime movie. At first, Eddie tried to deny it, but US Weekly was all "we have the video, let's take a look, shall we?" After that, both LeAnn and Eddie sort of avoided the spotlight, and yet the controversy made that Lifetime movie one of the highest rated premieres on cable television ever.
You'd think that after that very public incident, Eddie and LeAnn would have avoided each other at all costs, simply out of respect for their spouses. Not so much. They were busted having drinks together at a Lakers game just a few weeks ago, and now the National Enquirer is reporting that that little incident was the final nail in the coffin of Eddie's marriage:
Eddie Cibrian is on even shakier ground with his wife after he was caught with LeAnn Rimes – again!

The 35-year-old TV hunk had convinced his wife Brandi Glanville to give him a second chance after a steamy video showed him kissing the country singer earlier this year, insiders say.

But after Eddie and LeAnn were photographed together recently at a Lakers game, his wife hit the rook, sources say.

"Brandi said this was the last straw!" a friend told the Enquirer. "Eddie trying to talk his way out of it – saying he just bumped into LeAnn at a bar inside the Staples Center where the Lakers were playing. He said, 'What was I supposed to do?'"

"Brandi told him he should have run the other way. He promised to stay away from LeAnn, and after all the pain and embarrassment he's already caused Brandi, he went back for seconds! Now their marriage is hanging by a thread."

[The new photos of Eddie and LeAnn at the NBA payoff game] could end his eight-year marriage for good.

"Brandi believed Eddie last March when he told her that he and LeAnn started to have feelings for each other through working together, but he insisted they never consummated the relationship," another friend divulged.

He begged for forgiveness and Brandi gave him a second chance for the sake of their sons Mason, 6, and Jake, 2, said the source.

"But now… Brandi admits their situation is pretty hopeless. Eddie just doesn't want to change," noted the first source.
[From The National Enquirer, print edition, June 8 2009]
Yeah, Brandi might want to think about getting out of there. Even if she believed Eddie the first time when he told her there was no affair (did she see the video?), fool me twice, shame on me. I get that Brandi and Eddie have kids together, and it's not so easy walking away from that, but come on. Eddie and LeAnn were having a torrid affair, and most likely still are. Call it a day.
What's weird is that there seems to be no controversy within LeAnn's marriage to Dean Sheremet. They seem really solid. I'm not saying Dean is gay (yes I am), but could it be that Dean and LeAnn have some sort of understanding? Some kind of open marriage? That would probably make them one of the most solid relationships in Hollywood.
Leann Rimes and Dean Sheremet are shown below on 34/1/09. Credit: Richard Harding, PacificCoastNews. Eddie Cibrian and his wife, Brandi Glanville, are shown above on 10/23/06. Credit: WENN.com