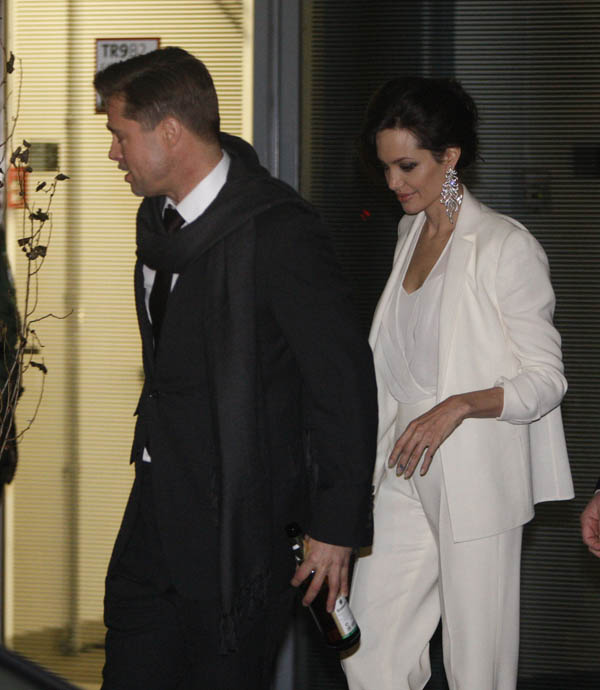 Now for Part II of the massive In Touch cover story. Previously, In Touch spun a little soap opera about Brad and Angelina acting pissy to each other on the red carpet. They even added a controversial new vixen – Brad's Basterds costar Diane Kruger. Angelina hates Diane because Diane and Brad posed for photos together on the red carpet… and that's it. Good story, huh? Drama!
Now we get to the good stuff – "insider" analysis of how Brad and Angelina were acting at the after-party. It seems for both Brad and Angie, excessive amounts of booze were consumed. No matter that reportedly, for the past decade, Angelina barely drinks more than a glass of wine a night, if that. And no matter that Angelina is allegedly pregnant. But as for Brad, I'll buy that he got drunk. He's reportedly been drinking quite a lot lately, from Berlin (and it's lovely beer) to France (where he and Tarantino get wasted) to New York (and his drunk dialing Aniston). Now people are starting to worry that Brad is drinking because he's so depressed that he has to go home to Angelina Jolie every night:
By the time Bad and Angie arrived at the after-party…[they] were barely speaking. Instead of talking to each other, they both chatted up total strangers and drank excessively, which shocked the other guests. "After a couple of hours, both of them looked drunk and sloppy and out of it," a party guest tells In Touch.

"If he was 18, it would be one thing," says the party guest. "But Brad is in his 40s and has six kids looking up to him."

[It seems] increasingly [alcohol is] a crutch for the pair – and shows that there are some serious cracks in their relationship.

Brad can't hide his emotions… he looked uncomfortable whenever [Angelina's] name came up. During the one interview he granted with the Today show… Brad said flatly, "Right now, Angie has been working and I've got to be home a lot with the kids. Let me be a cliche. It's really rewarding."

Ann Curry asked Brad if this was the happiest time of his life, and he replied curtly, "It's one of the most on-track."

"Brad is most definitely ready to move on," says a confidante. "He's just bidding his time."

[They will go] their separate ways this summer, with Angelina [and the kids heading for the French chateau] while he films the movie Moneyball in Oakland, CA. And as In Touch has reported, Brad is quietly planning to meet up with Jennifer Aniston.

If Angelina finds out about the secret rendezvous, it may be all but over for Hollywood's once most glamorous couple. "They are keeping up this charade in part for the children, but also because there's a strong sense of pride and they hate people to know how bad things really are between them," a friend explains. "But they can't go on like this. It's tearing them both apart to be so unhappy all the time."
[In Touch, print edition, June 8 2009]
Because it always comes back to Jennifer Aniston in tabloid-ville, doesn't it? In Touch has a little side-story called "Jen is really worried about Brad". Apparently, Jennifer is still so emotionally attached to her ex-husband that it's upsetting her to see how Brad is "unraveling". And while in Cannes, Brad texted Jennifer, and trying to re-ignite the old pity party. But Brad's texting has left Jennifer "exhausted and emotional." Um… how exhausting is it to receive a text message?
Despite the fact that Brad callously dumped his ex-wife Jennifer Aniston for Angelina four years ago, she's still "extremely upset to see Brad unraveling," her friend tells In Touch.

"When she saw the pictures of them at Cannes, she covered her mouth in shock and said, 'Oh my God, they look awful! What are they doing to each other?'"

As In Touch has reported, Brad and Jen have recently reconnected – and Brad has used Jen as a sounding board about his problems with Angelina.

On May 15, Brad texted Jennifer to say that he was nervous about Angie's arrival at Cannes. And while Jen is happy to be back in Brad's life, she's not necessarily enjoying being his shoulder to cry on.

"Jen is exhausted and emotional," her friend adds.
[In Touch, print edition, June 8 2009]
Here's the thing – sometimes, some days, I think it's perfectly possible that Brad and Angelina might split up at some point. They're both complicated individuals, and I could see how they might start to grate on each other's nerves and call it a day on their relationship. Here's what I don't buy – I don't buy that Brad would eve go back to Jennifer. I really think if Brad "leaves" Angelina for another woman, it will be someone new, someone he hasn't already slept beside for years.
Picture note by Celebitchy: Brad Pitt is shown with a bottle of Krombacher beer (it's pretty good, but not my favorite. Give me a Warsteiner or Radeberger any day) in Berlin on 1/19/09. Credit: WENN.com