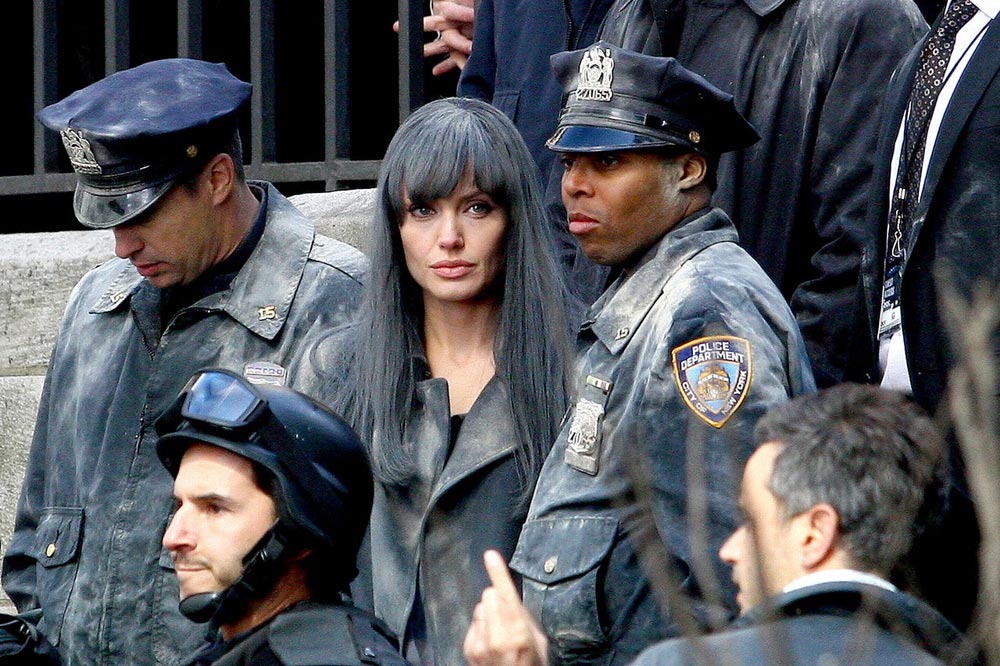 Angelina Jolie was taken to the hospital today after sustaining an injury on the NY set of her film Salt. She suffered a cut between her eyes, which needed to be attended to. The way the film people word their statement, it sounds like the visit to the hospital was a formality. Jolie is said to be fine:
Angelina Jolie was taken to the hospital today after getting hurt on the set of her new movie.

Angelina was shooting "Salt" on Long Island, when she bumped her head, getting some sort of nick in between her eyes. She bled a bit and was taken to the hospital.

Her manager tells us she was doing a stunt when the incident occurred. He says she is completely fine.

We just got a statement from the film's production company:

"This morning while filming an action sequence… Angelina Jolie sustained a minor injury. As a precautionary measure, Ms. Jolie will be taken to the hospital and examined. Production on the film has resumed."
[From TMZ]
Jolie is known to do her own stunts and has been photographed scaling buildings on the set of Salt. She does have some sort of body or stunt double for the film, though, as a woman with long dark hair wearing the same clothes was spotted with her on set in those photos where she appears to be eating cake. Hopefully Jolie is fine. That seems to be the case considering the statement that producers put out.
Cuts around the eye area can bleed quite a lot due to all the blood vessels in the face. An injury in that area might look more serious than it is because of the volume of blood.
Photos of Angelina Jolie on set are not from the day in question and were taken on 3/21/09 and 3/13/09. Credit: WENN.com