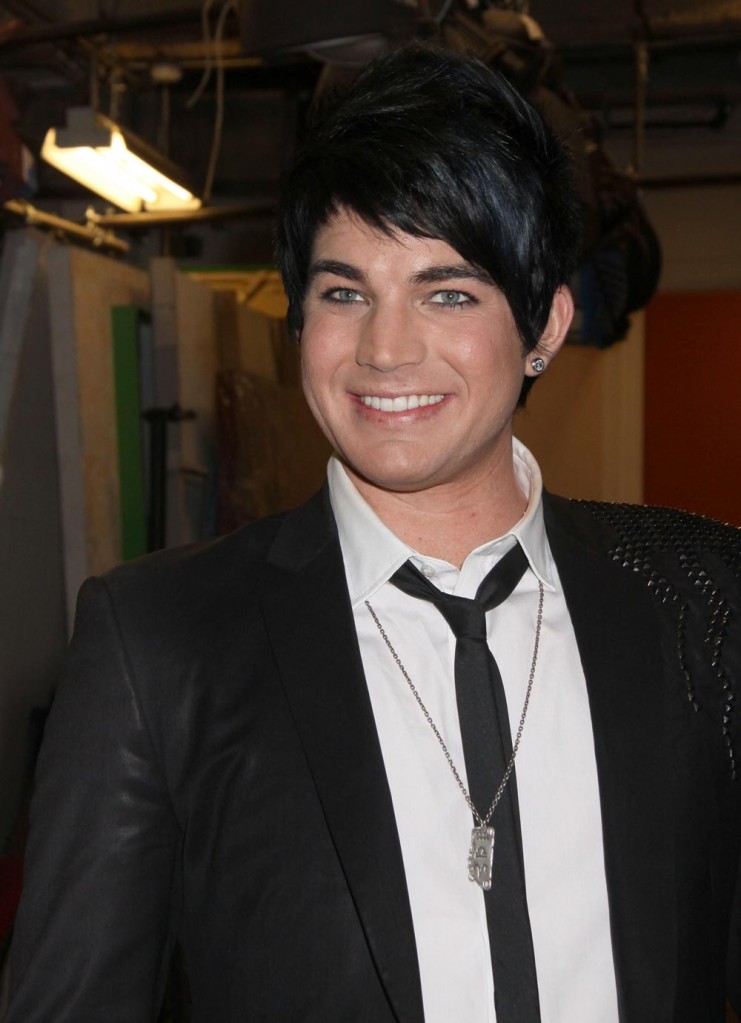 American Idol runner-up Adam Lambert has not "officially" come out to the public at large. Some critics say that he's afraid to confirm his sexuality for fear of hurting his fledgling career, while others think that even though Adam has never said "I'm gay," he certainly isn't trying to keep it a secret. Even Kara DioGuardi doubts that Adam was ever actually in the closet. In his real life, sources say, the KISS-loving goth balladeer is very out and very proud. In fact, if you watched the show and saw a rather delicious-looking, dark-haired young man sitting with Adam's parents, then you caught a glimpse of his boyfriend. Sources say the couple are getting serious.
Flamboyant Adam Lambert – the guyliner-wearing Goth who was heavily favored to win American Idol – has found love! Adam is making beautiful music with 24-year-old artist and interior designer Drake LaBry, say sources.

TV audiences and the entire entertainment world were stunned when super-talented 27-year-old singer was beaten by Arkansas native Kris Allen, 23, in the "Idol" finals – but Adam couldn't be happier.

"He wants to settle down with Drake," a show insider told the Enquirer. "Adam figures that if he had taken the top spot, it would have ultimately jeopardized his relationship with Drake."

The San Diego singing sensation was introduced to Louisiana native Drake months ago by mutual friends, divulged the source.

"The two immediately fell in love. Adam was just not ready to come out publicly because he likes to keep his fans guessing about his sexual preference."
[From The National Enquirer print version, June 8, 2009]
I don't think anyone is still in the dark or "guessing" about Adam's sexuality. But even so, it's up to Adam whether or not he states, once and for all, that he's gay. Maybe he thinks it shouldn't be an issue and he'd rather have people focus on his talent. Anyway, Drake certainly hasn't been in hiding – he's been seen in the "Idol" studio audience each week, and according to the article, Adam introduces him as "my boy."
Adam recently introduced Drake to his fellow contestants over dinner at an Olive Garden in Burbank, where he referred to Drake affectionately as "my boy," revealed the source. He also brought Drake as his date to a recent "Idol" press party.

"Adam is hoping to bring Drake along when he goes on the nationwide tour with the other 'Idol' contestants," said the source.

After the finale, Adam was asked point blank if he'd "like to put to rest all the speculation about your sexuality?"

But the show-stopping singer remained coy. "I like speculation," he said. "I think it keeps things interesting."
It's a tough call. I'm not gay, so I have no idea what it's like to constantly be questioned about it like Adam has. I think he's handling it quite well- with a healthy dose of humor. But I do wonder if maybe the "Idol" producers have specifically told Adam that he isn't allowed to come out. It did seem strange at the finale that Kris Allen's wife was interviewed and prominently featured, but Ryan Seacrest went out of his way to avoid speaking to Drake, who was standing right next to Adam's parents during an interview. Somehow, I can't help but feel that if Adam did publicly reveal his sexuality, he might open some doors for young gay entertainers out there.
Update by Celebitchy: Sorry for not including pics of Drake! I put the photos up for MSat and was being lazy and forgetful on a Friday night. Here are some pics of the guy, thanks to VoteForTheWorst
Adam Lambert is shown on 5/26/09. Credit: Diane Cohen/Fame Pictures