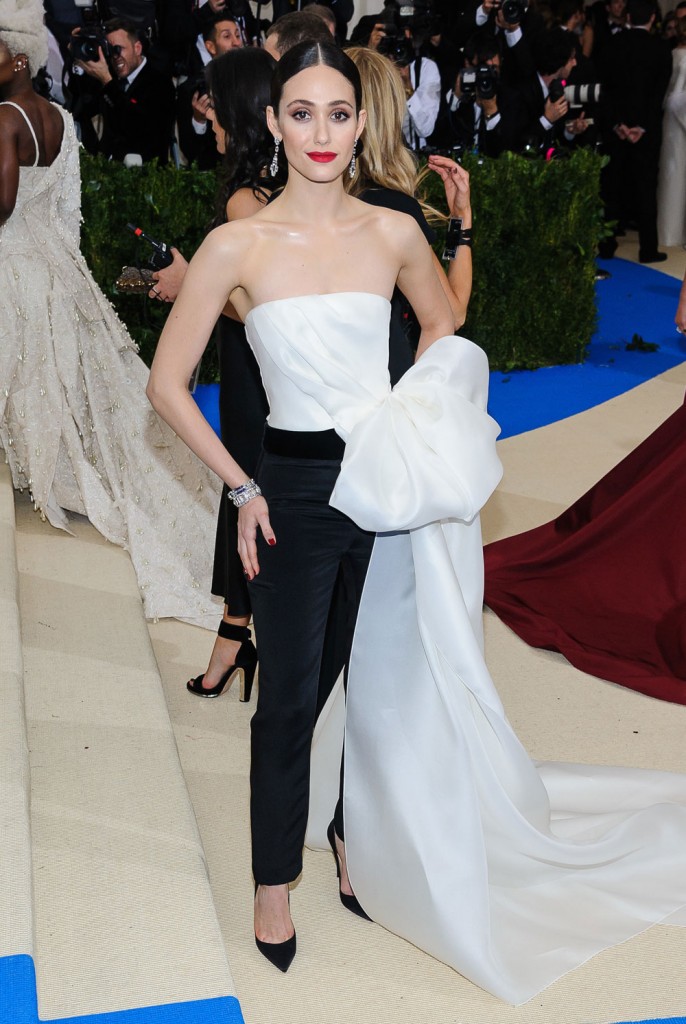 Last night's Met Gala was only the second time that a living designer was honored at the event. In 1983 it was Yves Saint Laurent and this year it was Rei Kawakubo, the founder of Comme des Garçons. She's known for fashion that's like sculpture and which takes shapes and fabrics and transforms them into works of art. You can see a slideshow of her work on Vogue, and Kaiser covered the three gowns that were made by Kawakubo for the Met Gala, most notably Rihanna's. So dresses which fit the theme should be bold, huge and unconventional.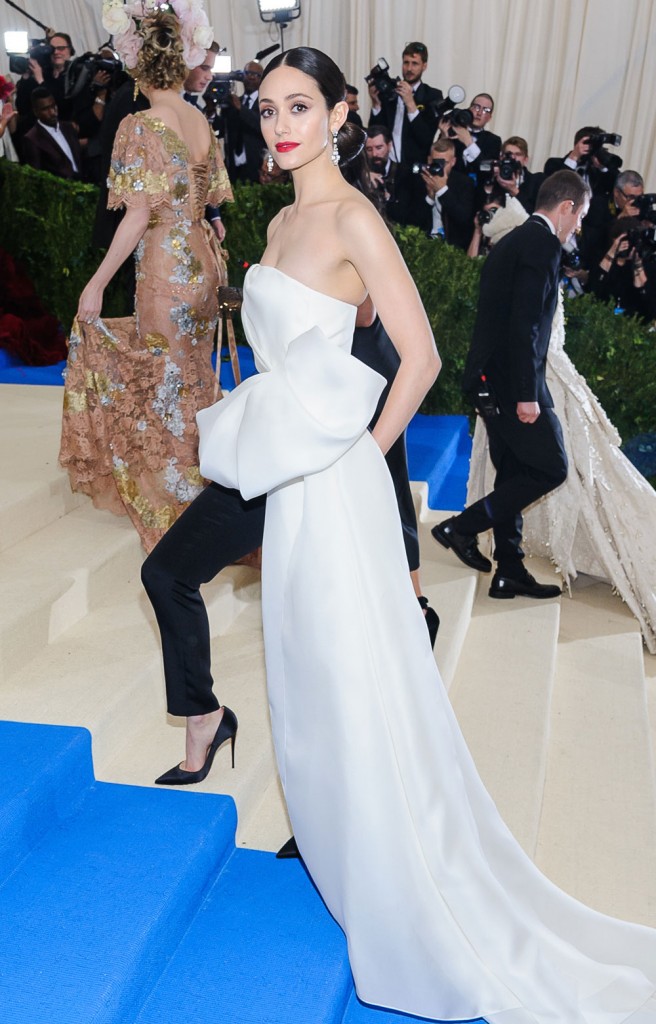 Emmy Rossum slayed in black and white Carolina Herrera featuring black pants with a strapless bodice and a huge side bow. Her pulled back hair, bold earrings, and traditional makeup are just amazing and spot on. This was one of my favorite looks last night and it fits well with the theme, although it could be a little wackier. It's just so elegant. Emmy has said that Carolina is designing her wedding gown, which makes her a lucky woman. She's engaged to Mr. Robot creator Sam Esmail, who was her date last night. They're so cute together. I really want them to have a big wedding and I want to see the photos, but I don't know if that's Rossum's style.
Hailey Baldwin was also in Herrera, in a powder pink crop top bustier with a high tiered skirt which she paired with a veil studded in rhinestones and an amazing chain choker. This isn't my favorite gown but I love her moxie and it's all right on theme. She stopped and spoke with the E! team on the red carpet and she just seemed excited to be there. Look at how the three layers of the skirt are just slightly different pale colors. Her styling is so striking and I really like this look.
Taylor Hill is a Victoria's Secret angel and she somehow scored a Herrera gown instead of H&M or Topshop, which the other VS models were wearing. (Although both of those clothing chains did surprisingly well last night.) Her dress was a deep red strapless gown with a structured sweetheart bodice and a classic full skirt. Although it's a gorgeous gown the only thing really unique about it are the little half cup sleeves which sit midway down her arms. It's a lovely look but it's not very daring.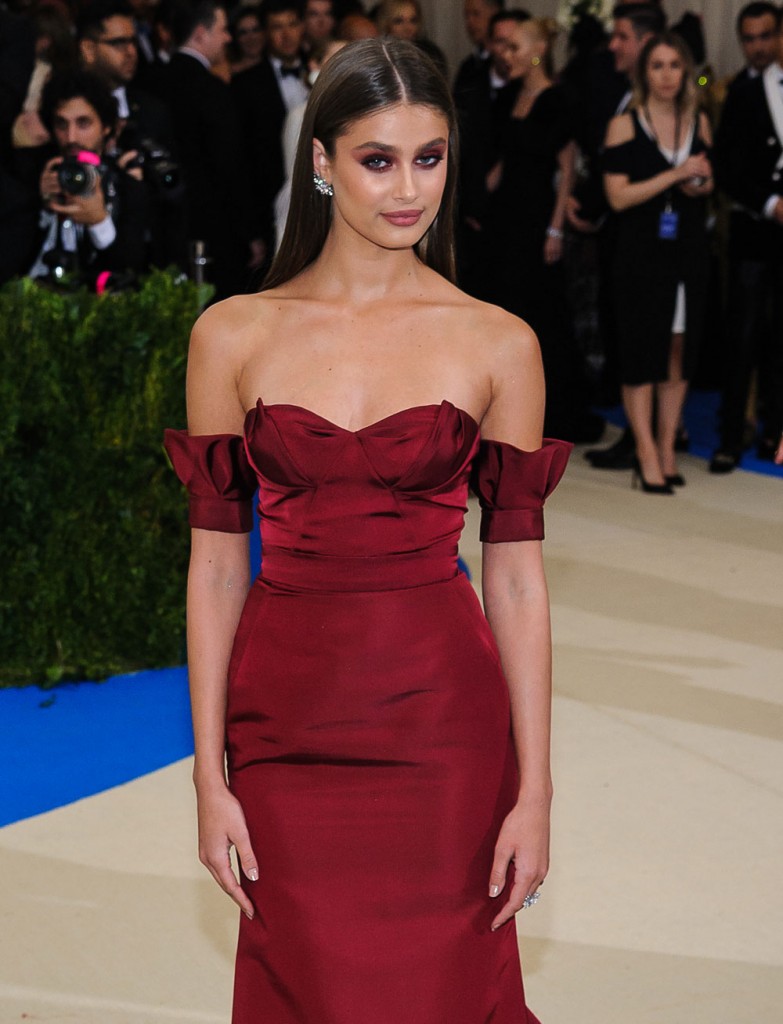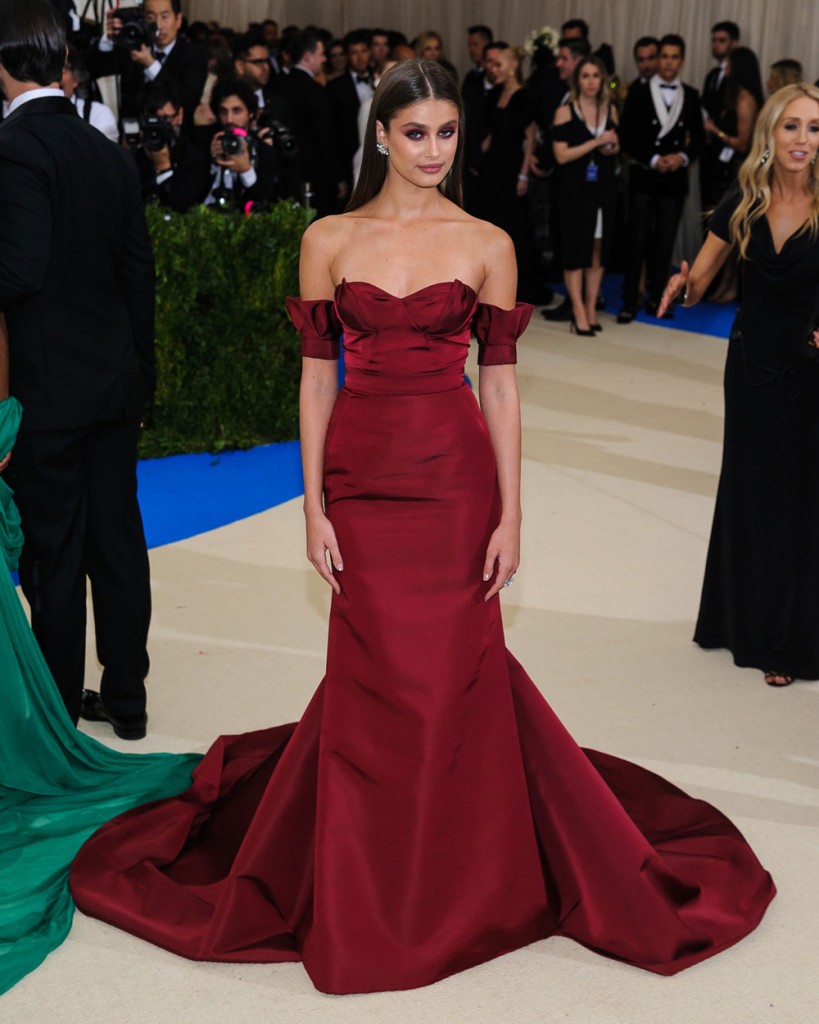 photos credit: WENN and Getty